Holland coach Louis van Gaal remains convinced the World Cup was set up to favour hosts Brazil.
Brazil and Holland face each other in Brasilia on Saturday to decide who ends the tournament in third place.
The third-place play-off is not a popular match and both coaches would of course much rather be contesting the final 24 hours later in the Maracana.
Van Gaal accused FIFA of "tricks" and a lack of "fair play" earlier in the tournament when asked about Brazil's potential path to the final.
Van Gaal was angry that Brazil, as winners of Group A, were allowed to play their second-round and quarter-final games before everyone else. As hosts, they also played their opening group game against Croatia first.
His comments provoked outrage from Brazil coach Luiz Felipe Scolari, but the Manchester United manager in waiting is standing by his words.
"I will stick to the facts," Van Gaal told a press conference.
"The facts are that Brazil started first. And Brazil again has played first again and we played a day later.
"These are the facts. I am not going to beat around bush. Then you know what the implications are if that is the case.
"The question is why? I think Scolari should think about that if he wants to do that and is allowed to do that."
Van Gaal's annoyance has clearly been heightened by the fact that Brazil have had another day to prepare for the third-place play-off.
"We have one day less than Brazil," Van Gaal added. "We have to get into shape in two-and-a-half days, which physically is hard."
Van Gaal hit out at FIFA again on Wednesday night following Holland's defeat to Argentina - this time over the point of the play-off.
"It will be my last match and the players may want to give me a present in the form of a victory so we can leave undefeated." - Louis van Gaal
The 62-year-old said: "This match should never be played. I've been saying that for 10 years - it's unfair."
The former Bayern Munich and Ajax coach has changed his tune slightly since then, though.
Van Gaal does not count Holland's exit to Argentina as a loss as the scores were level after 120 minutes.
He therefore sees the match in Brasilia as a chance to do something Holland has never done before - end a World Cup without defeat.
"There is still something for us to do here - we can still write history," Van Gaal said.
"Holland has always lost a match in a World Cup. That happened in '74 and '78 (when they made the final).
"I hope I can prepare them to play a good match. It will be my last match and the players may want to give me a present in the form of a victory so we can leave undefeated.
"It's quite something to go seven matches unbeaten."
Van Gaal admits it may be hard to raise spirits for the game because of the agonising nature of Wednesday's penalty shoot-out defeat.
"(The defeat) was very, very sad," he said. "A dream has been broken and this dream is not going to come back.
"It was all about being number one so to lose this way is the most terrible way.
"I would have rather lost 7-1 (as Brazil did against Germany)."
Because Holland only played on Wednesday night, Van Gaal is considering making many changes for the match in the Brazilian capital.
"I didn't name the team this morning, which goes against my principles," he said.
"It is the first time I've done that. I have to see how our training session goes first. I have to see who is in good shape and who is not.
"We have been in this tournament the longest time with the other three so the pains they players have had are now an issue, but we are moving in the right direction."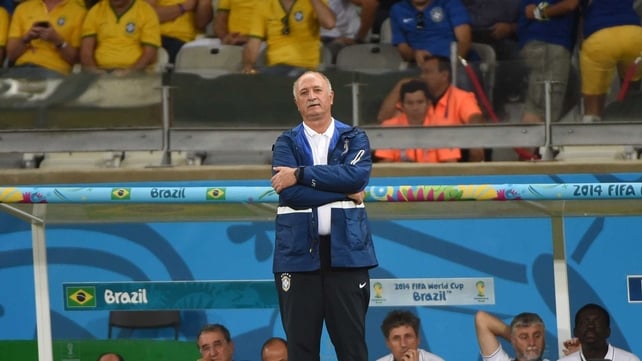 Meanwhile, Scolari (above) wants his Brazil players to restore some pride to the nation by ending the World Cup with a victory.
Brazil's hopes of winning the World Cup on home soil were dashed in the most brutal fashion on Tuesday when Germany hammered them 7-1 in the semi-finals.
A wave of anger towards Scolari and his players followed the humiliation, but the Brazil coach rejected calls for him to resign.
The defiant 65-year-old held up a sheet of paper during a press conference that followed the defeat, detailing his record of just three losses in 28 matches.
Another defeat in Saturday's third-place playoff against Holland would increase the public's anger towards Scolari, but he is desperate to end the summer with a win for the hurt people of his football-mad nation.
"I know my career will be marked by this defeat, but we have an obligation to move on and think about the next goal, which in this case is the match for third place on Saturday in Brasilia," the Brazil coach said.
"I know it's a much smaller dream that we all wanted, but we have to honour the shirt of the national team."
Scolari will meet with officials from the Brazilian Football Confederation following the match in the capital to discuss his future.
Brazilian football great Zico called on Scolari to quit following the hammering in Belo Horizonte.
But Scolari insists he has done a good job with the players he has at his disposal.
"We made the semi-finals, the top four teams in the world," he said.
"And there were a lot of good teams that were knocked out before us."