1700, Estadio Mineirao
England v Costa Rica
Following their second shock win of the tournament against four-time winners Italy, Costa Rica will walk out at Belo Horizonte's Estadio Mineirao knowing a place in the knockout stages is already assured. Roy Hodgson's side have nothing but their shattered pride to play for but will be desperate not to return home having lost all three group games for what would be the first time in their history.
Costa Rica heading to glory
The Group D leaders should look no further than England's defensive frailties in the air. In their other two group games, Hodgson's men have conceded headers from Italy's Mario Balotelli and Uruguay's Luis Suarez and, during the qualifying stages, let 25% of all goals in this way. Given that Costa Rica have had significant joy at the World Cup already using this tactic - Oscar Duarte and Bryan Ruiz scored with their heads against Uruguay and Italy, respectively - it may be an area boss Jorge Luis Pinto will look at to inflict further woe on the English.
Lion hearts broken from set-pieces
In terms of defending set-pieces, England appear to have picked up where they left off in qualifying. On the way to the finals the Three Lions conceded half of their goals from dead-ball situations while Claudio Marchisio's effort from outside the area in the opening game defeat to Italy came from a well-worked corner. Costa Rica have shown their ability in this area already at the World Cup when Duarte converted Cristian Bolanos' free-kick against Uruguay and, if they can keep up their qualifying record of scoring more than a quarter of all goals from set-pieces, it could only be a matter of time before the Central Americans find their way through again.
Summary
On current form it is hard to see anything but a win for Costa Rica - England have not won a game in four since departing home shores and have conceded six goals, highlighting their shaky defence. However, with the weight of the nation's hopes removed from their heavily-burdened shoulders, on paper Rooney and co should have more than enough in their locker to see off Jorge Luis Pinto's side, who sit 18 places below them in the world rankings.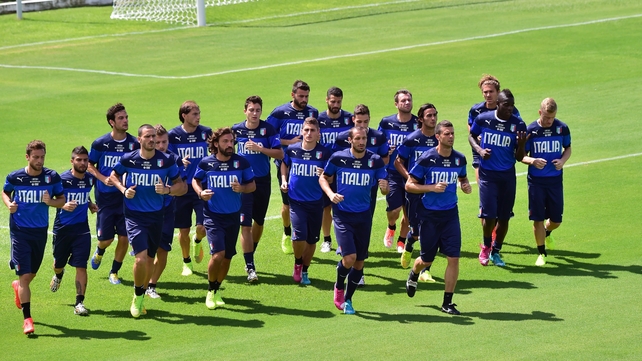 1700, Arena das Dunas
Italy v Uruguay
With Costa Rica having already defied all odds to qualify for the latter stages, Italy and Uruguay meet in Natal during the searing midday heat to see who joins the likes of Holland, Chile and Argentina in the knockout stages of Brazil 2014.
Despite both nations taking maximum points from their respective clashes with England, the odds lie in Italy's favour, having suffered just the one-goal defeat to Costa Rica compared to Uruguay's 3-1 loss. Cesare Prandelli's men will, therefore, be aware that a draw will be enough to help eradicate the memory of 2010's disappointing knockout at the same stage.
Right-back an Azzurri concern
No other nation conceded more goals down their own right flank than Italy during qualifying - four of the five goals against the four-time winners were created from here. Wayne Rooney highlighted this soft spot in the Group D opener, picking out Daniel Sturridge for the leveller. Uruguay have also shown signs of potency from the left wing; Edinson Cavani teed up Luis Suarez for their opener against England with a perfectly-timed cross from the left while the in-form Liverpool striker enjoyed significant success in the same area, attempting five deliveries from here in the same game.
Goals, goals, goals
Neither of these two nations are particularly adept at protecting their own goal. On the way to the finals Uruguay's defence only managed clean sheets in 28% of their games (conceding 25 goals in just 16 games). Of all the teams appearing in Brazil only Argentina (25%) were less effective than their South American counterparts at keeping clean sheets.
Summary
With England already eliminated it is down to these two sides to battle it out for the right to join outsiders Costa Rica in the Round of 16. Uruguay's Luis Suarez put any fitness fears behind him with a clinical brace against Roy Hodgson's England and will be looking to add to that with further goals against a lees-than-convincing Italian defence. However, the South Americans have significant defensive issues of their own and, if Andrea Pirlo is allowed to add to his already impressive tally of 173 completed passes at the finals so far, the Italian maestro may well orchestrate the end of Uruguay's participation in Brazil.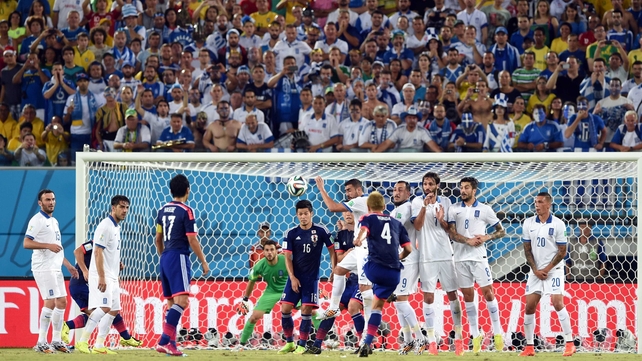 2100, Estádio Castelao
Greece v Ivory Coast
Both the Ivory Coast and Greece still have a chance to secure a spot in the knockout stages of the World Cup when they face each other in Fortaleza. The African side's 2-1 win over Japan in the first group stage match means they are currently second in Group C behind already-qualified Colombia on three points, two ahead of Greece, who managed to salvage a draw a few days ago against the Japanese.
However, Greece will be missing captain Konstantinos Katsouranis, who might just have played his last World Cup match after being sent off against Japan. Meanwhile, the Elephants face problems of their own with tragedy having struck the Toure brothers - their younger brother, Ibrahim, having died late last week.
While the Ivory Coast are in a strong position to qualify from the group, perhaps the most worrying aspect of their game is their reliance on inspiration from Didier Drogba, who, so far, has been limited to substitute appearances. This has shown in that all three of the Elephant's goals so far have been scored after Drogba's introduction around the hour mark. However, the Ivory Coast are well used to slow starts as throughout qualifying and the finals, the Ivory Coast managed to just score 26 per cent of their goals in the opening 15 minutes. Greece, meanwhile, conceded no goals in that period.
Busy shooters
While the Ivory Coast have managed to create numerous chances on goal in Brazil, their conversion rate has been low, needing 11 efforts per each goal scored. In fact, the Ivory Coast have been the third busiest shooters at the tournament so far with 33 shots from their first two matches. Greece, on the other hand, have seen a lack of goalmouth action, having failed to net so far in the tournament. The Ethniki have managed just 18 shots so far, better than only five sides.
Lack of possession
Their often defensive mentality has meant that Greece have struggled to move the ball so far, registering just 500 passes - the second least after Iran and far short of Ivory Coast's 877. Only four other sides have allowed fewer passes against them than the Ivory Coast's 592, so do not expect Greece to dominate possession here.
Summary
This match is the first ever meeting between both sides, and this maiden encounter will be crucial with Ivory Coast knowing that a draw would all but secure their path into the Round of 16 for the first time in the nation's history.
Meanwhile, Greece will be missing the experienced Katsouranis, one of a few survivors of Greece's Euro 2004 win, after his red card against Japan. And, should they have any chance of qualifying, a change of tactics could be needed with their defensive approach offering them very little penetration going forward so far.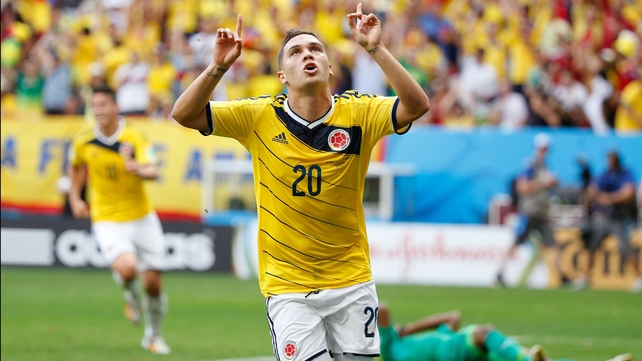 2100, Arena Pantanal
Japan v Colombia
Japan are on the brink of elimination following a loss to Ivory Coast and a draw in their last match with Greece, and will need a win against Colombia if they are to have any chance of progressing past the group stages.
The Asian champions were largely expected to lead the charge from that continent's contingent and yet, despite their big name players who ply their trade in Europe, Alberto Zaccheroni's men have been unable to reach their potential.
While they have been monopolising possession without a fuss, it is the fact they are unable to create any chances with that possession which is worrying, and their failure to capitalise on that extra man in their draw with Greece is a testament to an underwhelming tournament.
Colombia, meanwhile, have lived up to the hype surrounding their World Cup chances and are seemingly unfazed by the absence of striker Radamel Falcao. And having already secured their place in the round of 16, expect coach Jose Pekerman to field a fresher team as they look to go deep into the tournament.
Strong defence v potent attack
Japan's all-round game will need to be at its best should they have any chance of keeping the rampaging Colombians at bay. While Japan's defence has been relatively solid, having kept clean sheets in half of the qualifying matches including their match against Greece last week, their attack seems to be a worry with the lack of chances created. Meanwhile, despite Colombia failing to score in a quarter of their qualifying matches (only six teams failed to score in a higher proportion of games), they've hit the ground running in Brazil, with five goals in two games.
Sharp shooting
The scorelines of both teams throughout the tournament tells the story of differing fortunes in front of goal. Colombia are the joint fourth sharpest shooters so far in the tournament, having converted 25 per cent of shots into goals. Japan, though, are among the most wasteful with just 5.3 per cent of shots finding the net - almost five times worse than their opponents.
One-way match
Japan's players have endured the joint-fewest challenges (33) at the tournament so far while Colombia have attempted (32) the joint fewest. 
Summary
With the sides having only met previously on two occasions, there is no doubt this will be the most important fixture yet - for Japan anyway. Zaccheroni's troops will be looking to break their goalscoring duck against the South Americans, having failed to net even a single goal against Pekerman's men. And with Colombia expected to field a weaker side as they look to rest their key players ahead of the knockout stages, Japan will have to take advantage by coming out with all guns blazing. After all, there is a slight chance they may qualify should the other Ivory Coast-Greece match go their way