Colombian fans pouring into Brazil for their team's first World Cup since 1998 have had to sacrifice a vote in their cliff-hanger presidential poll, which will occur the day after Saturday's tournament opener against Greece.
"I'm sorry, but the World Cup beats elections any day," said systems engineer Guillermo Barrera, 33, arriving on Tuesday in Belo Horizonte ahead of the Group C game.
Most of the thousands of Colombians coming to neighbouring Brazil will be unable to return quickly enough to vote in Sunday's run-off election between President Juan Manuel Santos and Oscar Ivan Zuluaga. Polls show the pair running neck-and-neck.
While the yellow-decked Colombian fans were in good voice at Belo Horizonte airport and around the city, plenty were also acutely aware of missing out on the political drama at home.
"It's an election where every vote counts because the candidates are so close. I'd like to vote, but I had to choose: my democratic right or see the game. I voted for football," said Jose-Luis Londono, 29, an architect from Medellin.
If he was not in Brazil, Londono would have voted for Santos, he said. Any frustration, though, was offset by the presence of his travelling companion Leo Bedoya, 27, a Zuluaga supporter, who could not vote either, thus cancelling each other out.
"I can party in peace on Saturday when we beat Greece, I won't be thinking about the election" - Nicolas Luna, a fan from Bogota
Some Colombian fans said they did not care for either candidate. Both Santos and Zuluaga are conservative politicians and former cabinet colleagues who espouse free-market economics and only differ on how to handle peace talks with rebels.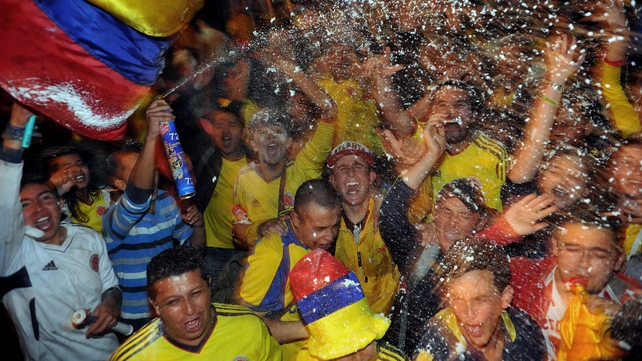 "I don't believe in our democracy. They both have done wrong in the past. So I'm not worried about not voting. I can party in peace on Saturday when we beat Greece, I won't be thinking about the election," said Nicolas Luna, 26, an engineer from Bogota.
And party they will, should Colombia manage to overcome the absence of injured key striker Radamel Falcao and overcome the Greeks at the Mineirao Stadium.
Whereas an alcohol ban will be in force at home in Colombia for the election weekend, there are of course no such restrictions for fans in Belo Horizonte.
Though glum over the loss of Falcao's attacking power, Colombian fans were upbeat about their team's squad depth and ability to top a group also including Japan and Ivory Coast.
"Undoubtedly Falcao's absence has hit our morale," said Barrera. "But we're still a good team even without him. Japan might be a tough game, but I think we'll get to the next round."