RTÉ's World Cup panel has worked through all of the facts and pre-tournament hype to give their views on who the real contenders are heading into Brazil.
John Giles:
I think the strongest South American side is Argentina, and the strongest European side is Spain, so they would be my two. You have to look at the squads and look at the players they have got, but that's looking into the future, it's only guesswork at this stage.
Eamon Dunphy:
I think Argentina will contend, Brazil being the host nation will contend and Spain will contend, but after that I think there is a big gap. France have an easy group, so they will make the quarter-finals and may gain some confidence, and maybe Uruguay and Italy,  as they will come out of their group with England. I think either Argentina or Spain will win it.
Ossie Ardiles:
I think there are a lot of teams that can win it. Normally speaking you only choose three or four teams, but I think this time the World Cup is much, much more open. There are a lot of teams that can win it. If you're talking about the very best, it's Argentina and Brazil for South America and Germany and Spain for Europe.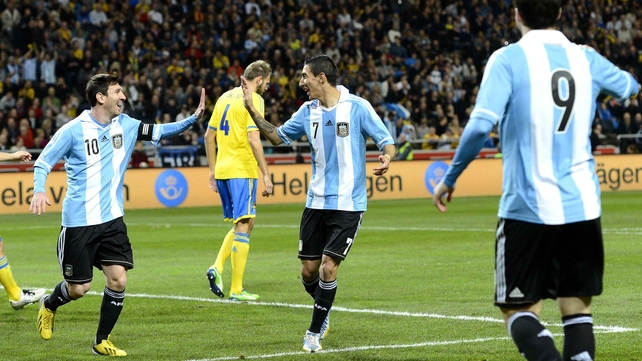 Ronnie Whelan:
Obviously Brazil with them being at home and Argentina with Messi, Di Maria and Higuain: they would be for me the two that I would fancy to win it. Then you're looking at the usual suspects in Spain and Germany. I've a little sneaking feeling about Belgium that they might go far in the competition, and it's not the hardest group they're in.
Kenny Cunningham:
The South American threat comes from Brazil and Argentina, but my gut instinct tells me that neither of them will win it. I think it could be a European winner for the first time [at a World Cup held in South America]. And so I would see Spain as being the favourites just ahead of the Germans. But I think it's wide open, and I don't think Spain are as clear favourites as in recent years.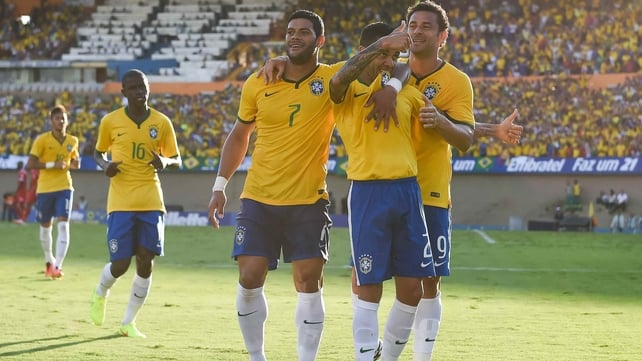 Ray Houghton:
Obviously Brazil because they'll be used to the conditions over there. European teams in that part of the world over the decades have never done well. Conditions seem to be a problem for them, and I think that may the case again. When you look at the main protagonists from Europe you'll probably see Germany who don't have enough strikers and Spain who really struggled in the Confederations Cup with the weather, especially up in the north.
Richie Sadlier:
I think the contenders are the obvious ones being Brazil, Argentina, Spain and Germany, but to try to pick a winner from that group is difficult. But I have a hunch that Argentina might do it and not because they have the best player in the world playing for them but because they have a huge amount of talent like Higuain, Aguero and Di Maria. And they are a South American country playing in South America, so they will have no problem with climate or conditions and traditionally European teams haven't done well there. Also Argentina don't have the pressure that Brazil have to cope with.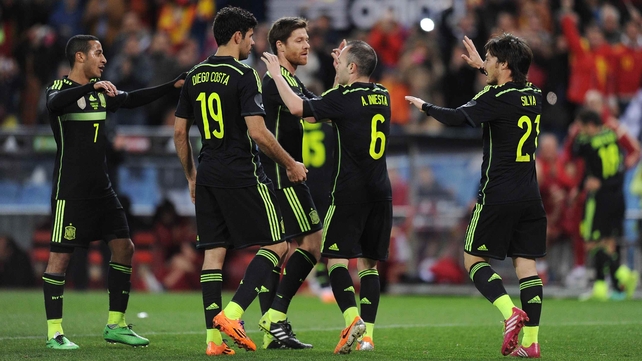 Tony O'Donoghue (RTÉ Soccer Correspondant):
I think you have to look at Brazil as they are the hosts, Germany because they are so good, and Argentina because of their forwards, although I wonder if they are good enough defensively. But I can't see past Spain, while Xavi isn't as good as he once was, I think Iniesta is still one of the top players in the world, and he knits everything together. He is extraordinary, and if Costa is fit, they might have a goals corer as well. Romantically, I'd love to see them do it one more time because they have been so good for football and because of the style with which they play.
Ed Leahy (RTE.ie):
Looking through Spain's squad from 1 to 23 is absolutely frightening, to see the talent at their disposal. And having won the previous World Cup and two European Championships, Vicente Del Bosque's side have nothing to prove. But I cannot see past Brazil winning the tournament and lifting the trophy in front of their home crowd at the Maracana. The hosts will embrace the fact that they are playing at home and work the home support to their advantage. And let's not forget, Brazil actually believe they can win the World Cup, and they will get stronger and more confident with every game. Brazil's team-spirit should be a major factor, while Big Phil Scolari has done it all before and can do it again.

Rob Wright (RTE.ie):
I just don't see anyone getting close to Spain and Argentina.  Spain are now arguably a better team than the one that won the World Cup four years ago. The addition of Diego Costa up front gives them the cutting edge that they've often lacked in the past, and his aggressive physical presence gives them something that Vicente Del Bosque's side never had before. If he's fit for the tournament Spain will go far. Argentina meanwhile have four of the world's best attacking players in their first choice XI and finally have a Lionel Messi who is replicating his club form for his country. Defence remains a concern, but when you have the likes of Messi, Aguero, Higuain and Di Maria, you have to be confident of outscoring anyone.