England manager Roy Hodgson is not thinking about replacing Alex Oxlade-Chamberlain in his World Cup squad.
The Arsenal midfielder suffered a knee injury against Ecuador on Wednesday night, and it is now thought to be touch and go regarding his participation in Brazil.
Hodgson, though, is not considering replacing him or calling up cover at this stage.
"There's no change," he said of Oxlade-Chamberlain's situation ahead of Saturday's warm-up against Honduras.
"He's been working with the physios the last couple of days, we will monitor and keep our fingers crossed that it's not too serious and that he will recover in time to take part in this World Cup."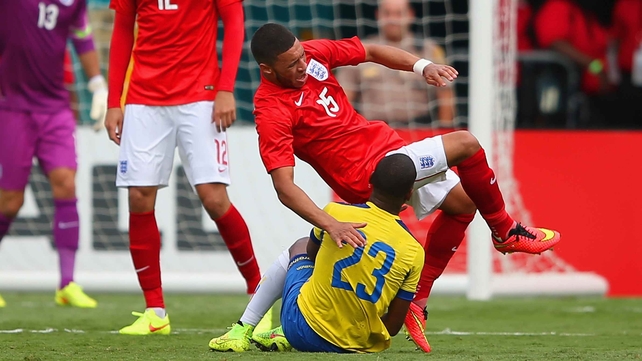 Asked when he would need to make a decision on Oxlade-Chamberlain, he added: "It won't be before we go to Brazil.
"It will be the very, very last moment available to us, which on my understanding is 24 hours before we play the first game.
"He's in a positive frame of mind - it was a major blow and he was playing so well. You can imagine how sad he is but his mood is good."
The Honduras game is England's last fixture before their World Cup opener with Italy on 14 June.
 "We will monitor and keep our fingers crossed that it's not too serious" - Roy Hodgson on Alex Oxlade-Chamberlain
Hodgson is not planning to give his team away for that clash just yet.
"There is no need to give Italy the starting line-up, and I haven't told the players the team," he said. "We take this game very seriously, but it will be more than an 11-man game. I'm aware that everyone is trying to second guess the team."
England captain Steven Gerrard, meanwhile, was positive about the side's preparations so far.
He said: "Alex [Oxlade-Chamberlain] was man of the match before he went off injured, but there were lots of positives from the game.
"Preparation has gone very well. The heat out here is perfect, and we will get conditioned.
"It's going to be different as there's nothing like Manaus, but we have a week to go and we are exactly where we want to be at the moment.
"Hopefully we will get no more injuries."