By Rob Wright
Former World Cup finalist and RTÉ Sport pundit Didi Hamann believes that Argentina are the team to beat in Brazil, but says Chile may surprise people.
Speaking to RTÉ Sport, Hamann, who was on the losing side to Brazil with Germany in the 2002 final, revealed that he expects South American teams to thrive this time out, and he feels that Argentina's wealth of attacking options will give them the edge.
"I think that Argentina are the team to beat. I really fancy their chances with the firepower that they have going forward.
"I think any of the South American teams can surprise. Chile showed how good they are. They could be a surprise package.
"Colombia are probably less without [Radamel] Falcao. He is the one we would love to see on the biggest stage, but obviously he misses through injury. He's probably the biggest loss [to the tournament]."
"If the weather is hot and humid it will obviously favour the teams that have the ball" - Didi Hamann
Much has been made of the effect that the Brazilian climate will have on teams, especially those from Europe not used to playing in such conditions, but Hamann believes that it could actually help the more skilful European sides. 
"If the weather is hot and humid it will obviously favour the teams that have the ball, so the likes of Spain and Germany will probably have a bit of an advantage," he said.
However, despite that, the former Liverpool midfielder is not confident that Germany will be involved at the business end of the tournament.
"It'll be tough for them because they've got a few players out and they've got some players out of form," he said.
"[Bastian] Schweinsteiger, who is the heartbeat of the team, missed the German Cup final and missed quite a lot of football this season, and I think there are a lot of question marks about the Germany team. I don't think they're serious title contenders."
German manager Joachim Low has raised eyebrows with his team selection, most notably up front where he has picked just one recognised striker, in the veteran Miroslav Klose, and has ignored the likes of Stefan Kiessling and Max Kruse.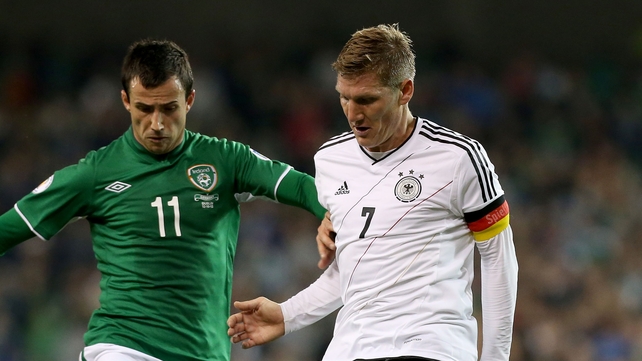 "[Low] can only pick from what he's got. Obviously, I'm a bit surprised that he didn't pick Kiessling. It is a bit strange, but then again there's not a lot to pick from. I'm a bit surprised that he doesn't take another centre forward with him."
Hamann is slightly more optimistic about the chances of his adopted country, England, although he does believe that their manager Roy Hodgson will have to make some tough decisions if he is to get the best out of his group of players, which may even mean dropping Wayne Rooney.
"In England's case, I would have liked to see Ashley Cole, I think he should have gone. If England pick the right team I think they can go well.
"I expect them to get out of the group, but I think Roy Hodgson's got to make a decision on Rooney or Sturridge. He can't play or shouldn't play both. I think that will be the big decision.
"He may still play one of them on the wing or off the front man, but if he picks his best team, then I think they've got a chance to at least get to the quarters because they've got a lot of exciting players going forward."
Hamann believes that Hodgson must pick a team to suit a system rather than just choosing his most talented eleven players and trying to shoehorn them all in.
"If he starts trying to fit his best players into the team again then I think they will struggle as they have done in recent tournaments," the Champions League winner said.
"For the best of the team, I think Hodgson should make a decision between Sturridge or Rooney, one or the other.
"I don't think he should play both, and I don't think the team can play both. But can Hodgson drop Rooney? Probably not in the first game."