By any measure Jordan Brown has enjoyed a dream season.
He tells RTÉ Sport that his career has been all about setting realistic goals. This campaign it was reaching a first ranking tournament quarter-final.
That was achieved in January when he got to the last-eight of the German Masters. Undoubtedly, his victory at the Welsh Open at Celtic Manor in February, in which he overcame defending world champion Ronnie O'Sullivan, means that he has, by his own standard, over-achieved in 2021.
"I'm still trying to come to terms with it and come back down to earth," admits the Antrim Ferrrari.
"I'm just trying to soak up every second. I know this doesn't happen every day to somebody like me. That said it's important for me to get back to normal and get back to the practice table. Things are starting to settle now and my focus is on the World Championship qualifiers.
"I've worked hard all my career to get to that point so it's up to me to keep believing in myself, and believing that I can win more titles. I feel that I belong there with the big boys and it's up to me to carry that on."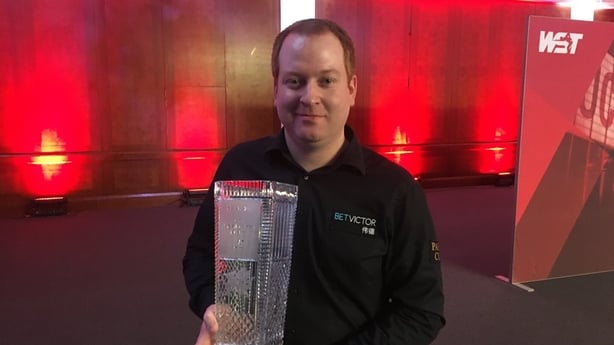 Indeed Brown's career is a good example of how hard someone might have to work to realise their ambition.
He first made it onto the pro tour back in 2009. Snooker then was a struggling sport having reached something of a nadir after its slow decline from being box office in the 1980s. Barry Hearn got properly involved that season when he was elected the Chairman of the WPBSA, but his arrival was not yet truly being felt in the sport.
It meant far fewer tournaments on the calendar. Brown was that season's representative from the Northern Ireland Billiard and Snooker Association (NIBSA) after topping the rankings there.
He won just four matches all year - which included a walkover against David Gray in one of the Pro Challenge Series Events - and his biggest pay cheque all was season was just £225 (around €260). He ended the year 90th in the provisional rankings and was off the tour.
He then became a journeyman player, trying to get to play in tournaments, barely covering the costs of travel, while also trying to work to pay the bills. It got to the stage in the middle of the last decade where, working in a petrol station in Antrim, he considered packing it all in.
But he finally earned another chance when he secured a tour card at the 2018 Q School. Since arriving in the last chance saloon he hasn't looked back.
His form has seen him jump to number nine in the one-year rankings, and well inside the top-64 in the two-year list. He has a clear idea of where he wants to go next.
"At the start of this season I said to myself that I wanted to get to quarter-final, and that would be a stepping stone to pushing on. From a quarter-final to make the final was a big step, and then to win it.
"The next stage is to try to reach the top 32, and then to the top 16. Ultimately that's where every player wants to be - among the elite - and I do feel that I have the ability to get there.
"I was always a quicker learner, but I can't say the same about my process of turning professional. It took me two goes, after going off the tour over a decade ago. I spent a few years in the doldrums but that just shows you how hard it is to make the top in anything."
Jordan Brown has beaten Ronnie O'Sullivan in a decider to win the @BetVictor Welsh Open #BVEuroSeries pic.twitter.com/CWKl9YHmDP

— World Snooker Tour (@WeAreWST) February 21, 2021
And the hard work is by no means over. Despite all of his progress this season he's still, for now, outside of the top-16 in the rankings. It means he has to qualify for the showpiece event, the World Championships at the iconic Crucible Theatre.
Since his victory at Celtic Manor he's played two matches and lost both, winning just three frames in the process.
He has reached Sheffield once before. That was last season, and despite a good showing against one of the game's elites in Mark Selby he went down 10-6.
The Englishman made it all the way to the semis where he had victory snatched from him by eventual winner Ronnie O'Sullivan in a deciding frame. It was one of the true classic matches at the Crucible, but it gives a sense of how close Brown was to mixing it with the real top players in the sport.
He faces Steven Hallworth on Monday morning, but if he needed a reminder of just how cut throat the qualifiers can be Brown need only look to the other Irish players attempting to get through.
No fewer than six - Fergal Quinn, Robbie McGuigan, Leo Fernandez, Ken Doherty, Fergal O'Brien and Aaron Hill - have already been knocked out with only Gerard Greene managing a moral-boosting (and critical in terms of his tour survival) victory over James Cahill.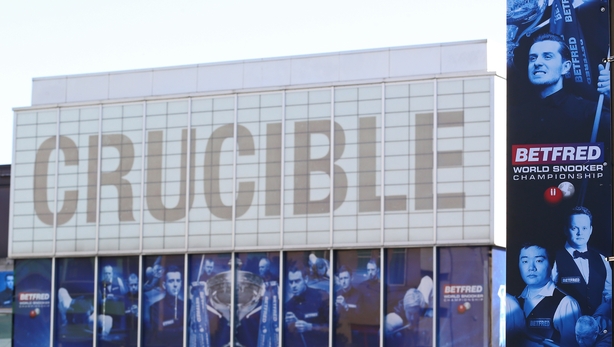 There will be audiences at the Crucible Theatre, with a full house due for the final if everything goes to plan, and Brown acknowledges that it's tantalizing to once more have the potential draw of a full house at the spiritual home of snooker.
"Whenever we first didn't have the audiences in it did take a while to get used to. You were shell-shocked that you were walking out and there was absolutely no one watching - you could hear a pin drop. But we're just thankful to have tournaments, full stop.
"We've got used to being at Milton Keynes for the majority of the season. It's nearly like a second home. You play your match, go back to your hotel room. You can feel like you're locked up - it's not easy for any player and I must admit that I did find it hard even leading up to the Welsh Open. I was trying to come to terms with it all and wondering when it was ever going to end.
"It still isn't easy but I think we're gradually getting out of this. They're aiming to get crowds back at the Crucible and it's something to look forward to. We miss them because they do give you a lift. In a way playing with no one in the audience has helped me.
"You've fewer distractions, no phones going off, no one trying to leave to go to the toilet when you're on the shot. Ultimately though everyone wants to play in front of a crowd.
"That's what we all play for, to try and entertain as well."
Selected third round qualifiers:
Monday
Jordan Brown v Steven Hallworth
Gary Wilson v Gerard Greene