Northern Ireland's Gerard Greene admits he's struggling for confidence as he attempts to save his place on tour in the World Snooker Championship qualifiers.
The Kent-born left-hander has slipped outside the top-100 on the one year ranking list meaning he needs results at the English Institute of Sport to avoid having to go to the sport's qualifier tournament, Q School.
The top-64 players in the two year rankings, a player ranked in the top eight of the one-year list who doesn't already have a card, as well as those who qualify for the Crucible, are guaranteed their place on tour next season.
Realistically it leaves Greene needing to win his second round qualifier against James Cahill, as well as the other two qualifying matches, including a potential tie with Welsh Open winner Jordan Brown, to keep his card.
"Useless, it's been terrible," is his appraisal of the season so far when speaking to RTÉ Sport.
"I haven't played well all year. I've had a couple of good games but results didn't go my way. I haven't really played well enough - I can't remember the last time I have.
"I'm fighting for tour survival but if I can make it to the Crucible I'll achieve that. It's mainly my fault. I feel alright in practice but when I go out to play a match I've got zero confidence. I very rarely get nervous now. I just go out there a bit flat now - I nearly feel a bit brain dead. I'd rather be nervous.
"I can't remember the last time I went into a match and came out of it thinking I'd done alright. People have been playing OK against me but I've been giving them opportunities. Earlier in the season I played Jordan at the European Masters and I played well but he beat me.
"It all started there really. I started making mistakes and people have been capitalising on them. That's what you're supposed to do. I've been putting the practice in but nothing has clicked at the moment."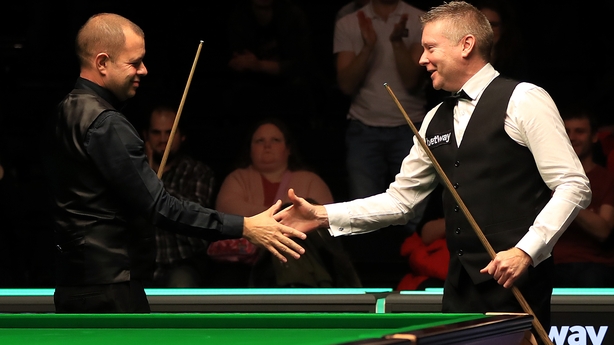 Greene has been practicing with Barry Hawkins in the build-up to this week.
He watched on as Brown won in Wales earlier in the season, but he says his own form is miles away from his fellow Norther Irishman.
"He's got a lot of self belief and he played fantastic all week," he says of Brown's win at Newport.
"With that bit of belief you've a good chance to do well. I just don't seem to have any of that - I'm struggling at the moment. Touch wood it can get a bit better."
Greene, who claims to have "millions of cousins in Belfast", turned professional in 1993.
He was off the tour for one seasons in the middle of the last decade after previously dropping down the rankings, before claiming a tour card through the EBSA play-offs in 2017.
The current Covid-19 pandemic has meant players getting to know Milton Keynes very well, with World Snooker using the Marshal Arena in the city.
"The set-up is what it is," Greene points out.
"We'd obviously rather be playing than not. We don't play in front of millions of people anyway - not like the big boys - but it's always fun when there's people watching. There's no atmosphere there but we're still trying to earn a living.
"They've done a great job getting snooker on but there's not a lot atmosphere at the events. Even between the players all we can do off the table is sit around with our masks on. But it is what it is - we have to try out best to keep playing and keep going."