Northern Ireland's Jordan Brown created one of the biggest shocks in snooker history last weekend by winning the Welsh Open, becoming the lowest ranked player to win a title in 28 years.
Born in Antrim, the 33-year-old enjoyed limited success in the early years of his career.
He is a three-time Northern Irish amateur champion, as well as finishing runner-up on four occasions.
Brown initially turned professional in 2009 after the amateur success but lasted just a single season on the main tour.
Five years ago he enjoyed a breakthrough by beating Ben Woollaston when afford a wildcard at his home tournament, the Northern Ireland Open.
His performance at the amateur competitions led to entries to the UK Championship on four occasions.
They yielded little in the way of results, with opening round defeats to Stuart Bingham and Jimmy Robertson.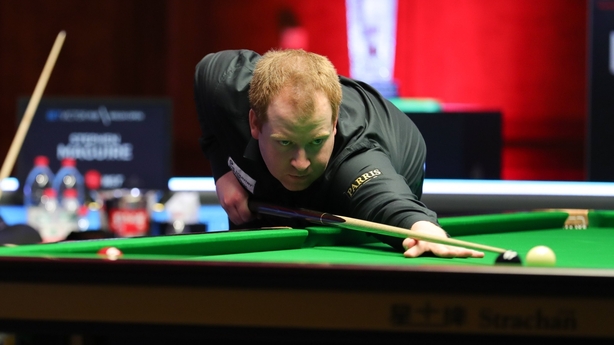 However, wins over Mark Joyce and Martin Gould did provide second round places in the last two years.
Known as the 'Antrim Ferrari', his best ranking-event performances before last year were runs to the third round of the English Open and Paul Hunter Classic in 2018. He almost fell off the tour last year after a string of poor results.
The 2019-20 season did end on a high for Brown as he qualified for a maiden appearance at the World Championship in Sheffield and secured his place on the tour. After getting the better of Rory McLeod and Hossein Vafaei.
Brown rounded off his qualifying campaign with an impressive victory over three-time quarter-finalist Ryan Day. He was handed a tough opening-round draw at the Crucible Theatre, losing 10-6 to three-time world champion Mark Selby.
The Antrim man achieved a new career-best performance in a ranking event by reaching the quarter-finals of the German Masters last month, but few will have foreseen his triumphant run at the Welsh Open.
Brown won four consecutive final-frame deciders, including against Selby in the last eight, before thumping Maguire 6-1 in the semi-finals.
The best was yet to come, however, as Brown pulled off one more deciding-frame victory against O'Sullivan, becoming the lowest-ranked player since Dave Harold in 1993 to win a ranking event and only the fourth Northern Irishman to win such a tournament - joining Alex Higgins, Dennis Taylor and close friend Mark Allen.
He revealed he had been working in a petrol station to pay bills during difficult days when he considered giving up the game.
Five years ago he decided to commit totally to snooker and "give it a proper go because I never really committed myself before that".
Speaking after his win last night, he said: "I just always believed in myself. I had some bad days, but that's what makes you stronger as a player and a person.
"I was working full-time in a petrol station and full-time snooker on the side and it's all paying off.
"It's a dream come true to be mentioned with those great Northern Irish players.
"We all get behind each other but definitely in Antrim."
Let us know when it sinks in, @jordyb147 😉 pic.twitter.com/O41YMAtKFx

— World Snooker Tour (@WeAreWST) February 21, 2021
He thanked three key people who helped him succeed; his coach Marty Brantwood, girlfriend Catherine and his father, who Brown touchingly said if it wasn't for him, the victory wouldn't be possible.
Reflecting on the welcome reward of the £70,000 winner's cheque, Brown added: "It's life-changing for my personal life. I won't have to worry about a few bills now."
Brown's performance in Newport earned him a place in this week's Players Championship and he will face John Higgins in the first round on Wednesday afternoon.
The 33-year-old's only previous meeting with Higgins came as an amateur at the 2012 Scottish Open, but it ended in a huge first-round upset, with Brown prevailing 4-3 before ultimately being knocked out by Day in the third round.