Back in the April of 1997, Ronnie O'Sullivan looked like he could have picked up an Epiphone Les Paul and walked onstage with Oasis.
Then 21, with a mop of dark hair, a unibrow and a nonchalant swagger, he'd already been marked as a supreme young talent having made his Crucible debut in 1993 when he was just 17.
In the same year he defeated Stephen Hendry in the final of the UK Championship to become the youngest ever winner of a ranking event. He ruffled feathers too in '96 after occasionally playing left-handed during his 10-3 victory against an unimpressed Alain Robidoux.
Robidoux claimed it was "disrespectful"; O'Sulllivan said he did it because he was "bored", later calling out the French Canadian for "acting like a baby".
But Ronnie had a breakout moment in '97 that changed the way the world looked at him.
Leading Mick Price 8-5 in their World Championship first-round clash, he picked off a loose red in the 14th frame, controlling the cue ball nicely to get on the black.
And then, we were off.
In five minutes and eight seconds, O'Sullivan completed the fastest 147 in Crucible history. Had you pressed play on Some Might Say as he sank the opening red, Noel Gallagher's outro would have still have been chiming away in the background after the final black was dispatched.
It was genuinely jaw-dropping.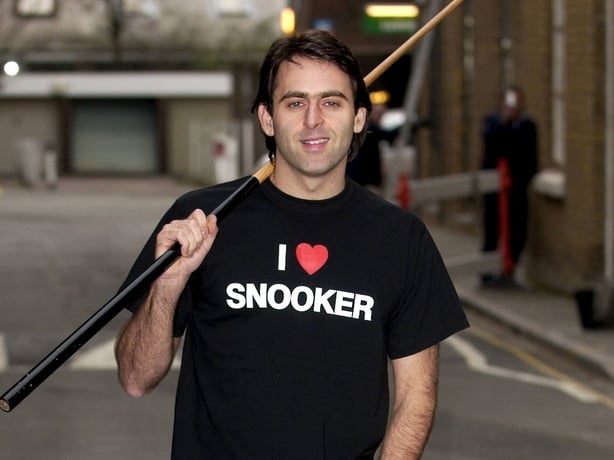 When Cliff Thorburn became the first man to make a maximum at the Crucible in 1983, it took him 15 nerve-jangling minutes - and actually began with a total fluke on a red. By the time commentator Jack Karnehm uttered his famous line - "oh... good luck mate" - ahead of Thorburn taking on the last black, it felt like the room was about to collapse under the weight of the tension.
Not so with Ronnie. Dennis Taylor was on commentary duty for the BBC and exclaimed, "I don't believe this" just before O'Sullivan pocketed the pink. It was simply never in doubt. The white ball barely got a breather as the Englishman finished the job, pretending to chalk his cue with a cheeky grin as the room exploded.
The Rocket was born. It was rock and roll.
But here's the thing about rock and roll stars: they don't particularly like playing by the rules. They're difficult, immature and egotistical, and you live with it because the best ones have a streak of genius that makes all the bad stuff a fun part of the equation.
So it is with Ronnie O'Sullivan.
Over the last two weeks of the World Championship in Sheffield, he's been in lively form.
Now 44 but as unpredictable as ever, O'Sullivan has supplied a steady stream of soundbites to go with snooker that's veered from being maddeningly undisciplined to truly exceptional.
In the week before the tournament, we got a glimpse of where the Rocket's head was. "Usually I'd rent a house with my own food and a few friends with me and we'd just turn it into a holiday. The snooker is a bit of an add-on," he shrugged, adding quite tellingly: "It sounds crazy to say, but I've had an absolutely fantastic time [in lockdown]. Life's got even more simple."
That's a theme he's touched on many times over the years. Sometimes it's like he's inconvenienced by his own brilliance.
The last fortnight we've seen that struggle play out once again - a man aware he's been blessed with an extraordinary talent but not quite sure why, as if self-sabotage is the only way for him to stay motivated.
He has five World Championships under his belt but possesses the talent to have double that. It is, after all, seven years since he won it and six since he reached the decider.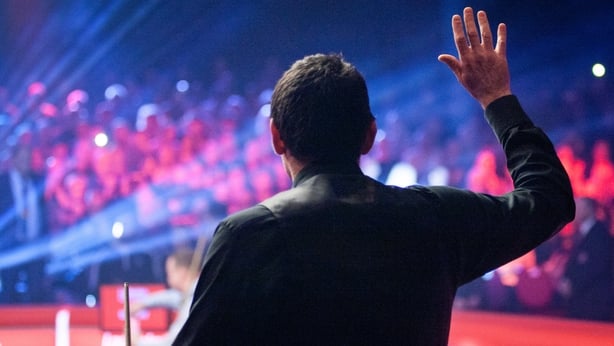 O'Sullivan was beaten then by Mark Selby, who he got past in the semis on Friday after an unbelievable scrap. The full arc of Ronnie's rainbow of eccentricities shimmered in an exhausting showdown.
Trailing 15-14 and needing to get himself out of a snooker to kiss the pink, O'Sullivan smashed the type of Hail Mary you'd see in a pub. He fouled, Selby won the frame, and that looked like it was that.
But then sulky Ronnie disappeared and the Rocket emerged. O'Sullivan produced three frames of unbelievable snooker to snatch it, the needle hitting the groove to lift him to another plane.
"I found some sort of magic towards the end, I don't know where it came from," he sighed afterwards.
Nobody does.
In the build-up to this year's tournament, he spoke of running through the forest and admiring the scenery with a takeaway ["I think most people come to the point of thinking it's actually quite nice to get fish and chips and sit in your car or the top of a hill with a nice view."]
Twice he's shared his sincere view that crowds should not be allowed into the Crucible ["an unnecessary risk"] before causing a right stir when he claimed the standard of the rising crop of talent in the games "so bad" that he'd have to "lose an arm and a leg" to slip down the rankings.
A couple of days after that, O'Sullivan compared himself to Diego Maradona: "He's big and fat but you put a ball at his feet and the geezer's unbelievable - but he's not fit enough to play against guys who haven't got as much talent as him."
He's punched the table in a fit of frustration, pulled silly faces, played brilliantly, played poorly, played like he doesn't want to play at all.
And then he does what he did to Selby and you forget everything else.
This is Ronnie O'Sullivan, for better or for worse.
He had looked odds on to get past Kyren Wilson and wrap up another world crown, with Stephen Hendry declaring the contest "over" after the opening session.
But the underdog rallied well against a tired looking O'Sullivan in the evening to make today a lot more interesting.
Now we wait to see who turns up: Ronnie, or the Rocket.
Back in 2017, after losing to Judd Trump in the quarter-finals of the Players Championship, he conducted a barmy interview with BBC Wales Sport that played out like this:
- How frustrating was it to lose out?
- Very.
- What did you make of your own performance?
- Decent.
- What did you make of Judd's performance?
Usual.
- He's a pretty talented player isn't he?
- Very.
- He's been in form this season.
- Totally.
And then, when told he seemed to take a while to get going, O'Sullivan responded: "Maybe. [Pause]. Maybeeeeee, there's gonna be the one that saves meeeee... and after all, you're my Wonderwall."
Classic Ronnie. The twist always seems to come when he's at his most morose. He even stayed true to the spirit of mid-90s Liam Gallagher and got the lyrics wrong.
His is an enigmatic brilliance that can flicker and fade in an instant.
A lot's changed since the 90s; but in many ways for Ronnie O'Sullivan, the song remains the same.