Mark Selby thought he was dead and buried in the Betfred World Championship final before staging the spectacular comeback that brought him a third title.
When he trailed John Higgins by 10-4 on Sunday evening, Selby had looked beaten, on the scoreboard and in his cheerless demeanour, but a colossal comeback saw him roll to an 18-15 victory barely 24 hours later.
The recovery began when Selby ran through the final three frames of day one, cutting his arrears to 10-7 and sowing the first seeds of doubt in the mind of Higgins.
"It's a fantastic feeling," said Selby. "I was confident coming here because of the season I've had.
"But at 10-4 down I thought there was no way in the world I was coming back from that. I wanted to try to make it respectable and at one stage I was thinking I could lose with a session to spare.
"I was sitting there and thinking, 'Try to get your act together, try and find something from within, just take one frame at a time'. And to come out 10-7 felt like I was 10-7 in front.
"My game was all over the place, I was missing ball after ball and making it too easy for John.
"I decided if I was going to lose I'd go down fighting."
💬 @markjesterselby reacts to winning a third world title! 🏆 #ilovesnooker pic.twitter.com/9OA3f8Ud7g

— World Snooker (@WorldSnooker1) May 1, 2017
Now Selby can build on his three Crucible triumphs, and four-time champion Higgins is convinced there will be more successes for the 33-year-old Leicester cueman to enjoy.
Asked about Selby's prospects of further world titles, Higgins said: "I think Mark will add to that, whether it's one, two, three or four. He's the toughest player I've ever played.
"He looks as if he could be the challenger to Stephen Hendry's seven, I really believe that because he's just granite, he really is. It's really tough to play against. I take my hat off to him - fantastic.
"Mark is the toughest player I've ever played. I was trying to get ahead and keep my foot on him but he's too good a player not to come back so every credit to him.
"I'm delighted to have got to the final, it's a pity I couldn't have gone one step further but I'm proud of myself."
Asked whether Selby was now up there with the all-time greats, Higgins said: "Without a shadow of a doubt."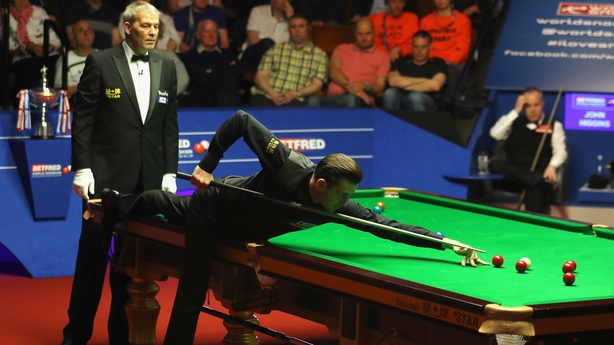 There was a moment of huge controversy late in the day, when Selby attempted to roll up behind the black and snooker Higgins, only for referee Jan Verhaas to decide the ball had run up short. He called a foul, briefly rowing back on his decision before reinstating the original call.
Selby seemed unimpressed but gathered his composure, and victory made him just the fourth player to successfully defend a world title in Sheffield, after Steve Davis, Hendry and Ronnie O'Sullivan.
Selby, when asked about the black-ball controversy, said: "I could have swore the black moved a little bit.
"The referee's decision is final and you have to go with what they go with, and Jan's probably the best referee we have in the game and I respect his decision."