Mark Selby pulled off one of the most astonishing victories in a Crucible final as he landed his third World Championship title.
When he trailed John Higgins by 10-4 on Sunday evening, Selby had looked beaten, on the scoreboard and in his cheerless demeanour, but a colossal comeback saw him roll to an 18-15 victory.
There was a moment of huge controversy late in the day, when Selby attempted to roll up behind the black and snooker Higgins, only for referee Jan Verhaas to decide the ball had run up short.
Big moment in the 31st frame

Referee Jan Verhaas calls a foul, replays suggest it hit, but he sticks with his original decision. Thoughts? pic.twitter.com/QmqIObNFGV

— Eurosport UK (@Eurosport_UK) May 1, 2017
He called a foul, briefly rowed back on his decision, before reinstating the original call.
Selby seemed nonplussed but gathered his composure, and victory made him just the fourth player to successfully defend a world title in Sheffield, after Steve Davis, Stephen Hendry and Ronnie O'Sullivan.
Mark Selby clinches a third World Championship title after stunning comeback against John Higgins - what a performance! pic.twitter.com/eg8S8e5uJZ

— Eurosport UK (@Eurosport_UK) May 1, 2017
That level of company reflects Selby's status as a modern-day snooker great.
Selby said: "It's unbelievable really. I'd hit the wall; I had nothing left.
"To get out 10-7 yesterday I was over the moon.
"I tried to find something and fortunately for me John missed a few balls you wouldn't expect him to miss and gave me a way back into the match."
Higgins, a four-time world champion, must have been thinking a fifth title was coming his way as he took advantage of Selby's obvious languor early in the match, a hangover from the world number one's sapping semi-final against Ding Junhui.
"Mark Selby has joined the all-time greats!"

Amazing scenes as the Jester collects the trophy and celebrates with his family... pic.twitter.com/XadWER4Xrd

— Eurosport UK (@Eurosport_UK) May 1, 2017
No player had come back to win from a greater deficit than six frames in a World Championship final since Dennis Taylor trailed Steve Davis by 8-0 and 9-1 in their 1985 classic.
Crucially Selby launched his revival late in the day on Sunday, thrusting a fist pump after reeling off three successive frames, and planting the first seeds of doubt into the mind of Higgins.
The seeds became giant oaks of disbelief on Monday afternoon as Higgins saw his lead evaporate and Selby begin to stretch clear.
Decked out all in black, his hair slicked back and preened like a matinee idol, Selby is the clean-cut face of the modern game. Three world titles in four years could be followed by several more in the years ahead.
Higgins forecast before the final began that Selby could match Stephen Hendry's record of seven.
The 33-year-old from Leicester led 13-11 coming into the evening, and withstood a late Higgins flourish to get his hands on the trophy.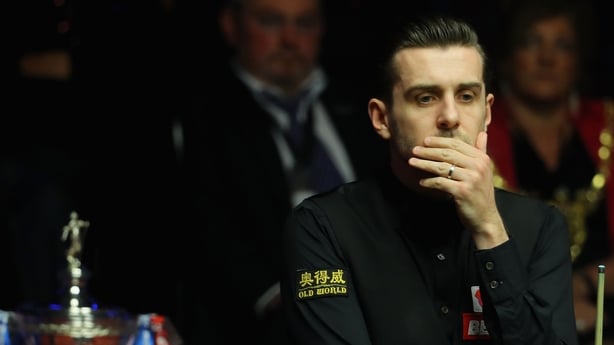 O'Sullivan knows exactly how Higgins must have been feeling, having had Selby on the ropes at 10-5 in the 2014 final before falling to a punishing counter-attack.
Blessed with a terrific temperament, Selby knew once he had narrowed the gap to Higgins that the momentum was with him.
O'Sullivan watched the drama unfold from a television studio, and tweeted: "If you want to win events you need to play like selby. It's the new modern way of playing..#lethalsnooker"
Selby's title last year came on the same night that Leicester City won the Premier League title, with even Selby distracted by his beloved football team's success.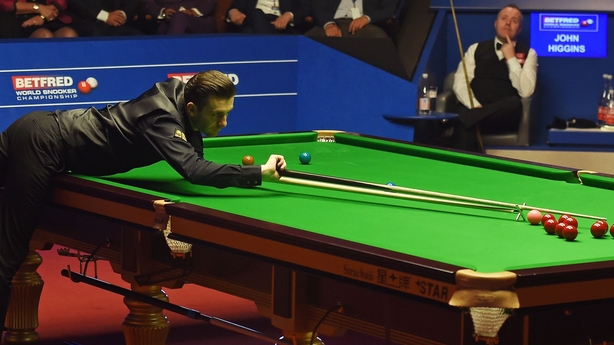 This time the glory was all his, the £375,000 top prize taking him to a staggering £930,875 for the season - an all-time high.
Selby also matches the record of five ranking titles in a season, previously achieved by Hendry in 1990/91 and Ding in 2013/14.
At the interval on Monday evening, Selby held a 16-12 lead, having won 12 of the previous 14 frames. He headed to his dressing room on the back of a clinical 70 break.
"It's unbelievable really. I'd hit the wall; I had nothing left"
Higgins clipped the lead to three frames with an 88 break, giving wife Denise and their three children in the balcony seats some late hope. Every shot felt like a major undertaking but it was a positive response.
And it continued from Higgins, who at 41 was the oldest finalist since 49-year-old Ray Reardon lost to Alex Higgins in 1982.
He made 111 to get back to 16-14, before Selby opened a handy advantage in the next frame. After making a plant to nudge 47-0 ahead, Selby looked to lay a snooker by trickling up behind the black but left the white apparently short.
Selby might have been thrown off his game after the frame slipped away but the opposite happened.
After a re-rack in the next frame, prime Selby returned, ploughing in 131, then sealing victory with 75, clenching his fists again and looking up to wife Vikki in delight. Higgins applauded, a classic complete.