Ronnie O'Sullivan has attempted to shift the focus from the controversy surrounding him at the Betfred World Championship.
The five-time Crucible champion grabbed the spotlight on Sunday when he followed victory over Gary Wilson by accusing World Snooker chairman Barry Hearn and his board of bullying and intimidation on disciplinary issues.
Hearn sternly refuted the claims, but 41-year-old O'Sullivan's comments have been the talk of the tournament ever since.
In a statement released on Tuesday evening, O'Sullivan said: "There has been some speculation and commentary around the answers I gave when questioned by the media at my press conference on Sunday.
"Any outstanding issues with the snooker authorities will be addressed by my legal team following the conclusion of this great event, when I hope a sensible resolution can be reached.
"I will not be making any further comment about this during the World Championships. I request the press and media respect this position in all further interviews.
"I wish to focus all my energies on performing to the very best of my ability for the fans in my quest for a sixth world title."
"I'm convinced (O'Sullivan and Hearn) sit in a room together and contrive these things." - Mark Allen
O'Sullivan's initial comments had continued to reverberate through the fourth day's play in Sheffield.
Four-time champion John Higgins told BBC Radio Five Live: "I have a degree of sympathy for him.
"If I am led to believe what I have heard about how he was reprimanded, it is out of order.
"He has a lot to take on his shoulders in this sport because he is the biggest name - along with Ding (Junhui), the biggest name in the Far East.
"The game would be a lot poorer without him."
In a television interview with BBC Two, Higgins added: "There are things in the players' contracts that are too severe.
"The only way we can change that is if all the top players got together and tried to get things taken out, but I don't think every top player is going to stand together."
Northern Ireland's Mark Allen added on BBC Two: "I'm convinced (O'Sullivan and Hearn) sit in a room together and contrive these things.
"Ronnie sometimes gets on like a bit of a spoilt brat... Barry's the big man shooting him down. I think it's a clash of personalities, I don't think there's much in it."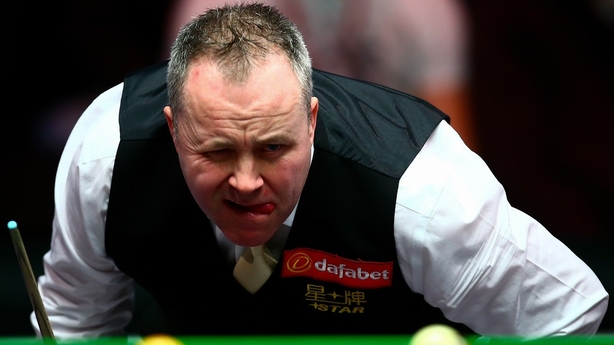 Higgins overcame a slow start on Tuesday to ease past Martin Gould 10-6. The Scot held a commanding 7-2 lead overnight and though he lost the first two frames, he wrapped up victory with the help of an emphatic 127 break in frame 14.
Ding also secured his progress, completing a 10-5 win over fellow Chinese player Zhou Yuelong.
He was unable to add to his three centuries from the previous session - which included the tournament's top two breaks, 136 and 132 - but breaks of 67 in frame 12 and 68 in the 15th saw him through.
Judd Trump was pegged back by Rory McLeod as the veteran came from 4-0 down to lead 5-4.
Though a huge underdog, McLeod possesses the kind of dogged game that can knock Trump out of his rhythm and so it proved after the interval, with the world number two perhaps not helped by a long and ultimately unsuccessful pursuit of a snooker to rescue the seventh frame.
World number 48 Stuart Carrington compiled century breaks in three successive frames - 124, 101 and 107 - to end the morning session with a 5-4 lead over Liang Wenbo.
?? Dott takes the final frame of the session to hold a commanding 6-3 lead over Carter going into tomorrow. Will he progress?#ilovesnooker pic.twitter.com/IMgxdmHoyc

— World Snooker (@WorldSnooker1) April 18, 2017
Liang, though, took the last two frames of that session and continued his momentum into the evening to wrap up a 10-7 win, meaning a second successive all-Chinese match for Ding.
On the other table, 2006 champion Graeme Dott won the first four frames en route to a 6-3 lead over two-time finalist Ali Carter.