Ronnie O'Sullivan said he no longer feels "trapped in a prison" and played down retirement talk after a dazzling 6-0 first-round win over Boonyarit Keattikun at the Betway UK Championship in York.
The 40-year-old is looking for the 29th ranking title of his career and started in emphatic fashion after needing just 56 minutes to complete a whitewash victory over an overwhelmed Thai opponent.
The five-time UK champion made three centuries during the match and revealed he is enjoying having to juggle his Eurosport punditry role and playing workload.
O'Sullivan said: "This is like a bit of a hobby. Getting my cue out is a bit of a pleasure whereas before, when that's all I had to do, I felt I was trapped in a prison. Now I feel like it's a bit exciting and I treat it as a bit of fun.
"My proper job is my punditry and doing all my other bits - that's my salary but this is a bit of a bonus now."
Hours before the match, O'Sullivan tweeted that God told him to give up the sport, but the five-time world champion later had a positive response for his fans.
He said: "I have conversations with God and he said to me, 'Jack snooker in mate, you're better off as a pundit' and I was like, 'Hold on, we will have to have a proper conversation about that'.
"It's not my last tournament until God puts his foot down, he is the boss and I don't want to take liberties with him."
The Essex potter is no fan of the Barbican Centre's four-table set-up but was satisfied with his opening performance.
"I played all right, I wasn't too sure what this guy was like - he looked good at the start but missed a couple of balls," O'Sullivan said.
"It's a bit of a weird set-up so I'll try not to get too serious about the tournament unless I can get to the two-table set-up."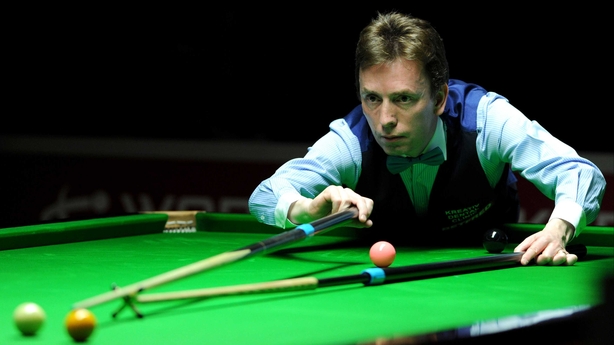 Three-time finalist Ken Doherty crashed out in the first round after a 6-0 defeat to Thailand's Noppon Saengkham in York. Doherty is ranked 14 places above his World no 73 conqueror.
Antrim's Mark Allen beat China's Chen Zhe 6-4 in the evening session.
Northern Ireland Open winner Mark King was docked a frame after forgetting his cue following the interval and arriving back late as he suffered a 6-2 first-round defeat by Sam Craigie.
King had claimed his first ranking title in 25 years as professional by edging out Barry Hawkins in Belfast last week, and afterwards paid an emotional tribute to his family.
However, the Romford potter found himself 3-1 down against 22-year-old Craigie, despite producing a century break of 126.
Following the interval, King was not able to start at the allotted time, having gone back out of the arena to collect his cue, so was penalised a frame as a result.
King swiftly composed himself to reduce the deficit to 4-2 in the best-of-11 contest with the tournament's highest break so far of 141.
It was, though, Craigie who edged a tense seventh frame 77-65 to move to the brink of victory which the Walkerville player wrapped up at the first opportunity with runs of 62 and 72 in the next frame.
Elsewhere in the afternoon sessions, world number six Shaun Murphy recovered from being 3-1 down at the interval to beat Itaro Santos of Brazil 6-3 while last year's runner-up Liang Wenbo scored two century breaks as he saw off Australian rookie Kurt Dunham 6-1.
Earlier on Wednesday, three-time champion John Higgins progressed following a 6-3 win over Alex Borg of Malta while Liang Wenbo, runner-up in 2015, scored two century breaks in his 6-1 victory over Australian Kurt Dunham.
Higgins won back-to-back tournaments at the China Championship and the Champion of Champions event in Coventry.
The Scot said on World Snooker's Official YouTube channel: "I did not play great, but obviously a win is a win. I am quite friendly with Alex on the tour and it is tough to get yourself up when you are playing one of your mates.
"It was looking touch and go at one point, Alex should have gone 3-2 in front and I managed to nick it, which probably changed the game."