Ronnie O'Sullivan was the sideshow for a change as he began his Betfred World Championship mission.
But while Steve Davis explained his retirement and treated nostalgists to a full-on feast, O'Sullivan quietly set to work on attempting to match the 58-year-old's haul of six Crucible titles.
Without finding top gear, O'Sullivan built a 6-3 lead over Tamworth's David Gilbert, the 34-year-old former potato farmer whose run to the International Championship final in China earlier this season was a career-best performance.
Toppling O'Sullivan in Sheffield would surpass that, but the prospects were slim once the final two frames of their session went the way of the title favourite.
The great escape!@ronnieo147 using 4 cushions to get himself out of trouble. Magnificent stuff ?? pic.twitter.com/J9VAp4nzJj

— World Snooker (@WorldSnooker1) April 17, 2016
Breaks of 72, 84 and 71 twice saw O'Sullivan establish control of a match that finishes in Monday's morning session.
Gilbert played his part, and the highlight arguably came from him, a terrific 125 break in the seventh frame.
There was a moment of magic from O'Sullivan in the eighth, when Gilbert snookered him on the final red and with the frame still in the balance.
From tight behind the yellow, O'Sullivan sent the white around the angles, first off the two cushions by the green pocket, then bisecting green and the pink that sat on the blue spot, off the side cushion, off the bottom cushion and rapping into the red by the black.
Fortune then favoured O'Sullivan as the white rolled one side of the black and the red trickled away in the opposite direction.
From being in a snooker, O'Sullivan had astonishingly set one of his own and the frame was soon his.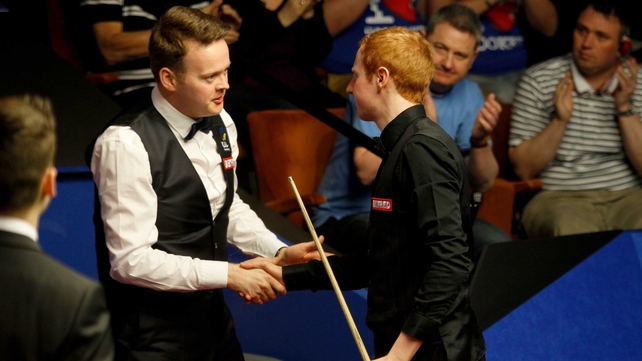 Many first-round winners in Sheffield start to look deeper into the tournament, and Anthony McGill was no different after seeing off last year's runner-up Shaun Murphy to claim his third major Crucible scalp.
After posting stellar wins over Stephen Maguire and Mark Selby to reach the quarter-finals on his debut Sheffield mission 12 months ago, this time the 25-year-old Scot dumped out Murphy in the same way Ali Carter dispatched defending champion Stuart Bingham on Saturday night.
As Murphy headed for home, beaten 10-8 and joining Bingham on the first-round casualty list, McGill dared to dream.
"I possibly could win it," he said. "But it'd be nice to better last year's result."
Murphy had been his quarter-final conqueror last year.
This time the Glaswegian had the measure of the Nottingham-based 2005 world champion, who applauded McGill at the match's end.
Beaten Murphy later revealed he and partner Elaine are to become parents in August, with a baby boy on the way.
?? Scores at the end of Day 2 of the @Betfred World Championship in Sheffield! #ilovesnooker @Betfred pic.twitter.com/Fw9p4U2GW4

— World Snooker (@WorldSnooker1) April 17, 2016
Murphy said: "I'm obviously disappointed but I think the fact I've a child on the way has changed my perspective on a lot of things. It's just a game of snooker."
Robbie Williams eked out a 5-4 advantage over Ricky Walden in a slow-paced contest.
Veteran Alan McManus, a mentor and friend to McGill, completed a 10-7 victory over fellow Glasgow cueman Maguire.
McManus, 45, will tackle Carter next, and said: "Ali should definitely be a top 16 player without any doubt, but I'm looking forward to it."
Maguire, after a fourth successive first-round Crucible defeat, said: "Alan played better so he deserved to win. I never showed up over the two days.
"I actually didn't feel anything, it's terrible and embarrassing that you can't get up for a match at the World Championship."