Ken Doherty has fallen at the final hurdle in his attempt to qualify for this year's World Snooker Championship after Welsh potter Ryan Day inflicted a 10-6 defeat on the Dubliner at Ponds Forge in Sheffield.
Doherty, who accounted for Andy Hicks 10-6 in his opening qualifier before beating Hossein Vafaei Ayouri 10-7, made a bright start to the match.
A break of 106 from the 1997 world champion in the very first frame was the highlight of the opening session, where he raced to a 4-1 lead before Day eroded that advantage to leave the match delicately poised at 5-4 overnight.
However, Doherty failed to get out of the blocks when the match resumed today, winning just one of seven frames.
Elsewhere, Mitchell Mann grew up with the dream of playing football Wembley but will settle for snooker at the Crucible after earning a World Championship debut.
The 24-year-old locked in his place on the big stage with a nail-biting 10-9 win over Thai showman Dechawat Poomjaeng.
And as he awaits Thursday morning's draw, Mann is "buzzing" with excitement.
At the age of eight he was diagnosed with Perthes disease - a condition that rots the hip bone - and had to give up all his footballing ambitions.
But it was not long before Mann found a passion for snooker thanks to dad Jeff's influence, and the biggest win of his career gives him a guaranteed minimum £13,000 in prize-money, and a return to the venue where in 2007 he won Junior Pot Black.
"I used to play football when I was a kid and signed for Birmingham City - although I'm a Villa fan," Mann said.
"I had some pains in my leg one day and we went to the hospital and had X-rays and they said it was growing pains. The pain never went away so we looked into it further and found out it was Perthes
disease and I've had to have numerous operations on my hip, and they told me I could never do high-impact sports again.
"When I was bored in the house one night, my dad took me to a local snooker club and I've never looked back. I don't really follow the football much anymore - when you support Aston Villa, you don't want to be following that."
Mann is relishing his opportunity now.
"You can't argue that it is snooker's Wembley. It doesn't get much bigger than this, the Crucible, so I'm looking forward to it," he said.
"I'm buzzing inside. I think I was always going to do some sort of sport and I'm glad it's snooker now with this kind of feeling."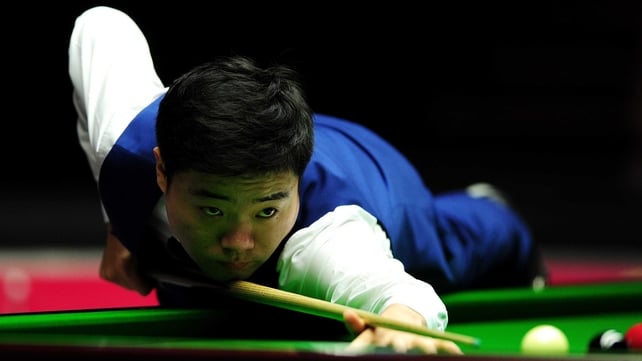 At the opposite end of the experience scale, Ding Junhui is the qualifier every seed will want to avoid.
China's former world number one has slipped down the rankings to 17th, which meant he had to play qualifiers for the first time in nine years.
He toppled 1995 World Championship runner-up Nigel Bond 10-2 to secure his place in the 32-man draw.
Just two seasons ago, Ding won a record-equalling five major ranking tournaments, and he could be drawn to face any of the world's top 16.
"They don't want to play me. It doesn't matter who I play," Ding said.
"It's always a hard match coming. I was facing pressure to get back to the Crucible because I didn't want to miss the chance to play at the World Championship."
Also advancing to the tournament were veteran Scot Alan McManus and fellow Glaswegian Anthony McGill, who beat Stephen Maguire and defending champion Mark Selby last year on an eye-catching run to the quarter-finals.
Experienced English potters David Gilbert and Robert Milkins also advanced, along with compatriots Sam Baird and Robbie Williams.
Former world champion Peter Ebdon completed a 10-2 victory over Ian Burns, with the 45-year-old earning his 23rd Crucible appearance and first since 2013.
Scotland's Graeme Dott, a world champion in 2006, beat Mike Dunn 10-7, and two-time runner-up Ali Carter saw off Dominic Dale 10-6.
Another twice losing finalist, Matthew Stevens, fell 10-6 to rising star Kyren Wilson.