Joe Perry leads Ronnie O'Sullivan by two, while Ken Doherty trails Alan McManus by one after their sessions at the Crucible Theatre today.
Perry will take a two-frame lead into the final session of his Dafabet World Championship second-round match against defending champion O'Sullivan on Saturday.
The pair shared the eight frames of an absorbing Friday afternoon session as world number 15 Perry moved from a 5-3 first session advantage to a 9-7 lead.
The damage could have been worse for O'Sullivan, with Perry missing a number of opportunities to establish a four-frame lead in the final frame of the session.
Five-time world champion O'Sullivan had made a statement of intent from the start of Friday's session as he compiled a break of 93 in the opening frame, only denied a century by going in-off on the black.
But the unflappable Perry restored his two-frame advantage with a break of 68 and went further ahead with runs of 48 and 46 in the 11th frame.
A missed red by Perry let O'Sullivan in for a break of 66 as he narrowed the gap to 7-5, and O'Sullivan got the better of a safety exchange to move within one frame of his opponent.
But just when it seemed O'Sullivan had hauled his way back into contention, Perry responded with two flawless back-to-back frames, a nerveless 86 restoring his two-frame advantage and a 73 moving him further ahead.
Despite his superb performance, Perry will have been disappointed not to hold a 10-6 lead overnight, with O'Sullivan bringing an end to a lengthy frame and an engrossing session by clearing from yellow to pink.
Alan McManus moved 4-3 ahead of fellow veteran Ken Doherty after a gruelling first session of their second-round clash.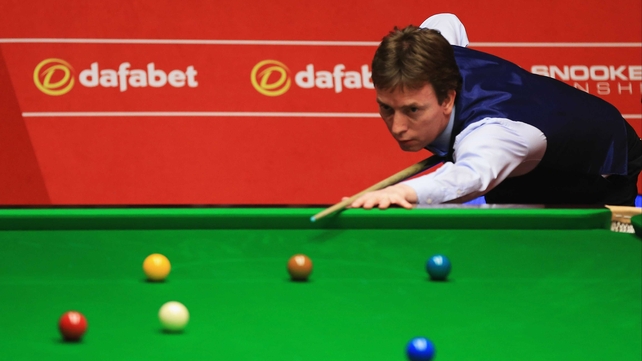 Scottish 43-year-old McManus compiled his first Crucible century in nine years - coincidentally the last was also against 44-year-old Dubliner Doherty - as he established a 4-1 lead.
But despite struggling to find any semblance of the form that brought him the 1997 world title, Doherty clawed his way back before the session was abridged with seven frames played.
Mark Selby won a battle of former Crucible beaten finalists as he saw off an afternoon fightback from Ali Carter to record a 13-9 victory and progress into the last eight.
Two-time runner-up Carter fought back took the final two frames on Friday morning to trail 9-7 heading into the evening session.
But he could not keep up the momentum when play resumed and Selby held on, setting up a clash with McManus or Doherty for a place in the semi-finals.
Barry Hawkins and Ricky Walden resume on Saturday afternoon with the repeat of last year's semi-final once again providing drama.
Hawkins stormed out to a 3-0 lead but was pegged back by Walden who drew level at 4-4 at the close of the first session.
And it was Walden, who lost 17-14 to Hawkins 12 months ago, that stepped up the pace in the evening to ensure he heads into the deciding session 9-7 ahead.