Graeme Dott came out firing to kill off Peter Ebdon's hopes of winning the Crucible clash that went into extra time.
Exasperated by the slow progress of the match until then, Dott needed less than 40 minutes to win the two frames he required to go from 8-6 to 10-6 and swerve the possibility of a post-midnight finish.
The match was meant to be over by lunchtime yesterday, yet there were brief fears that breakfast orders would be going in before the last ball dropped.
Dott suggested Ebdon was at fault in forcing tournament officials to hastily arrange a third session.
"Nobody can blame me for that one. I get the impression that 95% of the crowd wanted me to win" Dott said.
"I get the impression that 95% of the crowd wanted me to win" - Graeme Dott
The former world champions, who clashed in a Crucible final that finished at 12.52am seven years ago, inched forward at a snail's pace on Sunday, being hauled off after eight of nine scheduled frames.
But it was even more turgid yesterday morning, with just six frames played before they went off at 1.45pm to allow the arena to empty and the afternoon crowd to enter for the 2.30pm matches.
Ebdon took one particularly long toilet break, that left Dott to stew and appeared to test the patience of referee Terry Camilleri.
It was nine hours later at 10.45pm that they returned, once Ali Carter and Ben Woollaston got through the opening session of their first-round exchange.
Dott came out keen to set the pace of the session.
He had an opening 41 before Ebdon replied with 32, missing a red to centre that meant his highest break of the match remained a mere 45 by its tardy denouement.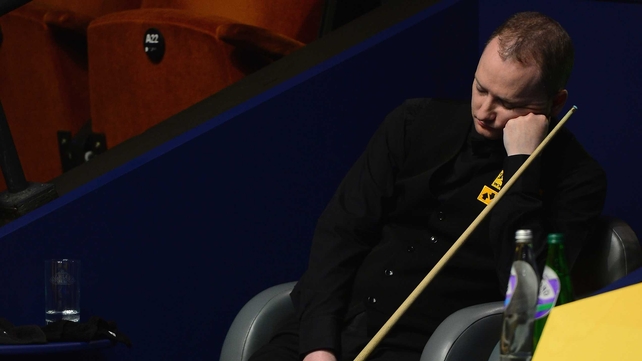 It was left to 35-year-old Dott to finish the match in a manner entirely out of keeping with the action that came before it, rifling in a break of exactly 100 in a frame lasting 16 minutes and 28 seconds, the shortest of the match.
The contest in its entirety lasted seven hours, 18 minutes and 26 seconds, a long way short of the longest best-of-19 matches played at the Crucible, the 10 hours and 24 minutes it took Eddie Charlton to complete a 10-9 win against Cliff Thorburn in 1989, but still one few will care to remember.