Mark Selby won his third Betfair Masters title with a 10-6 victory over defending champion Neil Robertson at Alexandra Palace in London.
Selby, the winner in 2008 and 2010 and last month's UK Championship victor, was made to work for his £175,000 first prize in the best-of-19 final after Australian top seed Robertson responded from 8-3 down with wins in three successive frames.
Selby, though, was able to hold off the fightback and see out victory to join five others who had won the tournament three times or more.
The 29-year-old joined Cliff Thorburn, Stephen Hendry, Paul Hunter, Steve Davis and Ronnie O'Sullivan, whose presence on semi-final day ignited whispers of him launching a world title defence later this year.
After his win in York in December, the 29-year-old Selby is the first to win back-to-back majors since Mark Williams 10 years ago.
Only three players had successfully defended the Masters title, with Robertson aiming to emulate Thorburn, Hendry and Hunter.
Selby started the faster, brushing off the effects of his semi-final defeat of Graeme Dott, when he responded from 4-1 down to triumph 6-5 in a contest which finished after midnight.
An out-of-sorts Robertson saw Selby race to a 3-0 advantage, the third frame featuring his first century break of the final, 102.
The Australian, who by comparison made six centuries en route to the final, responded with a break of 78 as he opened his account before the mid-session interval.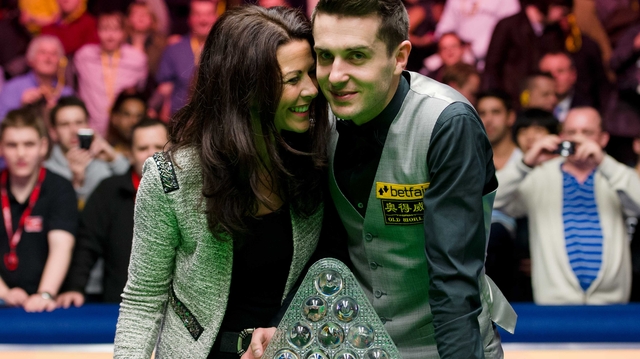 A break of 84 saw Selby take the fifth frame and Robertson appeared likely to respond immediately as he accumulated 45, but a straightforward blue was missed, allowing his opponent to respond and take a 5-1 advantage.
With two frames remaining in the afternoon session, Selby was guaranteed a lead going into the evening session.
Robertson missed a red to the centre pocket, bringing to an end a break of 63, but he recovered to claim the seventh frame and a score of 72 clinched the eighth.
Selby began the evening session quickly, with a break of 67, to go 6-3 up.
He edged a scrappy 10th frame and ruthlessly punished a poor safety from Robertson to take the 11th with a break of 32.
Again Robertson reduced the arrears before the mid-session interval as he tried to find the form which took him to the final, a break of 74 making the score 8-4.
Robertson still had to win six of the remaining seven frames to successfully defend his title and a missed red into the centre from Selby took his opponent to the table in the 13th frame.
The Australian made 83 - his highest break of the match coming in timely fashion - to move within three of Selby.
Selby was looking well placed to take himself within one of victory, only to miss an angled red into the bottom pocket at 50-26.
Robertson missed a yellow to begin a tactical exchange on the colours, eventually prevailing following a long brown and the blue.
Seven of the previous 14 matches had gone to a deciding frame and Robertson took a comfort break, leaving Selby to contemplate his position.
Selby brilliantly potted the final red from long distance in the 15th frame and Robertson required snookers to prevent his opponent from moving to within one frame of success.
He was unable to do find them, and Selby was able to smile.
Selby was 37-9 ahead in the 16th frame when Robertson missed a straightforward red in a promising position and moved to 52-9.
Mid-frame Robertson disappeared for another comfort break - perhaps designed to unsettle Selby - but his opponent was unfazed and edged ahead, leaving the Australian requiring a snooker.
Selby then polished off the colours to triumph in a 42-minute final frame.