Ireland had confidence that they would be able to overcome a nervy first-half display because of how they dealt with previous setbacks, according to Mack Hansen.
England took a 6-0 lead at the Aviva Stadium and Andy Farrell's side began to make some untypical errors and poor decisions in attack.
🎧 "Absolutely dreaming"

An emotional Mack Hansen speaks to @neil_treacy after Ireland's glorious Grand Slam success. pic.twitter.com/dtTwigbvtc

— RTÉ Rugby (@RTErugby) March 18, 2023
They managed to work their way into a 10-6 lead at the break before their quality told in the second half as they ran out 29-16 winners to claim the Grand Slam.
In previous rounds against Italy and Scotland, the team found also found themselves in sticky positions before pulling away.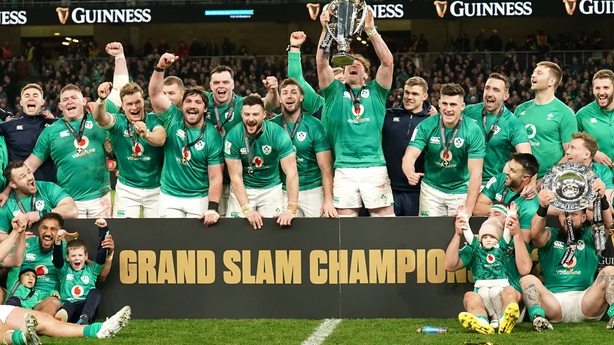 "We've put ourselves in these spots before and we've come out on top," said Hansen.
"It's something we're good at. Hopefully one week we can just absolutely run away with it, that would be perfect but I think we've come a long way from where we started a couple of years ago until now.
"I think we will keep on doing that and the next step is putting our foot on a game and leading from start to finish instead of keeping it close like that."
The Australian played a massive part in Ireland's clean sweep and had family members and friends there to share the moment with.
"I've got my Mum's brother, and my auntie and uncle Gabe and Lorraine are over, and some aunties and uncles up from Cork," he said.
"One of my mates from Australia is over. I got enough family to enjoy, I wish my Mum, Dad and brother were here."
🎧 ''Welcome to the home of the Grand Slam champions'
Listen to @MichaelC_RTE and @LenihanDonal react to Ireland's Grand Slam triumph on @SatSportRTE @RTERadio1 #rterugby pic.twitter.com/BYZduaxfTA

— RTÉ Rugby (@RTErugby) March 18, 2023
As for immediate plans?
"Drink, drink, drink, drink.... No, we'll enjoy it, run into some fans and get to share the experience with them.
"[It's] absolutely amazing, it's hard to put into words at the moment. It's a crazy feeling. It's just been such an atmosphere, it's crazy.
"It's different gravy, isn't it. It's like something I've never seen before, it's incredible. It just shows how much Ireland is behind us, and we love it."
The straight-talking Connacht back did admit to some pre-match nerves.
"Very, very, very nervous," he said.
"I was taking some tablets before the game so I didn't s**t myself, I was very nervous.
"I think everyone was, and I think you could kind of see then in the way we were playing. That's something for us to improve on, so for now we're going to enjoy this."