New Ireland head coach Greg McWilliams admits that he will likely be without a number of the Sevens players towards the end of the TikTok Six Nations due to a clash with the World Series.
The team begins a new chapter following the failure to qualify for the World Cup and McWilliams today named Nichola Fryday as the captain of a new-look squad that contains nine uncapped players.
Their first game is against Wales on Saturday at the RDS [4.45pm live on RTÉ].
There are trips to France and England in the itinerary too but the final home game, in Belfast against Scotland, clashes with the Canadian leg of the Sevens series.
Ireland had to do without contracted players Beibhinn Parsons, Stacey Flood, Amee-Leigh Murphy Crowe and Eve Higgins for the final game of last year, the 15-12 win over Japan that was the last game of former captain Ciara Griffin's Irish career.
In 2017 three of the 15s were pulled from a Six Nations match to play a Sevens event in Las Vegas
Giving his first press conference today since being appointed as Adam Griggs' successor, McWilliams said he had been assured that he would have a full deck to pick from before acknowledging that some players will likely be missing.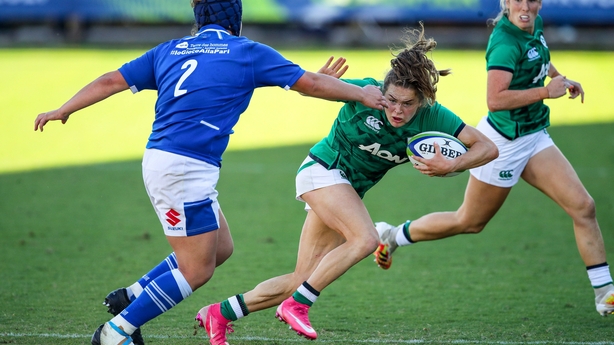 "Yeah, yeah, I was given those assurances but I'm being true to myself and this is a World Cup Sevens year," he told RTÉ Sport.
"The Sevens players are incredibly professional and they've been coached brilliantly and they are going to be important to us but we need to build depth within the squad. .
"We've talked as a group about this. We allowed the players to have a say in how selection is carried out, we are all very comfortable with that.
"We have the Sevens team, we think it's important that as many as possible go to Langford and represent the women for the World Series because it's a World Cup year.
"I'm telling you now that we are going to have a World Cup year for 15s and we need to play ball with them, we need to work together.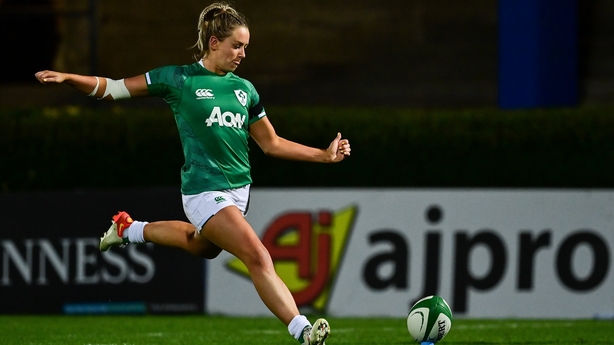 "Aidan McNulty, who is the Sevens coach, we see the game very similarly and are very much aligned.
"The players are very clear and it's a good chance for the last few games, and Italy and France, to look at as many players as we can as we build our squad.
"[We need to] keep learning, keep getting better and the more people we can see during the Six Nations the better.
"I'm really happy that we have the Sevens players, as you call them, for the pre-season that we've had and for the number of games that we have but once they cross the line coming in here they are 15s players and they are excited about being part of this group and we are excited to have them."
Before that Ireland face a Wales team that they hammered 45-0 at the start of last season's competition but who now operate with 12 fully contracted and 12 semi-pro contracted players.
---
FULL LIST OF WOMEN'S SIX NATIONS FIXTURES
---
McWilliams said: "For me, professionalism is Monday morning when it's dark outside and nobody's looking at what you're doing.
"It's getting out of bed - you can hit the snooze button five times but you only hit it once. You're up and at them.
"You eat well, you're getting the right amount of sleep, you're in the gym, you're sticking to your plan, you understand your IDPs [individual development plan] and you can improve as a player.
"I see ourselves as a professional group of players.
"I don't look at that at all, I'm just looking at what we need to do for the Six Nations which is make sure that we put the best foot forward, we learn at every single opportunity, and we make sure we put faith in our process, and we have our DNA.
"At the end of the day we're representing a brilliant country and we're going to put the best foot forward and hopefully we can play an exciting brand that makes people look forward to watching us play."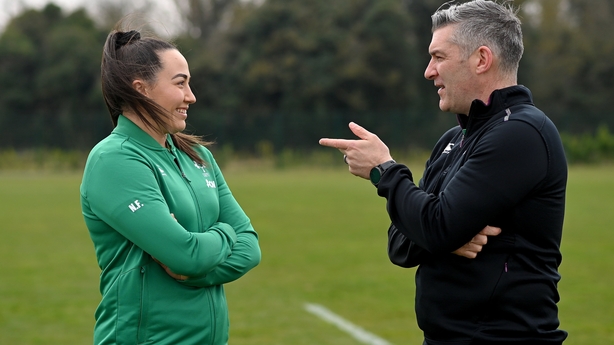 New captain Fryday admitted that there's a lot on the line on Saturday.
"I don't think any team wants to lose a match so I think we're going to be their first target and I think it's going to be a really exciting match," said the Offaly native.
"Similar to us, they want to get the first win but we want to get it too. It's going to be a good match.
"I think this year is probably going to be one of the most level Six Nations, to be honest.
"I think all teams are going to have strong squads and there's going to be a real contest."
Follow Ireland v Wales (Saturday 4.45pm) via our live blog on rte.ie/sport and on the RTÉ News App or listen live on Saturday Sport on RTÉ Radio 1. Highlights on Against the Head, Monday 8pm.