World Rugby has no plans to change its law that saw Italy having to play almost an hour with 13 players against Ireland yesterday.
The Azzurri lost hooker Gianmarco Lucchesi to an early injury and then saw replacement Hame Faiva sent off for a high tackle on Dan Sheehan.
To the bemusement of many of the Italian players, and the vast majority of the fans in the stadium, referee Nika Amashukeli explained that in the absence of a suitable qualified hooker, the game had to have uncontested scrums and Italy had to withdraw a player.
The officials implemented law 3.20, which had a massive impact on the game with Ireland running out 57-6 winners.
Italy head coach Kieran Crowley said afterwards: "It was a situation beyond our control, we couldn't do anything about it."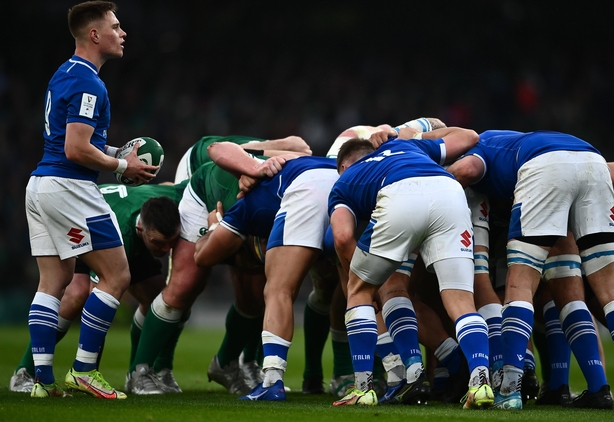 The rule originated in 2017, with Wales' match against Georgia cited as one of the reasons it was brought in after the Welsh, under increased pressure from their opponents' pack, were unable to contest the scrums late on and held out for a narrow win
RTÉ Sport spoke to World Rugby and it confirmed that, on the strength of the incident in yesterday's game, the law is not due for review.
"It's an unfortunate chain of circumstances that is incredibly rare," said spokesperson Dominic Rumbles.
"A specialist player is injured and then the replacement is red-carded.
"Sometimes a team might have another player, maybe a back row who used to be a hooker, to be able to safely play there."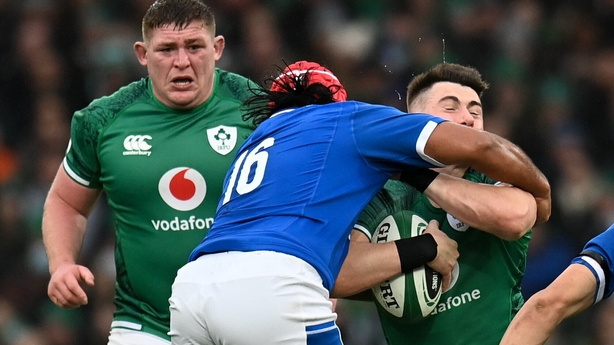 In order to avoid a situation where a team might fake injuries to get uncontested scrums, the law came into effect.
"You have the ability to potentially manipulate, maybe bring on a back, which might give you extra attacking chances across the field," added Rumbles.
"I know it wasn't apparent to the players but that's an issue for the team management, everyone else is aware and it's there for a purpose.
"If a union wants to question that or ask for a clarification and wants it reviewed, they can submit that but as of today we haven't heard anything that would suggest it would be reviewed.
"Unions can propose law examinations or clarifications and there's a process for that.
"The World Rugby executive could also raise it separately, but I haven't heard anything about that. It's an extremely rare scenario."
Leinster attack coach Felipe Contepomi gave his view on the incident.
"My opinion, for a red card, I don't know," said the Argentinian.
"If you want to 'strategically' go into uncontested, yeah, you have to take one. But for a red card? No one will do something obvious and have a red card to go to uncontested scrums.
"There are always little loopholes, rugby is kind of complicated in that sense. Sometimes you have those exceptions, maybe it's worth reviewing but it's so rare, it was unlucky for Italy."
Ireland centre Stuart McCloskey, who wasn't involved in the international squad, added that the ruling turned the game into "a bit of a farce".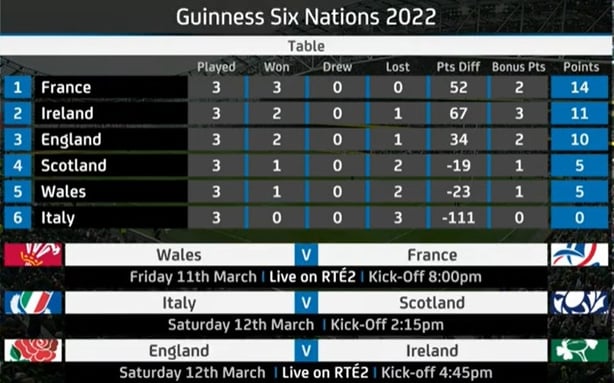 Follow all of Ireland's Six Nations games via our live blogs on rte.ie/sport and on the RTÉ News App or listen to live radio coverage on RTÉ Radio 1. Watch live coverage of England v Ireland on Saturday 12 March on RTÉ2 and RTÉ Player. Highlights on Against the Head, Mondays, 8pm