It's early enough in Andy Farrell's reign that possibly only a loss to Italy could see his removal fast-tracked.
Ireland have lost just once to Italy since the latter joined the competition in 2000 and coach Declan Kidney was promptly sacked afterwards, the IRFU not even deploying the language of mutual consent in their 'Good luck' statement.
The circumstances were somewhat different - Kidney was drawing to the end of his fifth year in charge, as opposed to midway through his second, and Ireland had been stagnant since the 2011 World Cup.
After the dull thud of that loss to Wales in Wellington - in retrospect, the most inexcusable of all the last-eight defeats - Ireland won just four of their next 15 matches in the 18-month period until the Kidney regime met its end in Rome. 
Though it was Ireland's first defeat to Italy in 16 years, the media reaction was perhaps more resigned than vindictive. The 2013 Six Nations had long been accepted as a write-off, Ireland's ludicrous injury-list having gone from being a source of frustration to one of black comedy by the close of the tournament. 
The 2013 Italy match is now primarily remembered as the game that Peter O'Mahony played on the wing.
On recalling the events of the 2013 campaign, Mike Ross sighs "it was pretty dismal alright.
"I remember sitting in the dressing room afterwards, tired, pissed off. I had actually been carrying an injury. I injured my neck before the Wales game. I had 50% power in my left arm so I was kind of glad to have survived it.
"It was the end of the Six Nations, the Italians usually put on a decent after-match function and then I did a 12-hour tour of Rome the following day and I took a separate flight home the following day."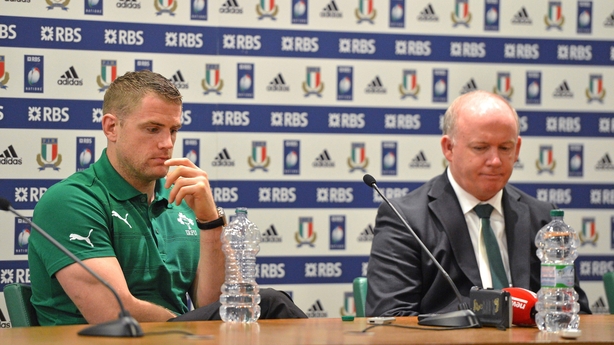 Had Ireland been better stocked in the prop department, Ross might have joined the swelling ranks of the injured and unavailable. 
Starting the tournament without Paul O'Connell, they had, over the course of the first four rounds, lost Johnny Sexton, Simon Zebo, Gordon D'Arcy, Eoin Reddan, and Fergus McFadden. 
During the week, the odds narrowed on an Italy win, Ireland moving in from 1/3 to 4/9. As the wheels came off mid-tournament, Ireland lost to a Scotland team who couldn't be said to be much better than Italy - if at all. 
Midway through the first half, their options whittled down again. On 24 minutes, Keith Earls was helped off the pitch after a Canale tackle. Three minutes later, Luke Marshall was withdrawn with his second concussion in as many weeks (the protocols weren't as stringently enforced back then). And nine minutes after that, Luke Fitzgerald, only introduced for Earls, was seen limping off the pitch. 
It was laugh or cry territory now and most sensible fans were opting for the former. 
"Everything that could go wrong did go wrong for us, that was my abiding memory of the game," says Ross.
"What else can you do? Try and make the best of it. Nobody wanted to be on the first Irish team to lose to Italy in the Six Nations but unfortunately, that's the way it turned out. 
"I've had a couple of those in my career, where everything that could go wrong did and there's not a whole pile you can do about it."
On top of all that came the sin-binnings. A head-bandaged Brian O'Driscoll, in what was supposed to be his last game, and another who'd been concussed the week before, angrily stamped on Simone Favaro at a ruck just before half-time and was lucky to escape a red.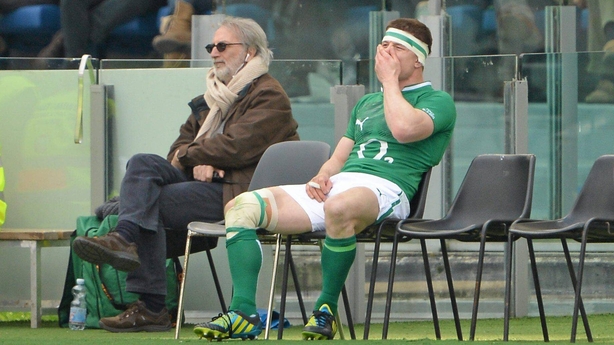 Early in the second half, Venditti burrowed over for a try in the corner, giving the hosts a 16-6 lead.  
For the Italians, it was a landmark win, made more emotional for being the swansong of their moustachioed 36-year-old prop Andrea Lo Cicero, who bade a teary-eyed farewell when he was withdrawn with about 13 minutes remaining, a time in the game when Italy appeared on the brink of throwing it away.   
In the wake of the try, the Italians tried their best to implode, allowing a by now patched-up and disheveled Ireland to stroke over three penalties, bringing it back to a one-point game.
But further silly yellow cards, against Donnacha Ryan and Conor Murray, allowed Italy the breathing space to see out the last 10 minutes.   
At that stage, in their 14-year-old Six Nations history, the Italians had a couple of wins apiece against Wales and France, and they weren't far off 50:50 against Scotland. This, though, was their first tournament win over Ireland and there were conspicuous displays of relief at the final whistle. 
Italy had enjoyed a golden era of beating Ireland in the mid-to-late 90s, although they were far from alone in this.   
Rather like the Irish cricket team, whose best days had been and gone by the time they were finally awarded Test status, the Italian rugby team's peak had probably passed by the time they were let into the Five, now Six, Nations.
They'd spent the 80s plodding away anonymously in the mid-table of continental rugby but shot up the pecking order in the 1990s, a rise largely sparked by the defection of Milan-based former Argentina international Diego Dominguez to the Italian ranks. He'd inspired the team to a stirring moral victory against New Zealand in the 1991 World Cup pool game in Welford Road, the Tier-2 nation losing just 31-21 in the finish. 
Ireland became the first of the 'traditional' rugby nations to lose to Italy, when they were beaten 22-12 in a World Cup warm-up game in Treviso in May 1995. 
The visitors' preparations were hampered when the team bus failed to arrive and they'd to spend the next half an hour frantically hailing down taxis to ferry them to the game, arriving with barely time to do a warm-up. When Leinster made their Heineken Cup debut in Milan later that year, head coach Jim Glennon had to head out in advance and do a recce so the same thing wouldn't happen again. 
There were two losses in 1997, one, at home, at the beginning of the year and the other, in Bologna, just before Christmas.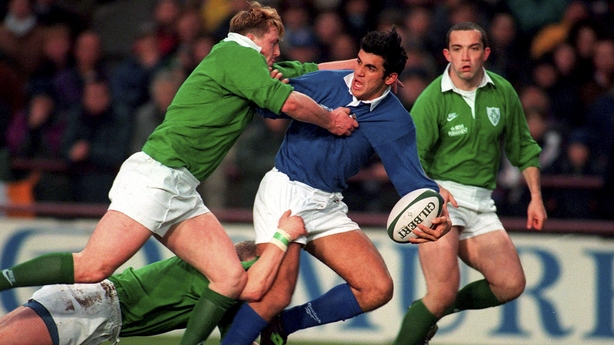 The first one, Ireland's only ever home defeat to Italy, brought an end to Murray Kidd's short and unlamented spell as head coach. Unfortunately, it then ushered in Brian Ashton's era in charge, which was shorter again and even more dismal, albeit at least in a more comically memorable fashion. 
In between, in March '97, the Italians pulled off what probably remains their greatest win, a 40-32 defeat of Grand Slam champions France in Grenoble. They subsequently added the scalp of Scotland in Treviso in early 1998 and then came within a whisker of beating Wales in Llanelli a couple of weeks later.
Though they had already begun to dip by '99 - the performance in that year's World Cup was poor - their opening bow in the Six Nations could hardly have gone much better, with a Dominguez-inspired victory over reigning Five Nations champions Scotland (they're still technically entitled to call themselves that) in the Stadio Flaminio.
They might reasonably have presumed Ireland to be the lowest hanging fruit but their arrival coincided with Irish rugby's sudden revival at the turn of the century. A long losing streak in the fixture followed. 
Rather like the Irish cricket team, whose best days had been and gone by the time they were finally awarded Test status, the Italian rugby team's peak had probably passed by the time they were let into the Five, now Six, Nations.
Just over two decades later, the Italians' overall Six Nations record reads won 12, drawn one, lost 94. That 2013 campaign was close to the high-water mark of their Six Nations experience - since then they've won only one game in the competition, a 2015 victory in Murrayfield courtesy of a last-minute penalty try. 
However, Ross emphatically rejects the building clamour for their demotion. 
"There's people talking about removing them from the Six Nations. I think that's a load of b******s to be perfectly honest. I mean, every time they've played Georgia, for instance, they've beaten them. 
"If you compare this Italian team to the one in 2013, they'd be better. But everyone else has moved on too. That's the issue. So, to the outsider, it looks like they're not improving. But if you watch them, they're playing good stuff. 
"Their tackling has been poor at times. If they can tidy up their defence and keep their attack going the way it's going, they'll push a lot of teams close."
Kidney's sacking was announced on 2 April. Though he'd assured his place in history by coaching Ireland to the Grand Slam in his first season, the subsequent four years of mediocrity - and the increasingly directionless air that pervaded the set-up - had taken the sheen off his reign and he wound up with a worse win-loss ratio than his predecessor Eddie O'Sullivan. 
He was replaced by Ross's provincial coach, a certain Mr. Schmidt - "I didn't want to lose him at Leinster. If I could have cloned him at the time, I'd probably would have" - and two Six Nations titles in succession followed.
"Most international coaches have a four or five-year tenure," says Ross. "In Deccie's first year in charge, they won the Grand Slam. We actually got off to a good start in 2013, we beat Wales in Cardiff, Zeebs with the little foot flick. But obviously, things went wrong after that. 
"Deccie was more of a hands-off coach. He was more about creating an environment. Schmidt was far more detail focused. 
"Deccie would assemble a group of coaches and then he'd outline the overall philosophy he'd want and what gameplan we'd have. But you can't do everything as a head coach, can you?"
While the respective coaching tickets may have been at different stages in their cycle, there are some similarities between the position of Ireland then and now - as in 2021, Ireland were 18 months on from a disappointing World Cup, were navigating an awkward transitional phase and were faced with the conundrum of having to build squad depth at the same time as trying to win Six Nations games. 
Looking back, Ross points to the level of turnover in the squad in the early part of the last decade. 
"He (Kidney) was trying to bring players through because he needed to. Johnny Sexton was coming up at the time but he got injured that year and who was behind him? ROG had delivered so much but what was he, 35 at the time? So, there needed to be succession planning. 
"If you look at the team we had there, Luke Marshall, it was quite early in his career, and he was paired with Brian. Craig Gilroy wasn't hugely established. Peter O'Mahony was up and coming. Dave Kilcoyne and Stephen Archer were coming up in the front row. Paul Marshall and Ian Madigan were the half-back back-up. You could see he was trying to build more of a squad and blood more players.
"It's always tricky when you're an international coach. When do you do it? In the Six Nations, Italy have traditionally not been the strongest team in it so you could probably afford to blood a few more players. 
"But then if you lose to Italy, everyone is going to come down on top of you like a sack of bricks. So, it's a tricky tightrope to walk." 
We need your consent to load this YouTube contentWe use YouTube to manage extra content that can set cookies on your device and collect data about your activity. Please review their details and accept them to load the content.Manage Preferences
Follow Italy v Ireland (kick-off 2.15pm, Saturday) via our live blog on RTE.ie and the RTÉ News app or listen live on RTÉ Radio 1's Saturday Sport. Highlights on Against the Head on RTÉ2 and RTÉ Player, 8pm, Monday. 
Listen to the RTÉ Rugby podcast on Apple Podcasts, Soundcloud, Spotify or wherever you get your podcasts.