RTÉ rugby analyst Donal Lenihan believes the time is ripe for Ireland to adopt a longer-term perspective when making selection decisions and argues for including Leinster's young out-half Harry Byrne in the match-day squad for the trip to Rome in under a fortnight's time.
For the first time since 1998, Ireland have lost their opening two games in the Six Nations Championship (then the Five Nations), effectively ruling out a tilt at the title in 2021.
Recent years have seen plenty of excitable debate about Ireland's continued under-performance at the Rugby World Cup, with the IRFU's financially motivated policy of prioritising the Six Nations frequently being held responsible for the team's failure to peak in time for the quadrennial showpiece.
Ireland have won the Six Nations four times in the past 12 attempts, including two Grand Slams, and have been one of the most consistently competitive sides since the turn of the century.
However, given that the championship hopes are gone by the wayside at a far earlier stage than usual, Lenihan believes that there is space for Ireland to embrace a longer-term approach, perhaps taking our cues from France's strategy since the last World Cup.
"That (prioritising the Six Nations) is their strategy," Lenihan said on this week's RTÉ Rugby Podcast.
"I think to be fair to a head coach, that needs to be put in a public domain.
"Right now, David Nucifora is the director of rugby. He's the one who formulates the strategy from the top in line with a number of people at the top of the IRFU who would be prioritising the financial element of finishing as high up in the Six Nations as possible.
"Personally, given that we've now found ourselves in a position where we've lost the first two games, we have to take a longer view. We have to support Farrell.
"Look at France. What they are doing absolutely brilliant. Everything you read about them is 'the project'.
"Their long-term goal was to build a team capable of winning a World Cup for France in 2023. By doing that, you insulate the players because you're saying there's going to be bad days along the way. But it's a means to an end.
We need your consent to load this YouTube contentWe use YouTube to manage extra content that can set cookies on your device and collect data about your activity. Please review their details and accept them to load the content.Manage Preferences
"I'd say (Fabien) Galthie and (Raphael) Ibanez couldn't believe they were so successful in the first year of the plan. Now, they've won two from two, from two away games. England have facilitated them by losing to Scotland so they're in a brilliant position.
"I'd say their goal this year is to win the championship, not a Grand Slam. They'd be quite happy to win it by points differential in the end.
"They've a short-term plan which is developing younger players. Nine of the 2018 and 2019 U20 squads have now been capped, including three props.
"Ireland - everything we're doing seems to be short-termism.
"And I think that's unfair on a coach. Because if he's handicapped in selection by a desire to get third place in the Six Nations, then that hampers us in the long run. We're falling in between two stools."
With a view to the longer-term, the two-time Triple Crown winner argued the upcoming Italy game was the ideal opportunity to give Leinster's 21-year-old out-half Harry Byrne a taste of international rugby.
Lenihan, who was Ireland manager during Warren Gatland's coaching tenure, cited the example of Ronan O'Gara's introduction to the international sphere, in the landmark victory over Scotland in the 2000 Six Nations.
O'Gara was held back for the blitzing in Twickenham in the opening weekend in 2000 but was thrown in against Scotland, with the experienced David Humphreys held in reserve for when the ship needed steadying.
"You wanted Harry Byrne thrown in against France at 10 last week. That wouldn't be right. It's not fair on the young fella, he's not ready for that yet.
"But given that we've lost those opening two games, I've certainly come around to the point of view that even if you start Johnny Sexton against Italy, he now has a mentorship role with Harry Byrne.
"I'd put Harry Byrne on the bench against Italy in Rome in two weeks time. Give him 20-25 minutes at that level. I mean, we're going to beat Italy. So, expose the guy. Bring him into camp and let him be part of that.
"Remember that Sexton was in there behind Contepomi (at Leinster) and O'Gara at international level when he was learning the ropes.
"O'Gara, 20 years ago, had to make his mistakes at AIL and provincial level with Munster.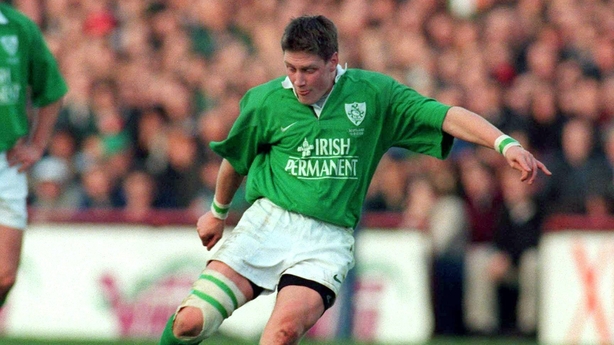 "But when we finally threw him in against Scotland on that famous day (in 2000), you had a comfort blanket with David Humphreys on the bench.
"We ended up winning 44-22 but we were struggling early on in the second half. I remember turning around to Gatland when Ronan was going through a difficult patch and saying 'Gats, we have to make a change at 10.' And Humphreys was able to finish out that game.
"The following game was against Italy. So, the easy decision for us was to start ROG again. Because it was Italy. So, you've got to feel your way through these selections.
"But I do feel the time is now right for Harry Byrne to be introduced.
"If Lancaster felt he was good enough to start against Northampton in the Heineken Cup a couple of months ago - unfortunately he cried off in the warm-up - well then I think his time has come.
"We've got to make long-term decisions in those key areas."
Listen to the RTÉ Rugby podcast on Apple Podcasts, Soundcloud, Spotify or wherever you get your podcasts.