A poor third quarter was the main reason for Ireland's defeat to France but Andrew Conway revealed that by half-time the coaching staff had already identified that something was "a bit off".
Andy Farrell's side trailed 17-13 at the break with two French tries coming off the back of Irish errors.
But the visitors enjoyed 65% of the possession and had a 72% territorial advantage in the first half without ever capitalising on those statistics.
France added 11 points in the opening 12 minutes of the second half and ran out 35-27 winners.
The full-time penalty count read 14-7 in Ireland's favour, which will make the realisation that a six-point win would have been enough to claim the Six Nations title even harder to stomach.
"We probably were just off in the first half," said Munster wing Conway, who won his 23rd cap last night.
"We did some okay things but probably our body language wasn't great at times.
"The coaches were looking on and would've had a good view of us, and know us well enough to feel and think that we're a bit off, so that was the message.
"The message was to believe, going into the second half with a championship on the line, everything to play for and only a couple of points in it, whatever it was.
"So it's disappointing that that type of chat has to be said in the environment that we're in, but that was the reality of where we were at and, unfortunately, we didn't kick on."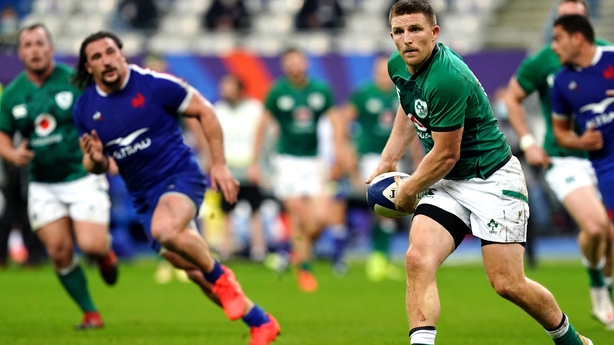 France were mathematically still in the hunt for silverware but required an unlikely 32-point win to overtake England, who they had beaten at the start of the championship in February.
Fabien Galthie's team are on the up but that doesn't make it easier for Conway to digest defeat, knowing that Ireland made life hard for themselves in Paris.
He said: "We know the calibre of players we're playing against and we know that if we give them easy ball...then you get punished, and that's the level you're at.
"So that's probably the most disappointing thing, really, the instances like that where you don't necessarily mind where you make it tough for teams, where they get in in the corner, or there's a piece of magic where you say, 'fair play to you'.
"But it's whenever you don't put your best foot forward in instances where you are playing some of the best teams in the world, and they're going to punish you like they did."
It's the second season in a row where Ireland came into the last day with a chance of winning the title only to fail to fire when the occasion demanded it most.
That fact, allied to the manner of the last two Six Nations losses to England and the World Cup defeat to New Zealand, seems to suggest that there is a growing gulf between Ireland and the current pace-setters.
The inability to produce under pressure stands in stark contrast to 2018 when Ireland claimed the Grand Slam, a series win in Australia and a victory over New Zealand.
Asked about Ireland's errors leading to more mistakes and if that affected their thinking, the 29-year-old said: "It's compounding errors and that is backing up a negative after a negative and likewise, you want to put a positive on top of a positive on a positive and get in a scoring position.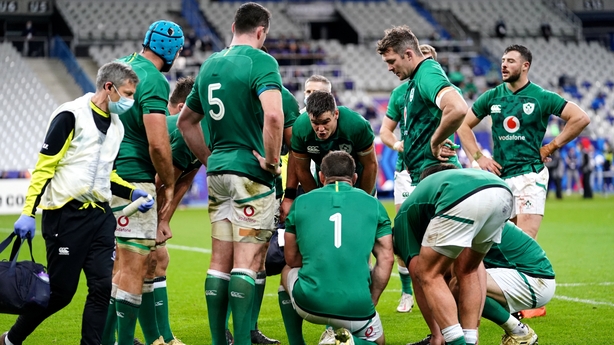 "It's easy to say we shouldn't miss touch, mess up a lineout or have the accuracies out there. It's easy for me to say but the reality is we're in a Test match environment and things do go wrong.
"We want to work as hard as we can during the week and prepare for that not to happen. But it does happen and it's pretty disappointing for us that it happened in such a big game with such a big opportunity for us.
"We've just got to rally around together and continue to try to get better together. There will be some highs in the future but there will be lows too.
"We're early into Faz' reign, we've a great bunch of lads and we feel we have a great squad to push on.
"So we're going to stay tight-knit and look forward to a big month of new rugby and see what we can do."
Ireland's next match comes in the Autumn Nations Cup against Wales in Dublin on Friday week.