Johnny Sexton believed Ireland should have had an early penalty try in their 35-27 loss to France when Hugo Keenan was denied and made that point to referee Wayne Barnes.
The English referee and TMO Luke Pearce appeared to check for an offside in the build-up to the incident in the 10th minute and then focus on whether or not a covering French defender was close enough to intervene.
Multiple replays didn't tally with the officials' final ruling as it looked like the Ireland wing was certain to collect the ball and touch down before Anthony Bouthier first pushed Keenan and then batted the ball out illegally, which resulted in just a penalty and a yellow card.
"What I said [to the ref] was if the guy commits foul play he's got to be taken out of the equation, that was my understanding of the rule," Ireland captain Sexton told RTÉ Sport.
"He's taken out of the equation, you've got to look at the picture as if he's not there.
"Hugo was stranding right under the ball, but they didn't see it that way as there was another France player in the vicinity.
"A penalty try there would have meant a much easier run."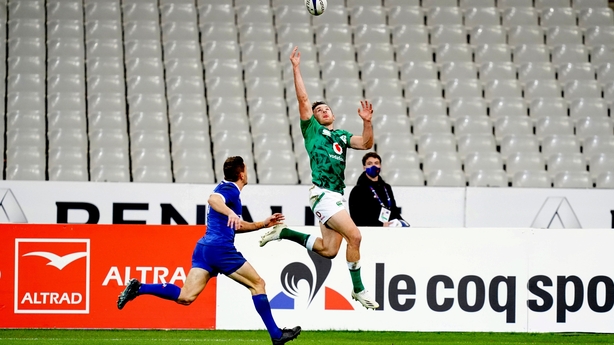 Head coach Andy Farrell said: "It wasn't given so it is what it is, in my opinion.
"I listened to the referee discussion. I think they thought Hugo had come past the ball slightly, nudged off it a bit in the air but anyway that wasn't the reason we lost the game."
Sexton added that Les Bleus were able to play the wet ball better because they led for most of the clash.
"The conditions were very, very tough," said the 35-year-old.
"You get the new balls on the film on them, then with how greasy it was, the ball's like a bar of soap.
"And of course it's easier when you're winning the game because you don't need the ball.
"I'm surprised we got as many set-pieces as we did but it's easier playing those conditions when you're winning because you don't need the ball.
"They capitalised on our mistakes."