For a new era you might as well have a new anthem.
Most of the Irish players would have been used to hearing the Fields of Athenry ringing out prior to the opening whistle but the DJ had other plans.
No one from the Irish camp owned up to it in the aftermath but Metallica's Enter Sandman boomed out around the Aviva on a beautifully still February evening, heavy metal seemingly the mood music for an expectant crowd on opening night.
"I actually didn't hear that," said Andy Farrell at the post-match press conference.
"Honestly in those coaching boxes, they are sound-proof. That's why I wanted to go outside. I like Metallica."
In the end it was a win, and for the new boss, nothing else matters.
The head coach will run like hell away from Lansdowne Road with that on board from a clash that easily could have gone the other way.
"I thought we full deserved the win," was his opening line.
But it was a savage defensive effort at the death, combined with Stuart Hogg's inexplicable loss of concentration when over the try line that made the difference.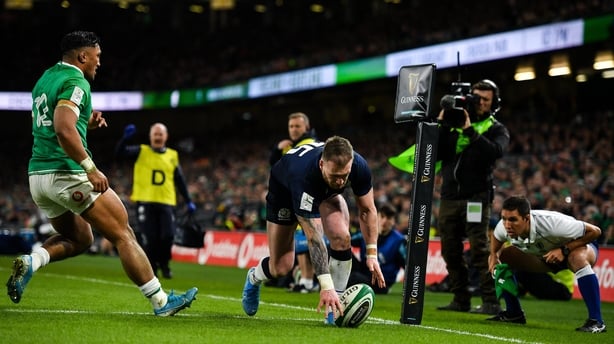 However, Scotland believe they left it behind. "We stayed in the fight for 80 minutes," said Gregor Townsend, whose side were 14-point underdogs.
It's hard to argue with that.
While Ireland led from the seventh minute on they never managed to pull clear of the visitors and that was as much down to their own misuse of possession.
There might be some mitigation in that they hadn't very much time together as a team but the same applies to Scotland, who had to deal with the loss of Finn Russell as well, and it later emerged that Hogg had been ill during the week.
"They looked to be on the same page [as opposed to Ireland]," said Fiona Coghlan of the visitors.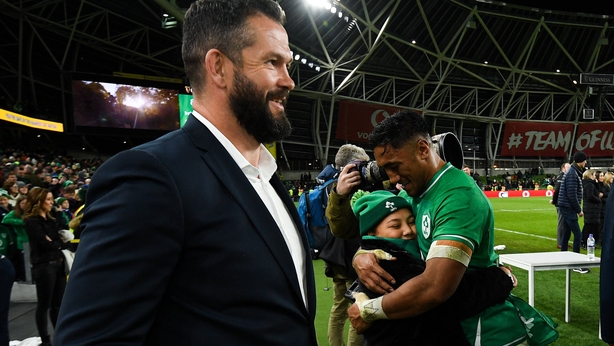 Farrell and Johnny Sexton turned up at the post-match briefing and denied that relief was the primary emotion, losing out to delight at the result. It most have been a photo finish.
Had Scotland the wherewithal to come away from numerous entries to the 22 with something more than three points then Farrell's reign would have begun with a draw or defeat.
"They had a few unfortunate moments," Robbie Henshaw said, putting it mildly.
Ireland, too, had that issue. Between them the sides made 17 clean breaks that yielded just one try but in Sexton and CJ Stander had the edge in the overall battle.
Like the first game of the 2018 Grand Slam run, Sexton's sheer determination was a telling factor.
More impressive was the fact that the new captain, who scored all of Ireland's points, hadn't played since 7 December when he suffered a knee injury in the Champions Cup.
"I felt good, obviously, rusty," Sexton told RTE Sport.
"It's tough when you are in a brace for three weeks. I worked my socks off for three weeks to be able to train [training camp] in Portugal."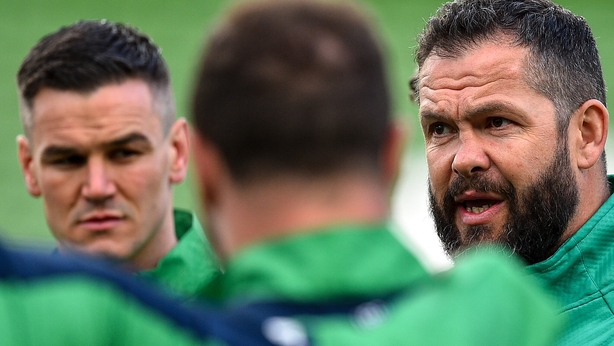 "I can elaborate on that," Farrell interjected unprompted.
"He hadn't done any rugby training whatsover...eight, nine weeks. For him not to touch a ball until Thursday of this week, that says it all about the man.
"To have the pressure of doing something he passionately wanted to do, lead his country for the first time, and all the new bits that come with that, and deal with such an injury, and leading the side like he did, hats off to Johnny, that's a magnificent effort."
While it had been hoped that this game would heal the hurt of Japan it was clear that the memory remains.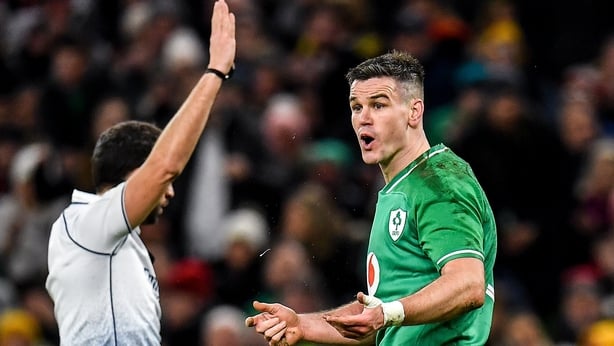 "There were some things we learned from the World Cup and we were trying to take that with us," said Sexton when asked how the team differed from the 2019 version.
"We didn't gloss over the World Cup and pretend it didn't happen. We sat down and we learned the hard way.
"We didn't see it all today...we didn't have many set plays to play off. We didn't show as much off set-piece as we had planned. Hopefully some of them will come to fruition over the next four games.
"I thought you saw glimpses of what we can do and some of the ideas that we have. We could never get that two scores clear and we had chances to do it."
For all that needs to improve the defensive effort was wonderful. That they shouldn't have been close enough to the Scots to need it is another matter. 
Ireland centre Robbie Henshaw says Scotland had a few 'unfortunate moments' #rterugby #SixNations #IREvSCO pic.twitter.com/EFLBoC4iLc

— RTÉ Rugby (@RTErugby) February 1, 2020
"You can't coach it," said Sexton of the desire shown in the final moments, "you can't account for some of the bravery you saw today...some of the front-five guys towards the end, having played 75 minutes and they get back and make a tackle."
Wales put 42 points on Italy yesterday.
"We need to be more clinical," said Henshaw. "There were times we had them pumped into the corners and we let them away."
Asked how much Ireland will need to improve for the visit of the Guinness Six Nations champions, Farrell said: "Quite a bit I would have thought." 
He's not wrong.