Cardiff was tough to take. It's always disappointing when you lose but even more so when you look at the scoreboard, see you lost by 13 points and know in your heart and soul that the score doesn't reflect what just happened.
For the players not to take any points away having put in so much effort - and after what was in parts a really good performance - is pretty devastating.
For me, the one area that decided the result as much as any, was the line breaks. The number of breaks each team had was pretty similar but it was Wales' ability to convert those line breaks into points that told in the end.
Take that try George North got in the first half: to make that line break and score the try in the same phase was no accident. So much had to fall into place, and it did.
We need your consent to load this rte-player contentWe use rte-player to manage extra content that can set cookies on your device and collect data about your activity. Please review their details and accept them to load the content.Manage Preferences

When you're playing in the Irish team you have a decision to make when a player is looking to take on the line and you're in a position inside or outside.
You either prepare yourself to hit the ruck or you prepare yourself to run a really good support line in anticipation that he'll sidestep and go through or create space to get his hands free to send someone clear through the line.
The likes of Brian O'Driscoll and Gordon D'Arcy were able to do two of those things at the same time; they were able to hit the ruck if that guy got tackled, but they could also get into a position that if the break was made they were able to get though on the key support.
On Friday night Ireland made plenty of line breaks but Wales' scramble defence and Ireland's inability to make them pay, in contrast to what Wales could do the other end, was ultimately the difference between the two teams.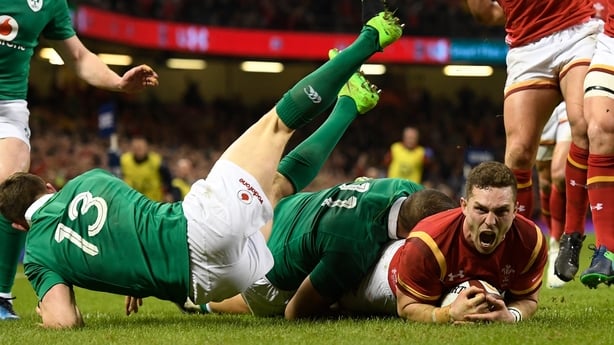 Nobody will be more aware of that than Joe Schmidt and Joe will be working this week on encouraging the players to pour through on key support. A lot of that is about workrate: getting up and back with every play.
Of course you can't have a coach tell you exactly what to do for 80 minutes, and you have to read the situation individually as the game goes on. It's not an exact science and is a game of rugby football with lots of moving parts.
But I wouldn't agree with the theory that Ireland are too predictable. There's a new centre partnership there with Robbie Henshaw and Garry Ringrose, they're improving with every game and you have to be patient.
In the two games we have lost, to Scotland and to Wales, there have been very small margins between victory and defeat. It's easy say, and it's not to deny whatever shortcomings have got in the way, but it could easily be us going for a Grand Slam this weekend.
I've heard the point made about the game on Friday how physical it was - and it was. People have been highlighting the input of Wales' big players North and Justin Tipuric. But if you look at the stats, the lightest and smallest player on the field was Keith Earls, and nobody beat more defenders in the 80 minutes and nobody made more metres than he did. Just saying!
I've no doubt in my mind that we can beat this England team on Saturday. We beat them in Lansdowne Road two years ago and last year we let them in for two tries in a terrible five-minute period; that turned the game on its head.
This next game on Saturday is one Joe will think long and hard about, and he could see it as an opportunity to bring in one or two guys and really energise the group.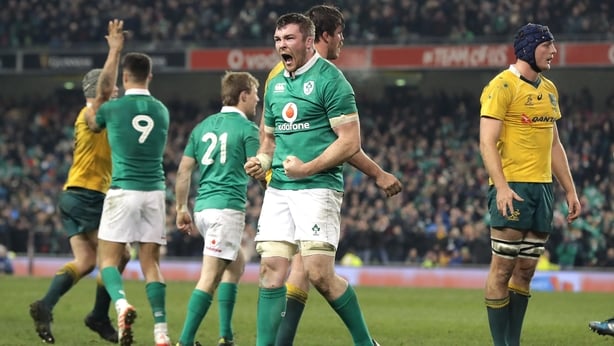 He'll make a decision on what guys could bring that bit of freshness and it could easily be Peter O'Mahony.
Pete would bring that energy, that's for sure. I think what he offers in the line out has been widely written about but he's also such an aggressive player and I know that no game motivates him more than playing England!
Meanwhile, it was all happening in France this morning! The announcement that Stade de Francais and Racing 92 have merged shook the entire sporting world out here.
It was kept exceptionally quiet but now certain things begin to make perfect sense. For example, Stade haven't signed any players in the last six months and let a lot of guys go in that time, either releasing them from their contracts or not extending their deals.
It's certainly good news for Bernard Jackman, the Grenoble coach. His team lie in second last but as a result of the merger only one team will get relegated. The worst case scenario is a play-off with the second placed team in division two, a game they'd be expected to win.
To be honest it's a bit of luck Bernard has deserved. He has done very well with a young team and they had a horrendous amount of injuries earlier in the season. They've come good though and if this can be considered a lucky break, it's a break they deserved.
And obviously I've had my own bit of big news since my last column, with Bordeaux releasing me and allowing me join Bristol at the end of the season. I have to say I'm really looking forward to the opportunity and the chance to align myself with Pat Lam is something that really excites me.