Johnny Sexton is expected to be fit for selection against France on Saturday week, but Joe Schmidt says Paddy Jackson has commanded the respect of his team-mates in the Leinster out-half's absence.
Sexton wasn't available for the Murrayfield defeat or the rout of Italy in Rome, but speaking at the squad's open training session in Monaghan today, the head coach insisted the 31-year-old will resume full training next week ahead of the visit of the French (4.50pm, live on RTÉ Radio 1 and RTÉ2).
"We could have thrown him in and out of the full training today but we've got a map planned out for him whereby he should train fully next Tuesday," he told RTÉ Sport.
"We feel because of his experience and how much time he has spent with us, how seamlessly he can slot in, that Tuesday, Thursday, he brings a real freshness for us."
Part of the reason for the calm prognosis is the seamless transition of Jackson from back-up to the man in possession of the number 10 jersey.
The Ulster man scored in the comeback in Scotland that ultimately was in vain, and gave a master class at the Stadio Olimpico as he hit nine from nine of the kicking tee and was the attacking launch pad in the demolition of the Azzurri.
Four years and 21 caps into his international career, Schmidt sees a player perfectly at home in his surroundings and feels the summer tour to South Africa, where Ireland secured a first-ever win on Springbok soil, was crucial in his development.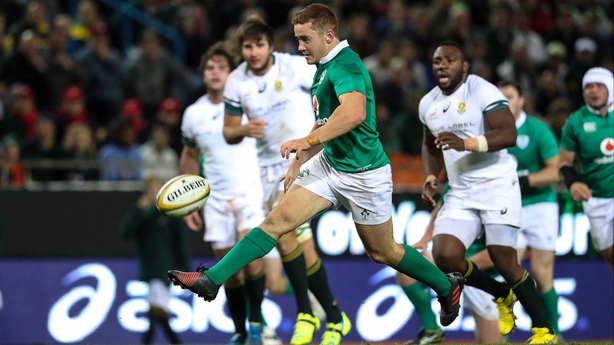 "I think there was a real respect there for Paddy through those three weeks as the tour built," he said.
"More and more he was quietly leading. He does it really, really well.
"For us, part of the comfort is that Paddy is growing all the time. Even amongst the team
"We [coaches] say, 'let's start from here' and players immediately turn to Paddy and look at him and say, 'well what are we starting with Paddy?'
"That's what's needed in a team."
Rob Kearney (tendon issue in bicep) and Conor Murray (rested) both sat out training, though Schmidt holds no fears over their availability, while he was pleased to welcome Rory Best, Peter O'Mahony, Andrew Trimble and Iain Henderson back into the fold.
"Players are very human, they have the same fears and crises' of confidence that anybody else has...They want to feel that people have a confidence in them"
The change in location to Monaghan is not only a benefit to the locals says Schmidt, but also to the ahead of the "knock-out" rugby over the final three rounds of the competition.
"Inevitably if there is a bad performance, that gets reflected in what is written and said, but when they actually get out and rub shoulders with the local population, there has never been anything other than incredible enthusiasm," he said.
"That lifts players. Players are very human, they have the same fears and crises' of confidence that anybody else has.
"They want to feel that people have a confidence in them."
With the four provinces involved this weekend, the management team will have the opportunity to evaluate fringe players pushing for starting and squad positions, and revealed the detailed plan in place in assessing those who have returned to Pro12 action.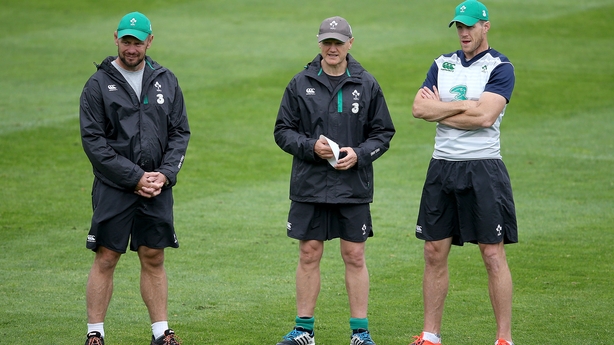 "We've [coaches] got a brief where we divide the players up positionally and we'll all look at everyone and specifically we'll feed back on some of the guys who have gone back [to provinces], the Dave Kilcoynes, the John Ryans, the James Tracys.
"Greg Feek (scrum coach) will keep a bit of a closer eye on them
"The Ultan Dillanes, the Billy Hollands and the backrowers like Dan Leavy, Jack Conan, Tommy O'Donnell and Josh van der Flier, Simon Easterby will keep an eye on them.
"Richie Murphy and myself and Andy Farrell will keep an eye on the backs.
"Then we'll all mix in our own ideas on how everyone went and make some decisions next week and also try to give the players a bit of feedback."