The comparisons are impossible to avoid.
It doesn't help that Garry Ringrose and Brian O'Driscoll share the same shirt number, club, province and country.
But even if Ringrose had risen to this stage through an alternative route, it's his style that reminds fans of the former Ireland captain in his prime.
There's a little jink, a step, and a body shape in evidence with Ringrose and it's hard not to recall how O'Driscoll lit up the Leinster, Ireland and Lions games he played in.
One particular passage of play against Australia in November was reminiscent of O'Driscoll's third in Paris in 2000.
A pass goes to ground, a swoop, a jink, a try, everything processed just a millisecond quicker than anyone else. It can't be taught.
He scored his second international try against Italy last week. Again, it was a something-from-nothing effort, slicing his way through a cluttered midfield to race clear.
O'Driscoll himself is naturally reluctant to draw comparisons. He will admit, however, to being "excited" watching the 22-year-old in action.
He sees no reason why Ringrose, hoping to win cap number six against France on Saturday week (4.50pm, live on RTÉ Radio 1 and RTÉ2), can't surpass his own achievements, which include three Heineken Cup wins and two Six Nations championships.
"I think any comparisons are always unfair on any new player coming in," said O'Driscoll.
"I'm sure I'll be saying in time the comparisons were unfair on the old player because this guy has got huge potential.
"I think he can be the best version of himself and not try to live up to anyone's expectations but you should never put limitations on how good someone can be.
"I get excited watching this guy play in the centre as he has got a terrific skill-set and I think he is only going to get better and better if he can avoid injury.
"He sees things a little quicker than most players, I think he has a nice skill-set, runs good angles, defensively packs a bigger punch than maybe his physique would suggest.
"I think he puts it all together and makes some good decisions, good off-loading game but doesn't throw the 50/50s, just a smart rugby player."
O'Driscoll, who retired in 2014 with 133 Ireland caps, was coming to the end of his playing days when he first encountered Ringrose.
"I trained with him when he came straight out of school and we could see that he had something special back then," he said.
"I have seen a lot of his Six Nations to date and I have also watched a lot of his performances over the last couple of years for Leinster.
"In the way he has played but also competed and brought in physicality when it's needed."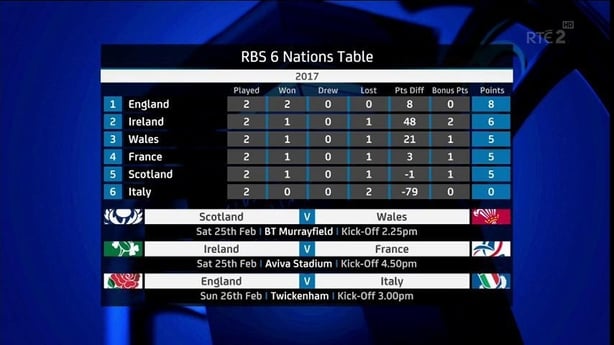 Joe Schmidt's men face France on 25 February and know that nothing less than a win will suffice with England building up for a grand slam outing in Dublin on the final day.
The 38-year-old said: "I think Ireland's next three Test matches are going to be very difficult: an incredibly physical French team, a Welsh team that look rejuvenated and then an English team that will likely have silverware on the line.
"There will be a lot of questions asked of every player in the Irish set-up and whether they can step up to the plate and put their best foot forward."
"I think if they can do that then they have a great shot of going onto the [Lions] tour."
Land Rover is on the hunt for grassroots Lions to join them on the British & Irish Lions Tour to New Zealand 2017. For your chance to win a place on tour, go to @LandRoverRugby #WeDealInReal