Brian O'Driscoll believes that Ireland coach Joe Schmidt will be quietly confident of securing this year's RBS 6 Nations, despite stating that 'indomitable' England were favourites to secure this year's championship.
The Ireland coach said last week that he would be happy if his side finish in the top two in this year's competition, stating "a top-two finish would be great. Obviously, England are top of the pile, and for the last 13, 14 months they have been indomitable."
However, Leinster and Ireland legend O'Driscoll believes that Schmidt is just being canny about his chances and feels that the coach will only have eyes for the number one spot this year.
"The best way of getting your foot on the plane is by winning the Six Nations and winning as a collective. You will shine as an individual." - O'Driscoll
"Of course, I would think, behind closed doors, he is thinking only number one spot," O'Driscoll told RTÉ Sport.
"Everyone will realistically say that a top two wouldn't be the end of the world, to finish behind a pretty impressive England team.
"But of course, he [Schmidt] is being canny. You don't want to go out and oversell yourself too early."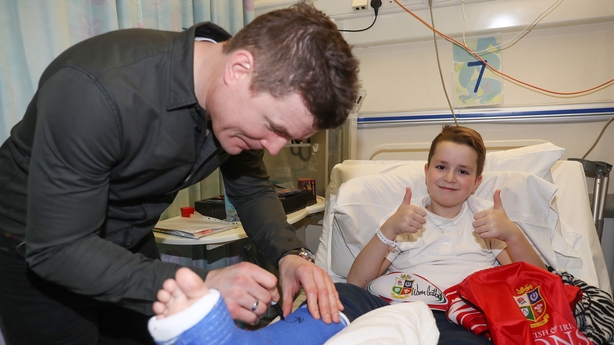 Speaking at an event for Temple Street Children's University Hospital Foundation, O'Driscoll admitted that he was really looking forward to this year's Six Nations as a fan, having experienced the victory over New Zealand in Chicago from the grandstand rather that the team's inner circle or the commentary box.
"I've had plenty of time to put to bed the playing days and I'm just excited now as a fan. I went to Chicago as a fan, not in a work capacity, and it was brilliant to see that result.
"You become just another number like everyone else, wearing green and cheering the team and you become incredibly patriotic.
"And with the standard of the team at the moment, Ireland are in a good place so hopefully we can capitalise on that and keep growing the squad that Joe has put together so impressively."
O'Driscoll also believes that the new tackle laws will affect several games throughout the tournament, and while he is against the bonus-point system, he felt that the trial has to be embraced as it works well in European club competitions.
 "We're still in the early days of [the tackle], so it's down to interpretation. The best referees will be in charge during the Six Nations so their understanding of the rules and leniency at times will be necessitated.
"What it does do is encourages players to tackle lower, and that has to be a good thing. But it's unfortunate that teams are now training expecting to be a man or two down and at times, we're going to see games finishing with 14v14 or 14v13, and fitness levels are going to tell.
"I'm not really [a fan of the bonus point]. I didn't feel there was any issue with the Six Nations. There was great excitement a couple of years ago with all three games relevant on the final weekend as potential winners of it.
"But it's worked well in Europe, so you have to embrace it, it's here as a trial. But you would anticipate it won't come down to bonus points and the team with four or five victories will win the Six Nations."
And looking ahead to the Lions tour, O'Driscoll was non-committal on how many Ireland players he believed would be making the trip to face World Cup holders New Zealand in the summer.
"It's impossible to say, as the game is becoming so attritional, so a number of players will probably be ruled out through injury.
"You would hope for three or four [in the Test starting XV] but it is all to do with who does well in the Six Nations.
"The best way of getting your foot on the plane is by winning the Six Nations and winning as a collective. You will shine as an individual if you manage to do that."