Ireland lock Sophie Spence believes the reigning Six Nations champions are better prepared than ever to keep their grip on the title as they gear up for a crunch trip to France on Saturday.
Tom Tierney's charges began the tournament with a display of clinical efficiency against Wales at Donnybrook last weekend, swatting the visitors away in a 21-3 victory.
A bigger challenge now awaits in Perpignan, but Spence is confident Ireland are a well-oiled unit with the potential to take the game to their hosts and plunder a crucial win.
"We've had nine camps since August and you can just tell how much that helps form a squad point of view," Spence told RTÉ Sport.
"That's something massive to go into the first game, to have five camps more than we usually get. It's only positive.
"France are always going to be a strong team. They have a fantastic pack, really skilful backs. They'll be looking towards the next World Cup but they'll always want to put in a performance in the Six Nations.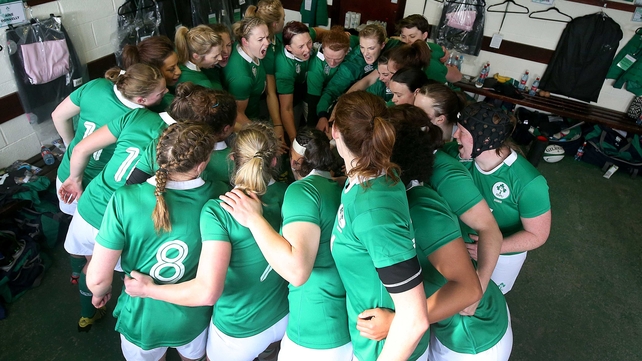 "You've just got to look at what team we have now and what are our strengths and how are we going to overcome their strengths."
Ireland demolished Scotland 73-3 in Glasgow last year to wrap up a second Championship and Triple Crown in three years, and Spence is fully aware of the importance of momentum as they chase more glory in 2016. 
"It's brilliant to start off with a win," she added. "We had a good performance for our first game in Donnybrook so it's really positive to go back into camp and to be now focusing on France.
"We can now look forward to putting more things in place to battle on Saturday. Let's not get ahead of ourselves, let's look at our game plan and what we're going to put in place to play our style of rugby.
"I think that's really important. We are away from home, France are going to have a brilliant crowd behind them – it's about how do we stay calm and composed and produce a good performance.
"As a pack we have to take pride and go out and ensure the physicality that we have as an Irish pack. From a forwards' point of view we have to set a playing field for the backs so that they can then be confident in what they do and get the ball out wide.
"We're going to do everything possible to go out and perform. The more games we get together the more confident we'll be but [the Wales win] puts us in a good place to compete this weekend."
Ireland's match with France in the RBS Women's 6 Nations will be broadcast live on RTÉ2 from Stade Aime Giral on Saturday, coverage starts 7.45pm, kick-off is 8.00pm