While Ireland's players have had the chance to work out some World Cup frustration with the provinces, the coaching team have been left to stew for over three months.
A chastening loss to Argentina in Cardiff at the quarter-final stage was perhaps one of the hardest in Ireland's long list of RWC failures to take.
A badly beaten up Ireland side, coming out of an impressive but costly win over France, were ripe for the picking and the Pumas were just the side to grab the low-hanging fruit that was Joe Schmidt's men on the day.
Even though there was no joy on the club front for the vast majority of Ireland's players, with Ulster, Munster and Leinster all bowing out of European contention with miserable pool campaigns, the run-outs will have eased some of the pain.
But the management have had no such punching bag to pay back and the Wales game on Sunday (3pm) provides their first chance at redemption.
Forwards coach Simon Easterby admits the long wait hasn't been fun.
"[It is] a long time, more for coaches than players because they get the chance to go back to their provinces and clubs and take out a bit of that frustration," Easterby told RTÉ Sport.
"But we've had time to reflect and to look at how we can do things better from what we did against Argentina.
"We came off the back of a really good result against France, and performance.
"Our standards in certain areas slipped against Argentina."
"Then our standards in certain areas slipped against Argentina and we came away second best on the day and we've got no excuses for that.
"What we can do is look to try and rectify a few of those issues that we had that day and hopefully put those into practise on Sunday.
"We've worked really hard on certain elements of our game since our last performance, which is what we probably have to work off.
"First and foremost is to rectify some of the things that we didn't get right against Argentina.
"We created some opportunities, which we didn't finish off. We allowed Argentina some opportunities, which we weren't able to stop.
"Across the board, both sides of the ball, attack and defence there's areas that we needed to improve on. We feel that we've had the opportunity over the last couple of weeks to do that."
Meanwhile, Ireland's rookie centre Stuart McCloskey can cope with Wales' 'Warrenball' tactics if handed his Test debut, according to Easterby.
Powerful Ulster midfielder McCloskey has forced his way into Ireland's senior squad for the first time, and could yet feature against Wales.
Even if head coach Schmidt sticks with the tried and tested centre pairing of Robbie Henshaw and Jared Payne, McCloskey could make his Test debut from the replacements' bench.
Easterby believes the 6ft 3ins, 17 stone McCloskey could cope if pitched in against Lions centre Jamie Roberts, the fulcrum of Wales boss Warren Gatland's unforgiving, direct running game.
"I think Stuart has shown he can cope, he's played against some big teams this year," said Easterby of McCloskey [below].
"Toulouse weren't a small team if anyone was up in Ravenhill earlier this season. I certainly was and I thought he did really well that day.
"He's gone well in the physicality stakes against Saracens too. So he's a big man and so are Wales.
"They've got threats across their back line, the same kind of size as Stuart.
"He's well able to step up and that wouldn't be an issue for him if he were to be selected."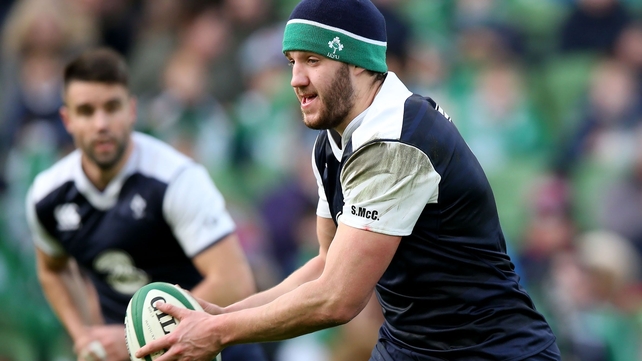 Sean O'Brien sat out Ireland's training run on Wednesday, owing to a tight hamstring, but the coaching staff expect the Leinster flanker back in action in Friday's session.
Garry Ringrose joined the Ireland squad for the day to offset Luke Fitzgerald's injury absence, but Leinster's highly-rated young centre has not been drafted in full-time.
Wales' uncompromising style has been dubbed 'Warrenball' in tribute to New Zealander Gatland.
Ireland head coach Schmidt has branded Wales "the biggest team in the world" in gearing his side up for another clash heavy on the midfield collisions.
While both Connacht's Henshaw and Ulster's Payne have featured at full-back for their provinces at points this term, Schmidt's safe selection would be to pair both in midfield on Sunday.
A debut for McCloskey could certainly boost the hosts' physicality, and Easterby believes Ireland will see new faces sooner rather than later.
Munster flanker CJ Stander is another itching for his first Test action, and Easterby is pleased with the new boys' attitude.
"Guys have come in and trained really well," said Easterby.
"We've got to have a balance in trying to have some continuity from the World Cup.
"If guys are playing well and we feel they will add value and be better than the guys who have gone before, then we will pick them.
"I think a few guys have really put their hands up and that's offered us some headaches in selection.
"We want to be coming out of selection meetings with a hard choice to make, and the players have been making it really competitive.
"We're not as experienced as Wales, in terms of their match-day 23. I think they've got more than 900 caps.
"We wouldn't be as strong as that, but that's not an issue. We've got enough experience through the spine of the team, and that allows us to pick players with a few caps or if they haven't been capped before.
"Those experienced guys around them can support them and someone's got to start at some point, win their first cap at some point.
"It might be this week, it might be next week, but I'm sure we'll see guys in the next couple of weeks get their opportunities."
Follow Ireland v Wales live on from 2pm on RTÉ2 and RTÉ Radio 1 and via the live blog on RTÉ News Now and RTÉ.ie.