Donal Lenihan has said that if Johnny Sexton was his son he would be "extremely worried" for the Leinster and Ireland out-half, following his latest head injury.
Sexton went off early in the province's Champions Cup defeat to Wasps on Saturday after clashing heads with Brendan Macken and was assessed for concussion.
He didn't reappear in the game and it was believed he had failed a head injury assessment, though this was contradicted by Leinster today, who said the No 10 was merely taken off as a precaution.
"We know it was a bang to the head. The confusion has arisen because Leo Cullen came out immediately after the game and said he had failed the head injury assessment," RTÉ analyst Lenihan told 2fm's Game On.
"Now we're told that he didn't fail it but that the Leinster medical people weren't 100% satisfied to send him back onto the pitch.
"That, to me, says there was an issue there. If he was my son I would be extremely worried about what he's going through at the moment."
"We're all more educated on concussion than we were even three or four years ago. I would certainly take the medical people at face value.
"The days are gone when you were forced to go out and play if there were issues like that surrounding you. But the facts, as they have been relayed since the incident, have only served to confuse the issue."
Sexton was forced to sit out three months from rugby and last year's Six Nations opener after suffering four concussions in 2014.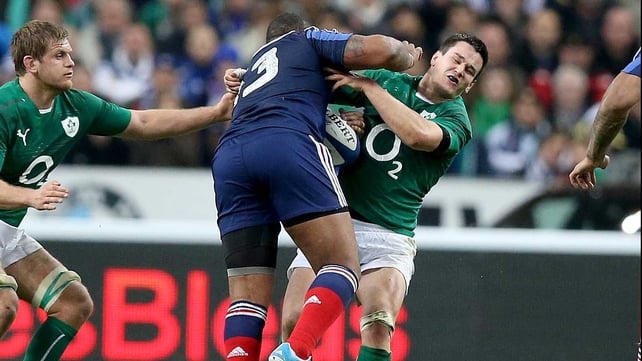 Lenihan fears for Sexton's future in the game if he sustains another concussion, raising the example of former Leinster and Ireland hooker Bernard Jackman, who retired after sustaining multiple concussions.
"I looked at the bang, an innocuous thing between himself and Brendan Macken and all I could recall was Bernard Jackman, who as we know suffered numerous concussions over the course of his career," said Lenihan.
"He told me, that at the end of his career, he was having concussive incidents warming up with Leinster and just hitting the tackle bag.
"The more you've had them the easier they reoccur and that is the concern with Sexton.
"If you're putting him out against Wales in two weeks' time, we know Jamie Roberts, 17/18 stone of a centre, is going to come haring down, as [Mathieu] Basteraud has done in the past.
"We know that Johnny Sexton's style of tackling makes him even more open to getting head bangs. To me he always looks like he's trying to effect a choke tackle and as a result of that is exposed."
Lenihan also questions the wider issue of allowing players to continue playing within a short period of sustaining concussions.
"There are so many issues there. Somebody has to take responsibility. It has to be taken out of Johnny Sexton's hands and somebody has to make a hard decision.
"It has to be taken out of Johnny Sexton's hands and somebody has to make a hard decision"
"As we know, it happened automatically in France, after four concussions he was put on the sidelines for 12 weeks.
"From speaking to someone involved in the boxing world, a boxer would be stood down at this stage.
"You have to say it is over 12 months since he's had a concussion that we're aware of. In the French game [at the World Cup] he got absolutely smashed by Louis Picamoles but research has shown that you don't have to get a bang on the head to have concussion.
"If you've had a number of them, the vibration of a hit can affect your brain. We have to take it on face value, what we were told is that he had a groin injury and he did play within three weeks of that.
"He looks pale, he looks gaunt and he's just not the Johnny Sexton that left Ireland two years ago."