By Bernard Jackman
When France do their video analysis on Ireland, they will hate what they see, because Ireland have become exactly what they call 'Anglo-Saxonised'.
By this, the French mean ultra-organised and efficient. They think it is 'machine like', lacking in emotion and passion. They hate it because they find it very difficult to play against.
France are the direct opposite - chaotic, volatile and disorganised. There are rumours of anarchy and discontent in the squad with players complaining of disorganised training sessions and confusing team meetings.
The criticism of them here has been massive with Bernard Laporte and a host of former internationals lambasting both management and players.
The French Federation have never sacked a head coach while he is under contract but Phillipe Saint-André is under huge pressure and could yet become the first to go.
It is ironic that Saint-André, who played for teams that epitomised the 'French flair' that has been so clearly lacking during his reign, is overseeing the current mess.
Their problem starts with selection. I can't believe he has not gone for Morgan Parra or Francois Trinh-Duc this week.
In fact, in my opinion there are at least five better scrum-halves playing in France than the two who are in the squad, Jean-Marc Doussain and Maxime Machenaud at scrum-half  (Dupuy, Pelisse, Tillous-Borde, Lesgourges and Parra).
They have actually made a change at out-half, going for Rémi Talès over Jules Plisson. Talès  is a very talented player who prefers to keep the ball in hand rather than kick and is dangerous when he takes the ball to the line. He breaks a lot of tackles through good footwork rather than raw speed and power.
Midfield changes - Talès and Fickou come in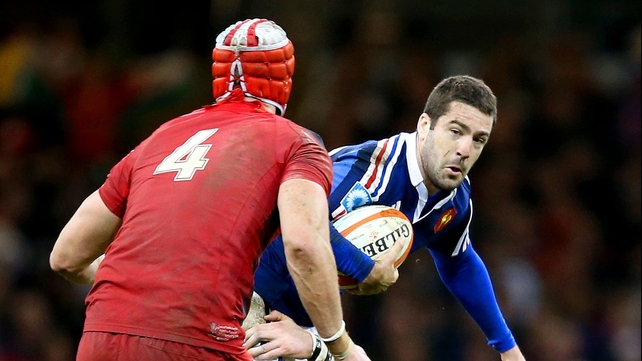 The man he replaces, Plisson, has been poor defensively and has also sat in the pocket much more than he does with his club side.
Talès is normally a good defender and perhaps on that basis, Saint-Andre felt he could bring in the tall, rangy and unpredictable Gael Fickou at inside-centre as while Fickou is capable of great things with the ball in hand, he has yet to convince defensively.
Overall, by changing two-thirds of his midfield, Saint-André is taking a massive risk with players of the quality of Jonathan Sexton, Gordon D'Arcy and Brian O'Driscoll more than capable of taking advantage.
Aside from selection poorly, France have also been badly organised on the pitch. You can tell a lot about how well or badly a team is organised by their 'exit patterns', the way they move the ball from inside their own 22 or half. The French 'exit patterns' in this tournament have been nothing short of shambolic.
In attack, meanwhile, they look completely bereft of any cohesive structure after three or four phases.
The French set-piece has also been creaking. The scrum is not a reliable source of possession and while the lineout was statistically decent, at least before the Scotland match, most of the ball is being won at the front.
Ireland can attack the French lineout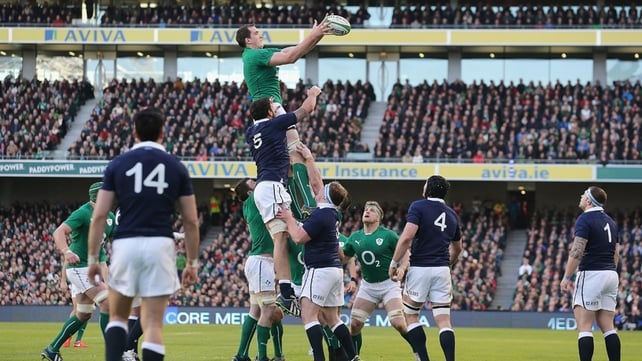 Against Scotland it collapsed, with France losing eight of 14 attempts. The return of Dimitri Szarzewski will improve that area but Pascal Papé and Yohann Maestri are slow in their movement and in the air and on the ground and there will be chances for Ireland to either disrupt or restrict the French lineout to the front.
Statistically, offloading has been one feature of the French play with ball-in-hand in this tournament. They have completed at least 15 in every game.
The French love to pass out of contact and it can make them dangerous, but if you defend properly it can lead to chances for your own team.
The lack of shape after a few phases is often why they throw the offload: they are isolated and uncertain.
Ireland need to make sure that the defenders either side of the tackler close down the space quickly and if they do, they can force those errors and turnovers.
Overall, France are most dangerous from fractured play and turnover ball and they do have individual brilliance, with the back-three as good as there is in world rugby.
They are always capable of performing well with chaos around them and the players are used to going out and playing well despite emotional tension. We have seen it at Test level and it is also something many of them experience in some of their clubs.
Ireland need to make sure France cannot bring their strengths into the game.
The keys are set-piece, clever kicking, high-tempo and discipline.
They can attack the French scrum as well as the lineout. There is a saying in French rugby, 'no scrum, no win' and if we can make an impact there it will be a huge blow to their confidence.
Tactically, to limit that counter-attacking threat, I expect Ireland to be very cautious with their kicking, putting up plenty of 'contestables'.
Discipline is another Irish key. Ireland only conceded two penalties over the 80 minutes against Italy, an incredible statistic, and on average have only conceded just six per game under Joe Schmidt.
That is testament to the work being done in the video analysis room and despite our chequered history with Steve Walsh, I think we can manage the relationship positively on Saturday.
Taking the game as a whole, if you believe that team sport is decided by factors like leadership, team spirit, self belief, motivation, organisation, work rate and harmony between the coaching and playing groups then there can only be one winner on Saturday.