By Conor O'Shea
RTÉ Rugby analyst and Harlequins director of rugby
What a day and what a privilege it was to be at Aviva Stadium on Saturday.
Ireland did what they needed to do and then some, and in doing so they have put themselves in pole position to win the Six Nations for only the second time.
They also gave the great man the send off he deserved on his final appearance at home for Ireland.
O'Driscoll's Lansdowne Road send-off a fitting one
Actually, truth be told, Brian O'Driscoll himself gave us the send off we were looking for.
If ever you wanted another demonstration of his importance to Ireland then this was it. 
We would have won this game without him, but the scoreline would have been nowhere near as comprehensive, and if anyone is literally trying to write his own ending to a glorious career, it's Brian.
Michael Jordan did it when he played for the Chicago Bulls in basketball and who is to say that Brian won't do it next Saturday evening at Stade de France?
Ireland deliver superb team performance
Let's be fair, this wasn't a one-man show, and despite it being Brian's stage, every man played his part.
Italy defended for all their worth, making over 200 tackles, a record, and they tried valiantly to quell the tide, but once the dam burst they just had nothing left to give and Ireland racked up the points.
Our bench made an impact with Jack McGrath, Sean Cronin and Fergus McFadden all crossing the whitewash.
When the Italian players were on their knees our bench just came on, stuck to task, and stayed focussed.
Make no mistake, there may have been no Alessandro Zanni or Sergio Parrise for Italy, but this was a really top-quality Irish performance, and I would make special mention of Gordon D'Arcy.
Many Irish players played well, but D'Arcy has played alongside O'Driscoll from the beginning, and it's unfair to say that he has almost acted as his support act, as D'Arcy has also achieved so much, but his value to Ireland and Leinster is incalculable. He gave another brilliant display.
France in Paris the next battle
The whole weekend has made me confident of our chances for next week.
France, despite having won three from four as well, just don't look the sum of their parts at all and they were so lucky to beat Scotland.
In this championship, both England and Scotland have let France off the hook and but for Yoann Huget's intercept pass Scotland would surely have taken a first win against the French since 2006.
Poor Duncan Weir was the hero in Scotland's victory over Italy in round three, but the villain at Murrayfield on Saturday.
Next week France are back on home soil, and their history is littered with performances that come from the depths to deliver a superb victory, but on current form you wonder where that is going to come from.
It's interesting to see that Phillipe Saint-André has brought back Louis Picamoles and Dimitri Szarzewski into his squad, so the heavy artillery are likely to be back in the matchday 23, but the French form has to return as well.
Ireland have got massive experience and will not fear the trip to Paris at all. I actually think they'll be excited about what they can do there. Will it be hard? Yes. Can it be done? Absolutely.
England unlikely to record 50-point win over Italy
By the time we get to the final act next weekend Ireland will know exactly what they need to do.
It's inconceivable that England can go to Rome and put 50 points and more on Italy, it just doesn't happen to the Azzurri at home any more.
England will give it a good go though. They play with so much pace and physicality that they will rack up some scores, but Italy will tackle hard, and as we saw on Saturday, play until the end.
England, like Ireland, look a really formidable unit in the making and Stuart Lancaster's men are building nicely for their home World Cup in 2015.
Wales must reassess game after poor season
Wales will be asking themselves some serious questions because both Ireland and England haven't just beaten them, they have put them to the sword and stopped them getting their game going.
They are a team that will come back, but one of their concerns will be their ageing props, and the fact that once their power game has been matched they have not been able to ask defences different types of questions.
How Ireland can beat France
But back to Ireland, they will be looking to go to France next week and keep the ball in play and tire the French out.
Ronan O'Gara talks a lot about the pace of the French Top 14 and how it 's conditioning players.
By that he does not mean they do not possess pace, power and skill; he is saying that this those facets are delivered in bursts in matches, it is not incessant.
Ireland will look to be relentless - and accurate - in the way they play and come the last 20 minutes see who is hanging on best.
"Yoann Huget and Maxime Médard may cause us problems, but as the game wears on Ireland should grow stronger" 
Ireland need to get as much pace as possible in the game and acknowledge in doing so that Huget and Maxime Médard may cause us problems, but as the game wears on Ireland should grow stronger as the French pack tire.
England applied this technique against them in round one of the championship, but France had already built up a 16-3 lead at that stage.
England came back and took the lead; however, they didn't deliver the killer blow before Gael Fickou scored the last-minute winner for Les Bleus.
This is going to be hard for Ireland, make no mistake, but winning isn't easy, it's meant to hurt and only special teams can do it.
I think we have a special group with a special coach and even though life doesn't always do fairytales, O'Driscoll is capable of writing the perfect ending by sheer force of will .
Jordan did it with the Bulls, and Brian is rugby's equivalent.
I hope we see him sign off his Ireland career at the Stade de France, the stadium where he truly announced himself with a hat-trick of tries in 2000, with another triumph, and in doing so claim the Six Nations Championship for the second time in his career.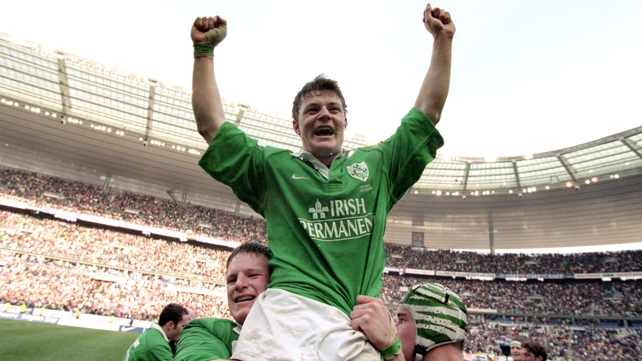 Even then his focus will turn to winning the Heineken Cup and RaboDirect Pro12 with Leinster. That is the nature of the sporting beast.
Live television coverage of the RBS 6 Nations from 12:00 on Saturday 5 March (12:30 Italy v England, 14:45 Wales v Scotland, 17:00 France v Ireland) on RTÉ Two and RTE.ie (Ireland only). Live radio coverage of France v Ireland on Saturday Sport (14:00) on RTÉ Radio 1 and RTÉ.ie (Worldwide).