By Tadhg Peavoy
Sport is often decided by the narrowest of margins, and top-tier sport even more so. If ever there was an example of this it was England-Ireland at Twickenham on Saturday.
An incredibly close Test match, in which both teams gave quite literally every ounce of energy. Sadly for Ireland fans, their side's all wasn't enough.
Going through the match, there were so many moments that could have swung things Ireland's way, or indeed pushed England out of sight.
Brian O'Driscoll's chip ahead in the opening few minutes, which Mike Brown dived to his right to save, collect and clear was the first. If the Ireland centre had managed to get the ball in behind the fullback there was nobody else at home and a foot race would have ensued to collect the egg with the England try-line open for access.
Likewise, Conor Murray's last-ditch tackle on Jonny May was another clear example of getting out of jail - this time at the green end of the pitch.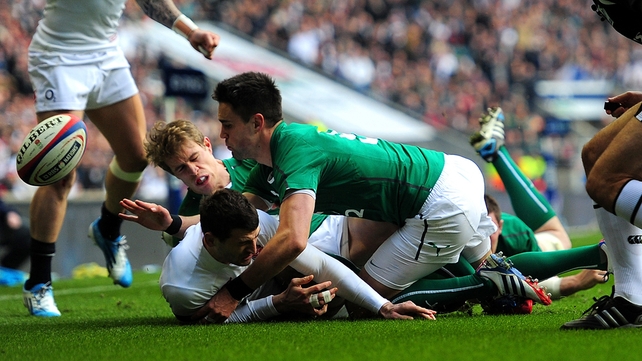 The game swung like a pendulum, in the manner that evenly-poised sporting battles do, and each side created openings, only for two immensely impressive defensive performances to generally come out on top, and be the most over-riding element of the tie.
Improving the last quarter performance
It took two moments of brilliance to break the defences.
For Ireland's try, Rob Kearney's line of attack was immense and took him through a gap on the fringe of the ruck.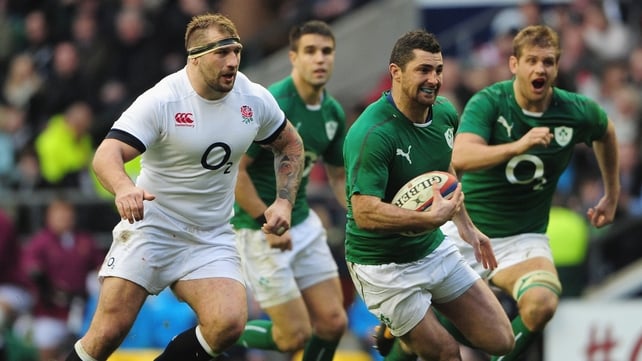 Not only was the angle outstanding, but the awareness to spot that gap, and take advantage of it, displayed huge levels of spatial awareness. It was testimony to England's defence that such chances were at a premium on Saturday.
Of all the incidents in the game, Ireland leaking a try to Danny Care is likely to be the moment that Joe Schmidt's men will regret the most.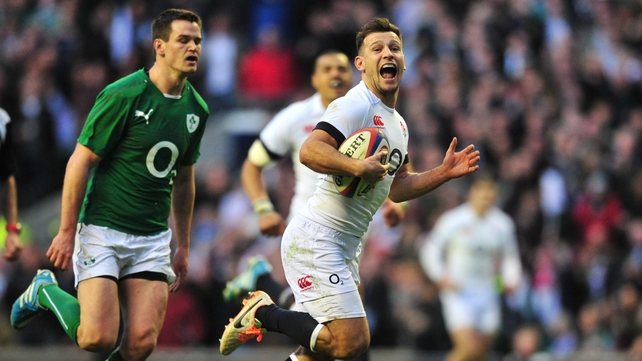 At 10-6 up in the tie at that point, it was Ireland's game to lose. If Ireland are to do the damage Schmidt hopes they can at the 2015 Rugby World Cup, leads like that cannot be squandered.
Indeed, prior to the game, there had been questions asked about whether Ireland had the experience under Schmidt to retain leads coming into the end-game of ties.
Against New Zealand last autumn they lost their advantage late on, and now have lost a lead just before the final quarter entering a clash with England.
Improving their ability to grind it out over the final quarter is a skill all of its own, and this an area that will need to be improved between now and the World Cup.
As for the England try, Gordon D'Arcy did exceptionally well to stop Chris Robshaw with a first-up tackle. However, Murray got caught out positionally as he found himself placed behind that last tackle, rather than lining up Mike Brown on the angle to break the line. Mistake number one.
Rory Best attempted to come across to make the cover tackle from the inside, but couldn't get to Brown in time. Mistake number two.
From there Brown was into open space in the Ireland half. But there were still two men to beat: the Kearney brothers.
Rob came up well to stop Brown with a fine tackle, but Dave, instead of anticipating Care's run on Brown's right shoulder, was caught ball-watching his brother's tackle, leaving him flat-footed and out of place positionally to stop Care taking a pop-pass from the England fullback and racing over the tryline. Mistake number three.
Those three mistakes in one phase of play cost Ireland seven points, as Farrell converted from in front of the posts, and this ultimately proved to be the undoing of Ireland as they failed to create another score in the final 20 minutes.
The positional play of the defence, and anticipation, will also need addressing when Ireland look back on that key moment.
This, of course, all came from Sexton's restart which went out on the full and handed England possession and an attacking scrum on halfway. He will need no reminding how costly that momentary lapse of concentration proved come 80 minutes.
Penalties conceded were crucial
Owen Farrell's first penalty, resulting from Paul O'Connell illegally disrupting Courtney Lawes in the lineout was unfortunate.
O'Connell was clearly attempting to challenge for an overturn, which spilled over into a penalty. Again, small margins, which led to Farrell kicking over three crucial points for England.
For Ireland's converted penalty, Lawes was pinged for failing to roll away from the breakdown; however, had referee Craig Joubert decided that this was meritorious of a sin-binning due to the fact Ireland were rumbling towards the tryline in the corner, which was possible, then one would have backed Ireland, with momentum to go on and punish England further on the scoreboard.
Another hugely controversial moment was Farrell's no-arms tackle on Murray in the first half. This could easily have been penalised with a yellow card, and also greatly effected the momentum of the game.
Ireland's kicking game
Ireland's attempts to kick wide and get in behind the back three ultimately didn't quite work, and this tactic needs tinkering to make it more accurate in future clashes; also, quite simply, Ireland kicked away too much possession.
Schmidt's team also attempted to spread wide at every opportunity, with Cian Healy, Chris Henry and Jamie Heaslip all strike runners around the wingers.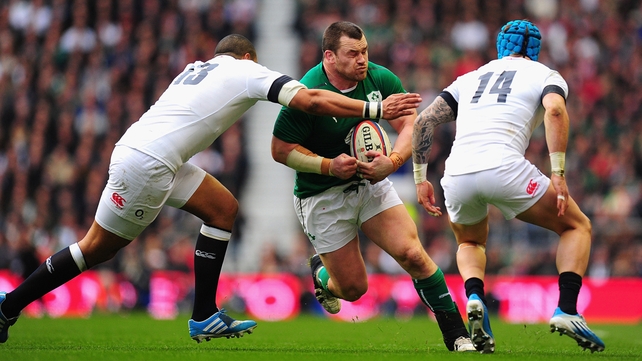 This was a very wise ploy, attempting to avoid the sheer size of the England pack, and abrasive nature of the England defence. In addition, the technique was designed to test England's relatively inexperienced wingers May and Jack Nowell.
The result: England's defence spread wide to cover superbly and the hoped for space out on the flanks never materialised as try-scoring space for the visiting team.
Chipping over the top, and decision making, was also a problem at times from Sexton.
Chipping possession away, or over the top of the England line, three times in the final quarter, with no green jerseys anticipating the move was a mistake, and the lack of confidence in keeping ball-in-hand and retaining it through phases summed up Ireland's lack of finesse when it mattered in their attack play at Twickenham.
England's superiority, Ireland's lack of strike runners
Ireland got some breaks and didn't get others. But ultimately England got more change in the game and dominated the tie to the extent that Ireland could not break them down.
England had players queueing up to score in the corner from a ruck on the line on 54 minutes. Ireland actually saved a try, but conceded a penalty, which Farrell converted to reduce the arrears to 10-6. In truth, the Red Rose should have done a lot better from that move.
And that was the over-riding feeling that came from the match, that England were just that little bit superior in most areas of the game.
Ireland retained the ball well in attack during the final five minutes, and finally began to play creatively with ball-in-hand, but crucially they clearly lacked strike runners to create a decisive move. How they could have done with Sean O'Brien, Tommy Bowe or Simon Zebo at that point.
England's doggedness rewarded with victory
Ireland had the possession advantage in both halves, and dominated territory in the second period. But ultimately, England's ability to stick to their structures, take their opportunities in attack, and hold firm in defence handed them a deserved victory. A dogged victory, which will boost them mentally heading into their clash with Wales.