By Brendan Cole
Ireland secured their first ever Six Nations Grand Slam by winning a tense, dour clash with Italy in Milan, 6-3. 
Ireland came into the game having won four matches in a row playing an adventurous style.
But conditions in Milan meant this was never going to be a free-flowing contest and in the end, sheer guts got Ireland over the line.
Italy got off to the perfect start, Veronica Schiavon putting over an early three points when Ireland were penalised after coming under pressure in a scrum inside their own 22.
Ireland replied soon after, Niamh Briggs converting a penalty from a tricky position out on the left after a strong maul forced Italy to concede.
The excellent wide game that had played a major role in putting Ireland in position to win the Slam was rarely seen but key playmaker Lynne Cantwell was able to release Niamh Kavanagh down the wing.
The powerful winger put in a smart chip and Briggs won the footrace but mistimed what would have been a tryscoring dive and the ball squirted over the dead ball line.
That was a rare flash of Ireland's attacking prowess as the heavy pitch and wet conditions combined to make the match progressively more forward oriented.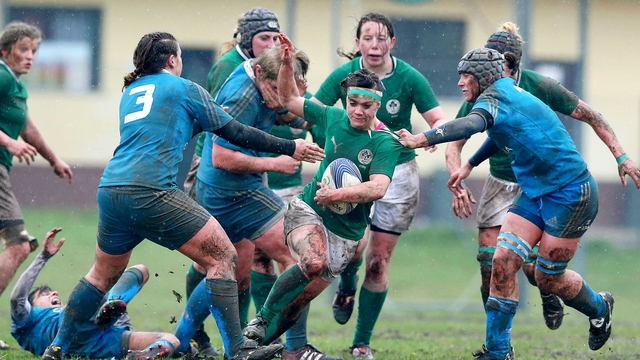 Ireland did have an edge at half-back, where Larissa Muldoon and Nora Stapleton handled and kicked better than their opposite numbers over the 80 minutes.
Italian scrum-half Sara Barattin had a particularly tough day at the office.
But Italy were dangerous from broken play, with Schiavon and the impressive full-back Manuela Furlan capable of hurting Ireland through good kicking and on the counter.
One such attack saw Italian wing Maria Diletta Veronese hurtle through the Irish defence and only a superb last ditch tackle by Miller saving Ireland.
Ireland turned down opportunities to take a what looked like kickable shots at goal soon after half-time.
But the strategy paid off in the end, with Ireland eventually winning a penalty in the shadow of the posts. Fiona Coghlan directed Briggs to put it over and she did so with ease.
Schiavon missed a chance to level the match, her effort was on line but dropped short.
Marie Louise Reilly, superb all day along with Sophie Spence in the second row, gratefully thumped it clear from under her own posts.
Italy kept coming back, and it looked for a time like an epic series of drives from the base of the ruck would result in a kickable penalty being awarded.
But Ireland held their nerve, and their discipline, and eventually won a vital holding on penalty.
Ireland saw out the end game, and when Muldoon kicked the last ball off the field it sparked joyous scenes as Ireland celebrated the successful end of a remarkable campaign.