Wales assistant coach Shaun Edwards says Brian O'Driscoll was 'the difference' between the teams after Ireland recorded a 30-22 win in Cardiff yesterday.
He said: "I thought he was the difference between the two teams, I wish someone had left him in Ireland."
34-year-old O'Driscoll, who hinted last week that this will be his last Six Nations campaign, set up Simon Zebo for the opening try and touched down himself just after the break.
"I wish someone had left him in Ireland" - Shaun Edwards on O'Driscoll
And Ireland coach Declan Kidney hopes O'Driscoll, who he recently stripped of the captaincy, will grace this tournament for at least another year.
He said: "Brian will make up his own mind. I would not like to sway him one way over the other.
"The bottom line is you would love to have the guy around forever wouldn't you?
"But if you look at the performance he put in today, that is not easy on the body.
"Huge credit to him, given the amount of game time he has had, to come out and give such an international class performance like he did today.
"It is wrong to say it doesn't surprise you, as normally you should not be able to pull out a performance like that with the amount of game time he has under his belt.
"With Brian it is just a privilege to be working with him."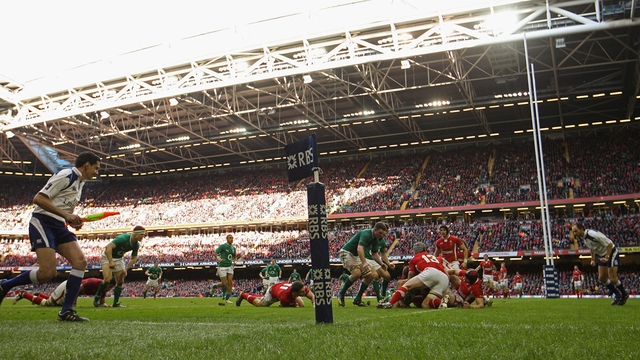 But Kidney cooled any talk of a potential Grand Slam, despite facing France and England on home soil this year.
He said: "I don't buy into that because it means we should not bother every other year as we have no chance.
"If you look at the second half here, we still have a lot of work to do.
"England and France are playing well and we still have to go to Murrayfield where we lost the last time we were up there."