When the news came through that Tokyo 2020 had been postponed until next year due to the coronavirus pandemic, it hit Olympic silver medallist Annalise Murphy hard.
"I found it really difficult when they said that the Olympics had been postponed a year," the 30-year-old told RTÉ Sport, ahead of her first outing on the water in 55 days.
"I had been working specifically towards summer 2020, when I was going to peak and what was going to happen.
"When that gets taken away, I'm not a young athlete who's excited that they have an extra year to prepare. I didn't feel like I needed that extra year.
"I really struggled with it and was pretty down for a while but then I was able to see the big picture. Everyone else is in a similar situation. Nobody is able to compete, people aren't able to go training so I just have to deal with it as best I can."
Despite coming second in the Laser Radial class in Rio, after a heartbreaking fourth-place in London, the Dubliner admits that it is only in recent times she feels confident in her ability to contend.
"I've also realised that I spent most of my career thinking that I wasn't good enough to go to the Olympics or win a medal, but for the first time in my life I do believe I am good enough to do it and that has kept me going through the whole thing.
"In a year's time, I'm not going to have suddenly forgotten how to sail and hopefully I can do something cool next year.
"In Ireland, we've done a great job of getting through this crisis and hopefully we can continue on this trajectory and get back to someway normal life by the end of the year."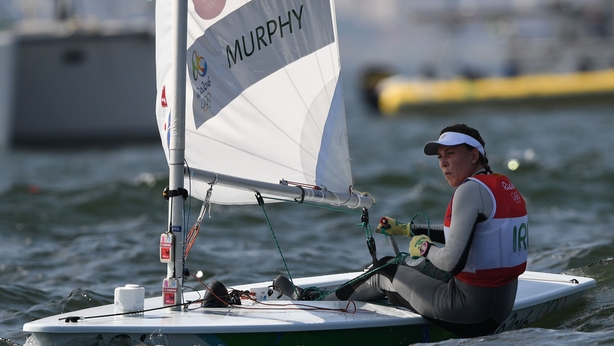 Murphy was relieved to have been able to resume training on Monday as part of phase one of the easing of the Government restrictions.
"It's been a really strange experience," she said of lockdown. "I can't remember the last time I was this long off the water. Maybe when I was a kid, less than 10. So I'm pretty excited to get back out on the water today.
"There's nothing to replicate being on the water but I can still do all of my gym work. I've slowly built a little home gym and have been doing that in the back garden. Lots of cycling on the turbo trainer and the last couple of weeks I've been going outside a bit as well.
"I've got a hiking bench as well, for laser-specific muscles, but it's really grim so I don't do that that much.
"Sailing around the world definitely prepared me well for lockdown. This is fine compared to doing the Volvo Ocean Race, where I was on a boat at sea for 22 days, eating terrible food for 22 days and not able to have a shower! At least I can chill out at home and call people on FaceTime whenever I want.
"I know I'm really lucky. There are a lot of people that still aren't able to get back to their sports yet. Being in a single-handed boat, I'm as far away from people as I could be, so to get to go out now is really special."