Irish sailor Annalise Murphy is hoping to erase the pain of her fourth-placed finish in 2012 by winning a medal at next month's Rio Olympics.
Murphy ended up just outside the medals in the Laser Radial class at the London Games, despite heading the standings from the start until the final three races.
"Finishing fourth is always hard but I was leading for a lot of it," she told RTÉ Sport. "That was nearly what was harder, knowing that I'd thrown away this opportunity.
"It's given me drive for the last four years to train hard and have a focus of knowing that I want to get a medal this time around."
Murphy admits that she visualises herself winning gold in Rio.
"I think about it all the time. It's a way that I get through a three-hour endurance cycle, thinking about standing on the podium and hearing the Irish national anthem.
"I had to sing it in primary school for (former President) Mary McAleese so I know all the words," she joked.
"It's the dream of every athlete going to the Olympics and that makes it hard, it's going to be tough competition, but it's exciting.
"I can't wait. The last four years have flown by and I'm really excited for it now."
"I've spent a lot of time out there training and I feel really confident about the race courses"
The Rathfarnham native is anticipating tough sailing conditions at Guanabara Bay but insists that she has a good chance if she can perform to her potential.
"It's a tricky place, the conditions are going to be different every day," she said.
"There are big mountains around, there are a lot of tidal factors to take into account, but I've spent a lot of time out there training and I feel really confident about the race courses.
"If I sail well and take it one race at a time, don't get too far ahead of myself, I've got a good chance of performing well."
Speaking to RTÉ last December, Murphy expressed concern about the water quality in the polluted bay near Rio but she insists she's now focusing on the positives ahead of starting her campaign on August 8.
"I love Brazil. I've been out nine times training in Rio. The people are so nice and friendly.
"The club that we've sailed from has become a bit of an Irish centre.
"There are always going to be problems leading up to an Olympics, in London they had problems with the security company and things like that, but I think it'll all work out pretty well."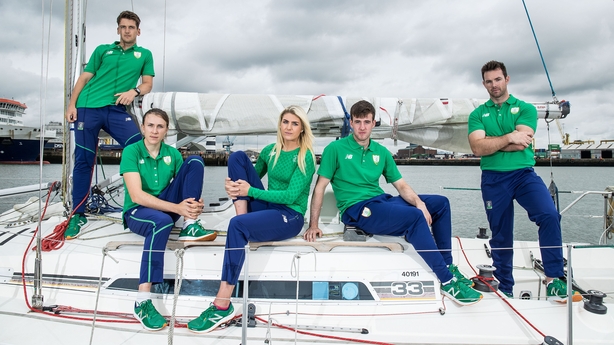 20-year-old Finn Lynch starts the men's Laser on the same day and will be the youngest competitor in his event in a fleet of 46 sailors.
Both men and women are scheduled to sail two 50-minute races each on each day of competition.
Duo Ryan Seaton and Matt McGovern will compete in the men's 49er and Andrea Brewster with Saskia Tidey in the women's 49erFX.
Seaton and McGovern, who competed in London 2012, will be aiming to capitalise on their podium places in the build-up to Rio. Within the 49er skiff class, they have beaten every other competitor and will seek to defeat the four-times world champions from New Zealand.
Brewster and Tidey were a relatively late campaign but have made rapid progress in the 49erFX skiff, overcoming a three-month injury break earlier this year to qualify for Rio.
"Ryan and I are happy to have shown some form this year. A medal is our life's dream and the last 15 years of work have gone towards it," McGovern told RTÉ Sport.
"Whether it happens or not our goal is to make sure that we do our processes and perform to the best of our ability.
"That way, whatever happens, we can walk away with our heads held high."