So what is actually in Europe's 'magic sauce' and why can America not work out the ingredients?
As the Ryder Cup at Whistling Straits chips into view, one of the biggest questions that will need answering over the coming days is whether or not Team USA will be able to gel in front of their own fans in Wisconsin.
It's been a charge thrown at America for a long time now, and with the rivalry of team-mates Brooks Kopeka and Bryson DeChambeau providing one of the biggest sub-plots of the entire competition, it's sure to be an issue that will remain front and centre throughout.
In basic terms, the United States generally turn up with a power-packed team that should have enough raw quality to win the majority of these biennial meetings, but since their opposition was extended from Great Britain and Ireland to Europe in 1979, America's opponents have claimed victory 12 times out of 20.
USA's haul of eight included the first three runnings of the new continent-wide format, meaning that Europe's dominance has been even more pronounced in recent times. That European 'magic sauce', as Ian Poulter calls it, has been attributed to teamwork, a great in-house atmosphere and a real appreciation for the need to bond both on and off the course.
Brendan Quinn, golf writer for The Athletic, is at Whistling Straits this week and agrees that it's an area that Europe have a real advantage in.
"I don't think it's the case for all US players, but it's clearly the case for some, and if some don't buy-in on the notion of being a true team, then the whole can't exist," Quinn told RTÉ Sport.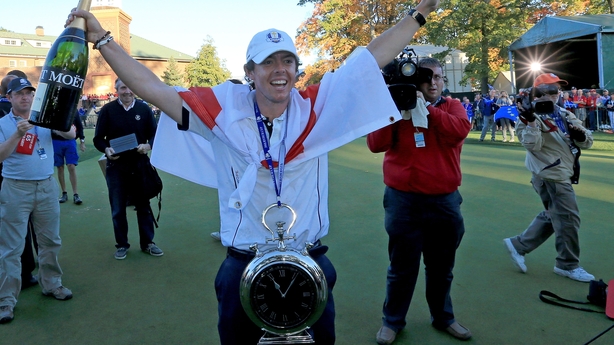 "A combination of factors (is behind it), some large, some subtle. Everyone is three dimensional, and every team is its own entity, so there's no sweeping assessment to encompass everything at play. However, there's an individualistic streak that seems to invade the American disposition.
"Brooks Koepka caught a load of flak for his comments about his discomfort playing team golf, but the reality is that he simply said out loud what plenty of other American team members have thought.
"Golfers are naturally neurotic and sometimes struggle if anything is out of their control. Well, take that kind of temperament, add to it the spoils of individual prestige and renown, and maybe a dash of petulance, and you've got the recipe for someone who might disrupt the continuity of a team unit. Again, I don't think it's not all US players. But all it takes is a couple."
Steve Stricker's team is frightening on paper. They possess eight of the world's top 10 in the rankings with three of the other four coming inside the top 20. The exception, Scottie Scheffler, is ranked 21st in the world. Europe, by contrast, have four players inside the top 20.
Europe have four major winners in their dozen – seven titles in total – compared to six winners and 13 titles for America.
Quinn has said that Stricker was smart to get the American players out early to the venue for what was described as a 'reconnaissance mission'. No doubt, one of the main reasons would have been to get Koepka and DeChambeau together to nip any possible tension in the bud.
The US social media team has also been in on the act of portraying a united front with a tweet on Tuesday showing the pair chatting amicably on the range garnering almost one million views.
For Quinn though, there is still the possibility that their feud could cause an issue in the camp.
"The American team will do everything possible between now and Friday to put forward a unified front. But I wonder how plausible that really is.
"No matter what they say publicly, Koepka and DeChambeau share a very real distaste for each other. It's not only an awkward dynamic, but also puts the 10 other Americans in a sticky spot. Not only are they all between the two, but at what point does some resentment arise for two team members who've been putting themselves before the team?"
USA 🇺🇸 pic.twitter.com/cX9RIzQgRJ

— Ryder Cup USA (@RyderCupUSA) September 21, 2021
Switch dressing rooms and such possibilities do not exist, on the surface anyway.
As the European team arrived for their practice rounds wearing 'cheesehead'' hats amidst talk of continuous good-natured pranks on rookie Viktor Hovland, they looked every bit a group that was enjoying each other's company.
It's something we have become accustomed to with the blue team, and was most prominent in the last Ryder Cup as 'Moliwood' (Tommy Fleetwood and Francesco Molinari) joined at the hip and won four points together in Paris three years ago.
From Darren Clarke downing pints of Guinness at The K Club in 2006 to Rory McIlroy getting presented with an oversized alarm clock for nearly missing his tee slot at Medinah in 2012, there has usually been a relaxed feel to their approach.
European Tour player Cormac Sharvin, who won three points from three as Great Britain and Ireland claimed the 2015 Walker Cup against the US, feels that the tag of underdogs can often inspire Team Europe.
"I think in terms of the team, there is probably an element of being the underdog and they feel like they have a point to prove," said the Downpatrick man.
"The Europeans seem to gel better together, they see to really play for the team. Maybe there has been a little bit of friction in the American team over the years and obviously there is the Brooks and Bryson thing at the minute.
"Gelling together in team sport is so important. Obviously you have to have the skill level and be able to beat a player one-on-one, but it seems like the Europeans get up for it more.
"I've been listening to the interviews this week though and the Americans seem to be dotting the i's and crossing the t's to try and get that spirit in the team.
"They are strong favourites with the team they have so it's going to be a tough challenge for Europe, but I think they can do it."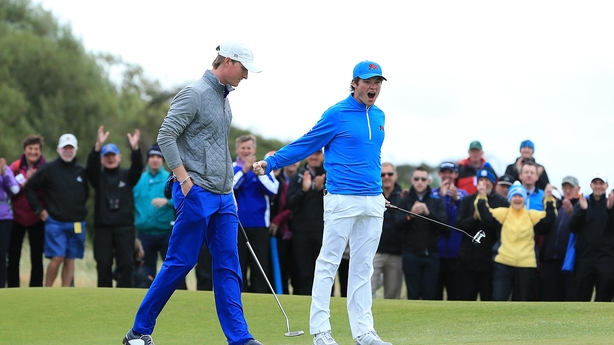 Sharvin has always enjoyed the team environment, even as a hurler and footballer with Kilclief, so the action in the coming days will allow him to reflect on his experiences with Ireland and, also, that Walker Cup success six years ago.
Great Britain and Ireland triumphed 16.5 to 9.5 at Royal Lytham & St Annes and although the visitors were soundly defeated, 2.5 points were posted by a certain Bryson DeChambeau over two single matches and a foursomes win with Robby Shelton.
Even before that particular competition, Sharvin knew that the long-hitting Californian was set for big things.
"I watched Bryson play in the US Amateur against a friend of mine, Paul Dunne, and that was before the Walker Cup.
"He was pretty special even back then and you could see that he was going to go on and do what he has done.
"He was very, very impressive and it was probably one of the most impressive rounds of golf I've ever seen."
Whether or not Bryson can inspire the Americans over the next couple of days remains to be seen. If not, it'll be back to the kitchen for Team USA to try and work out that 'magic sauce' recipe once again.
Follow the Ryder Cup via our live blogs on RTÉ.ie/sport and the RTÉ News app on Friday, Saturday and Sunday.