By Greg Allen
Padraig Harrington went for dinner recently in Paul McGinley's home in Sunningdale and the conversation flowed freely between old pals but no one mentioned the Ryder Cup vice-captaincy.
"He'd never bring it up, I'd never bring it up," said Harrington this week. "Anyway, I would rather him be completely neutral when it comes to something like that."
But would he accept if he was asked? Apparently so, and in a heartbeat.
"There's no doubt I wouldn't turn it down and I hope to be a Ryder Cup captain myself some day and I see being a vice-captain as part of the learning curve for that," he said.
While he is interested, he has also been adding up the numbers and he's not sure if they amount to getting a call from his old pal.
"He's already got an Irish guy (Des Smyth), he's already got a Scottish guy (Sam Torrance). He's got two more to bring in and he's going to need a European in there so there's not much room. I wouldn't put any pressure on him," said Harrington.
In any case, Harrington would like to give McGinley reason to consider him in another capacity, as a player.
"In the 2008 team, I was way out of qualifying until I won the Open so I need to do something incredible," stated Harrington.
Harrington recently fell out of the top 200 in the world rankings for the first time in almost two decades but he is far from being disheartened.
"I am an optimist, so I would feel that way," he laughed as he commented on his rankings low.
"I just had a feeling there was going to be a happy ending, but it wasn't to be"
Some of that optimism is based on how he played in the first three rounds of the Byron Nelson Tournament in Texas last month where after rounds of 68, 68 and 66 he was two off the lead entering the final day.
He said: "I actually thought I was going to win. I just had a feeling there was going to be a happy ending, but it wasn't to be."
His final round 74 dropped him back outside the top 20 and it was a stark reminder that he has to regain some confidence before being a contender again at the sharp end on Sunday.
"Really it's just a question of being mentally sharp but I'm comfortable with every part of my game so it's just a matter of getting my head in the right place," he said.
"A win would be massive in terms of world ranking points. It would also be big for the confidence and I'm well capable of doing it. I see a change in my putting which is very important and I'm trying to get prepared for Sunday rather than for Thursday which is always a good sign."
Harrington admits to feeling very disappointed at missing the US Open in Pinehurst but he is not dwelling on it.
"There's plenty of big events so if I win something else, I'll get over it," he said.
He isn't the only multiple major winner to miss out on Pinehurst and his thoughts on Tiger Woods' extended break from the game after back surgery focus on the theme of scar tissue and the passage of father time.
"There was a period with Tiger where everybody put him up there on a pedestal – that he was unbeatable, unbreakable but unfortunately for him he has had a few injuries and has become more human," said Harrington.
"I still think he's going to win majors and when he wins one, it will be easier to win a second one. It's like he's starting again and I see him getting to Jack's record, but I see a tie now.
"He still has plenty of years and he will do it."
On Rory McIlroy's breakthrough victory at Wentworth in the BMW PGA Championship, Harrington sees it as a very significant turning point, saying: "It's amazing how much confidence affects his game. It's a big stepping stone in his preparation for the US Open, massive.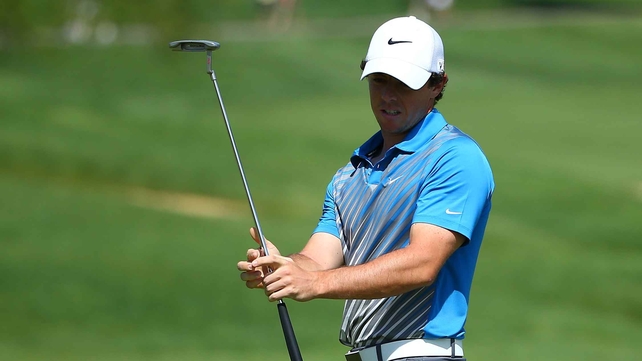 "When Rory is playing well and he's confident he can lap fields and his game is second to none and I think that win [at Wentworth] will elevate him to that level in the Open."