Deirbhile Nic a Bháird will miss Ireland's WXV3 campaign after suffering an injury in a training game.
The number 8, who can also play hooker, was one of the team's best performers in last season's disappointing Six Nations campaign.
The Munster player is "unavailable for selection due to a knock picked up in a training game at the weekend," said the IRFU as they released a 30-woman squad for the upcoming tournament in Dubai.
Under new head coach Scott Bemand (below), who took over from Greg McWilliams in July, Ireland will face Kazakhstan, Colombia and Spain in Dubai over three consecutive weekends from 13-28 October.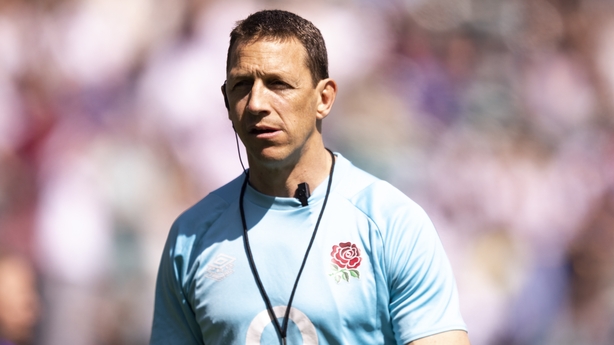 The squad is made up of 17 forwards and 13 backs with 15 players from the Vodafone Women's Interprovincial Champions Leinster. The remainder of the squad is made up of three each from Munster and Ulster, five from Connacht and four UK club-based players.
Sevens players Béibhinn Parsons and Eve Higgins are part of the squad.
Clara Barrett, Ruth Campbell, Megan Collis, Eimear Corri, Sarah Delaney and Katie Whelan are all coming into their first senior squad and have the opportunity alongside Fiona Tuite to earn their first international caps in the newly formatted tournament.
Bemand said: "Since joining the program a month ago, there has been a significant amount of work gone in to enabling this group of players to perform on the world stage.
"The playing group has been brilliant, embracing a new culture and training identity that will lay the foundations for future success. We know what we're going after and I'm excited to see them bring it to life in WXV."
Bemand must also pick a new captain after influential lock Nichola Fryday retired, aged 28, from international rugby following the wooden spoon campaign.
---
Forwards:
Aoife Wafer (Blackrock College RFC/Leinster) 1
Brittany Hogan (Old Belvedere RFC/Ulster) 15
Christy Haney (Blackrock College RFC/Leinster) 10
Dorothy Wall (Blackrock College RFC/Munster) 20
Edel McMahon (Exeter Chiefs) 21
Eimear Corri (Blackrock College RFC/Leinster)*
Fiona Tuite (Old Belvedere RFC/Ulster)*
Grace Moore (Saracens/IQ Rugby) 10
Linda Djougang (Old Belvedere RFC/Leinster) 29
Maeve Óg O'Leary (Blackrock College RFC/Munster) 4
Megan Collis (Railway Union RFC/Leinster)*
Neve Jones (Gloucester-Hartpury) 18
Niamh O'Dowd (Old Belvedere RFC/Leinster) 1
Ruth Campbell (MU Barnhall RFC/Leinster)*
Sadhbh McGrath (City of Derry/Cooke RFC/Ulster) 5
Sam Monaghan (Gloucester-Hartpury/IQ Rugby) 15
Sarah Delaney (Cill Dara RFC/Leinster)*
Backs:
Aoibheann Reilly (Blackrock College RFC/Connacht) 4
Aoife Dalton (Old Belvedere RFC/Leinster) 7
Aoife Doyle (Railway Union RFC/Munster) 17
Béibhinn Parsons (Blackrock College RFC/Connacht) 18
Clara Barrett (Ballina RFC/Connacht)*
Dannah O'Brien (Old Belvedere RFC/Leinster) 7
Eve Higgins (Railway Union RFC/Leinster) 9
Katie Whelan (Old Belvedere RFC/Leinster)*
Leah Tarpey (Railway Union RFC/Leinster) 2
Méabh Deely (Blackrock College RFC/Connacht) 7
Molly Scuffil-McCabe (Railway Union RFC/Leinster) 9
Nicole Fowley (Galwegians RFC/Connacht) 8
Natasja Behan (Blackrock College RFC/Leinster) 7
*Denotes uncapped
---
13 October
Ireland v Kazakhstan, 4.30pm Irish time
21 October
Ireland v Colombia, 2pm Irish time
28 October
Ireland v Spain, 2pm Irish time