Ireland are on the brink of just a fourth-ever Grand Slam and the first to be clinched in Dublin.
The 1948 championship win was secured in Ravenhill, Belfast, while the 2009 and 2018 versions were claimed with final-round victories in Cardiff and London.
Dublin is set for the mother of all parties if Andy Farrell's men can beat England today.
Here we look back at that famous day 75 years ago when Ireland, captained by Karl Mullen, beat Wales in the final round, adding to wins over England and Scotland earlier in the tournament.
It's clear that the 'Grand Slam' wasn't en vogue back in 1948. Poor France. That phrase was coined later on and didn't feature in any reportage.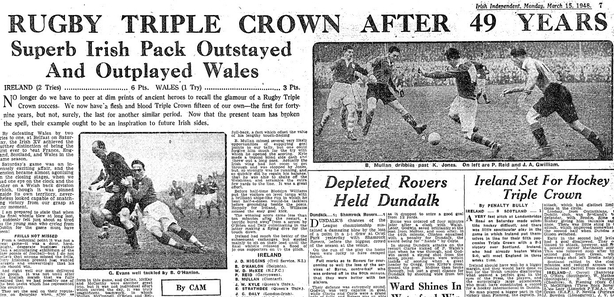 It was all about the "mythical" Triple Crown.
Ireland's 6-3 win, secured by tries from Barney Mullan and JC Daly, was hailed in headlines as "Rugby Triple Crown after 49 Years" in the Irish Independent.
"Jerseys Torn Off Rugby Players for Souvenirs" was the top line in the Irish Press on the following Monday.
"Over 30,000 people, most of them from Dublin, streamed into Belfast in eight special trains and hundreds of cars," the Independent said.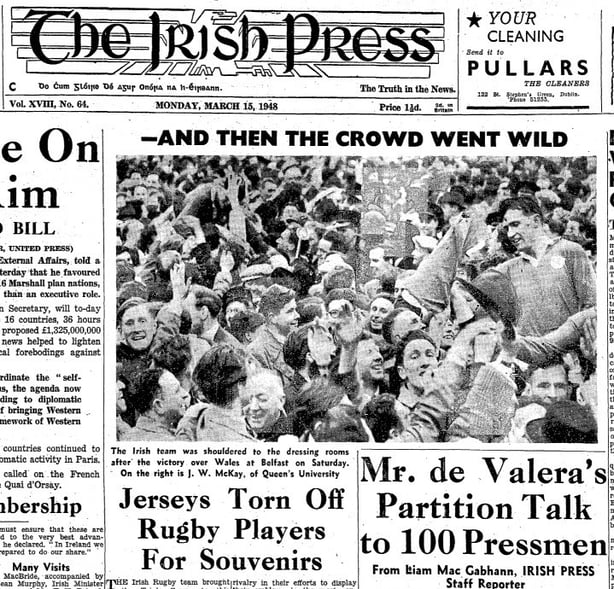 In the quarter of a mile queue "Welsh and Irish supporters...exhibited a keen rivalry in their efforts to display their emblems in the most conspicuous places".
"The conditions were ideal with no wind or bright sun when the Irish captain C Mullen kicked off a few minutes early amid a continuous roar of cheering," wrote the Belfast Newsletter.
"Kyle was as usual the master tactician, and was always there to help with a kick to touch," added 'CRITICUS' in the comment section.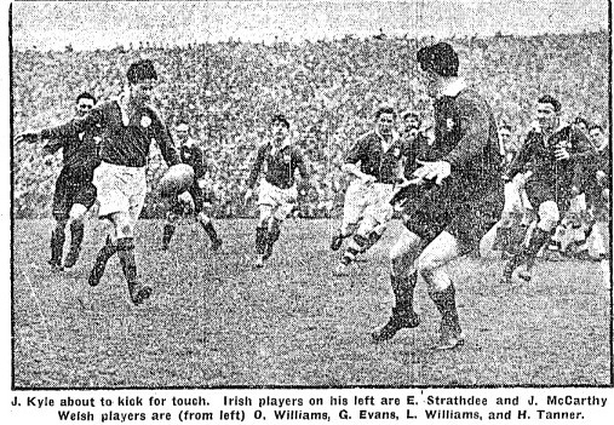 "A Welsh side is always dangerous because it is clever but this side had really no answer to the Irish forwards."
The win was greeted by a crowd invasion with spectators affixing "green, white and gold" ribbons to the goalposts, said the Press.
Reporter CAM breathlessly filed in the Independent that he was "prepared to state that when the final whistle blew at long last, I suddenly felt just about as tired as the young man who cycled from Dublin for the game must have been!
"From a technical point of view it was not a great game - it was a dour, hard-fought, desperate business."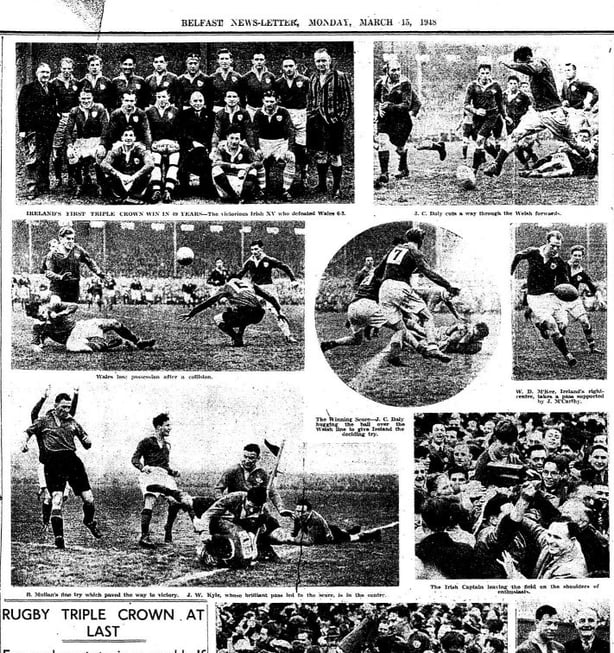 "Belfast was a city of joyful celebration on Saturday night," wrote the Press.
"Public houses and restaurants were crowded and supplies ran short.
"The trains which arrived back in Dublin up to 1am yesterday were filled with tired but still-singing people."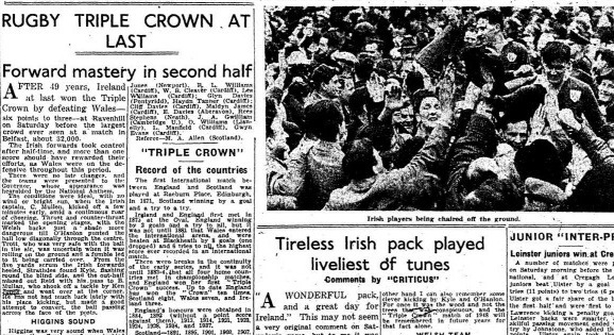 Listen to the RTÉ Rugby podcast on Apple Podcasts, Soundcloud, Spotify or wherever you get your podcasts.
Watch Scotland v Italy in the Six Nations from 12.30pm on RTÉ2 and RTÉ Player
Follow a live blog on Ireland v England from 4pm on RTÉ.ie/sport and RTÉ News app and listen to live commentary on Saturday Sport on RTÉ Radio 1