With just over 10 minutes played at the Principality Stadium yesterday, and Ireland 14-0 in front, the game almost took a huge swing.
A ball came loose in midfield and was fly-hacked downfield by a Welsh boot, and for all the world it seemed like Rio Dyer would latch onto it and bring the hosts right back into the contest.
But Hugo Keenan had other ideas, scampering back to beat Dyer to the ball by inches and snuff out a potential try.
Replays showed the ball may have come loose by a Welsh knock-on in the tackle, but Keenan wasn't to know.
"I wasn't sure initially whether there was a knock-on or not," he says.
"I think you can't really gamble on it being so the ref hadn't blown his whistle so I suppose it was early enough in the game and I was relatively fresh and I suppose I was wanting to get back."
Keenan was only beginning there, and was the standout player in Cardiff, breaking three tackles and making almost 90 metres with the ball in hand in a 34-10 win, Ireland's first in the Six Nations away to Wales since 2013.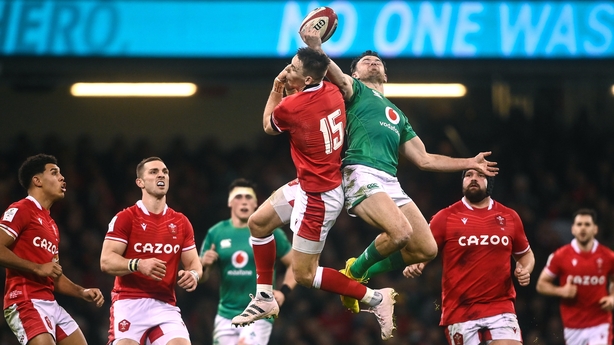 His work with the ball in his hands was matched by his consistency under the high-ball, and he says the aerial pressure was something Ireland had been preparing for.
"I think we've put a big focus on it this week, I think we knew it was coming.
"The back three were brilliant this week at all coming together, putting ourselves under pressure. Training drills, challenging us in this area and a bit of realistic pressure in the air, so that come gameday we were ready.
"I think Conor Murray was even brilliant in the air today and a few other lads were as well. I think it was testament to what we had done during the week.
"We talked about not being afraid, the atmosphere is going to be loud, it's going to be a fired-up Gatland side that are going to try and prove a point so we wanted to start the game fast.
"So that was a bit of my mentality as well. I think everybody bought into that, so I think the whole team performance in that first half was brilliant."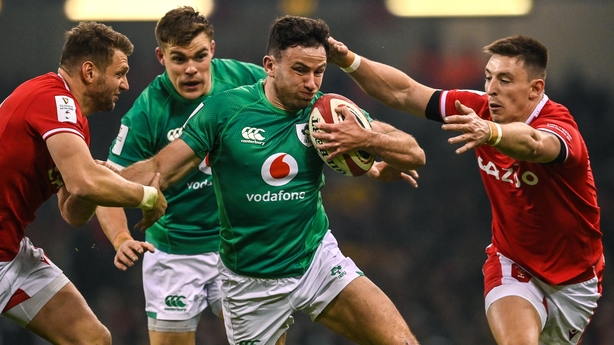 Ireland flew straight back to Dublin last night as attention now turns to their Round 2 meeting with defending champions France, who begin their campaign against Italy in Rome this afternoon.
And having been beaten by France in each of their last three meetings, the Ireland full-back says they have unfinished business with Fabien Galthie's side.
"All focus is going to be on that. We're going to be looking at what we can improve on.
"I think that second half there was a bit of a lull, so we're going to have to be better than that if we're going to beat France at home. They've got the better of us the last two or so times so we know what kind of challenge it is going to be. We're looking forward to it so we're going to regroup, a big week for us now.
"We're delighted to get the win and the four tries and the bonus point, we came over here for that one reason and we got it.
"I think we came out of the blocks quite well. We were fast to start but obviously that second half we probably lost our rhythm, got out of our flow a bit so there'll be plenty to work on. A big week now looking into France."