Munster put themselves back in a strong position at the weekend following an away win against Northampton in the Champions Cup.
With the structure of the competition including only four pool games, an away win is crucial, especially after Munster gave up their home ground to Toulouse last week. It means if they can beat Northampton at home, they should be in a realistic position to go through.
It was their dominant, second-half defensive display that will steal the attention. However, their breakdown was dominant throughout the game and Northampton really didn't have the answer for them. Both of those aspects went a long way to ensuring that Northampton failed to score a try, for the first time in their last 50 matches at Franklin's Gardens.
It was Munster's selection and how they set up for an attacking and fast-paced game that caught my eye. The selection of Jack Crowley at first centre, after a cameo appearance there last week against Toulouse, showed the intent of their fast attacking game.
If you know anything about the changes in personnel at Munster at the moment, you'll know that they are training faster than ever and really putting pressure on their skills and transition on the training pitch. It might be taking a bit of time to come to fruition on the pitch but the selection itself shows that the coaches have stuck to their guns and backed this transition.
If ever there was a time to play around with Jack Crowley starting at first-centre, this was the game for it. Northampton aren't particularly physical on the tackle line. In fact, they struggled all day to cross the advantage line on Sunday afternoon, something that will please Denis Leamy.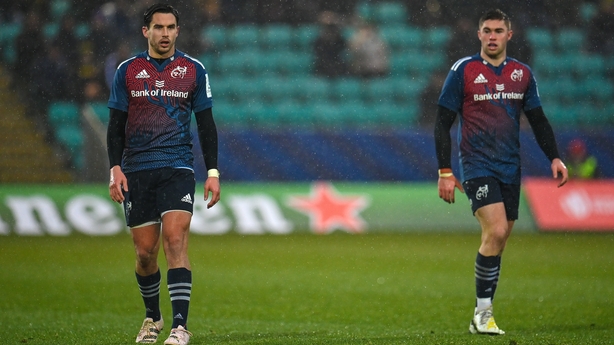 Northampton also regularly play with a second distributor at first-centre, with Rory Hutchinson featuring there a lot. With Fin Smith, Hutchinson and George Furbank in their backline, Northampton were hoping to catch Munster with pace and fast attack as well.
Maybe they aren't aware of what Munster are trying to do in the background, or maybe they thought that they would do it better than Munster but it didn't work out for Northampton in a poor enough display.
The weather added to some difficulties in attack, with a wet greasy ball, evident from some of the uncharacteristic errors in some of the backline attack. Yet, the first half was highly competitive with both teams trying to push the pace.
Jack Crowley acquitted himself quite well in the adapted role. He has a spark in attack that can compliment Joey Carbery and both players can play with more freedom knowing the other will be there to organise the structure with which they like to play within. Both of them are highly effective in the 'boot' position in behind the forwards and can receive a pass while re-engaging the tackle line and cause the opposition defence problems with their decision making.
Crowley is also able for the contact area, proving that when wearing the number 10 jersey. There was a highlighted clip of him folding Ross Byrne in the breakdown but he regularly tackles well and manages himself in the tackle area.
He was also on hand to latch on to Gavin Coombes to draw some attention away from the ball carrying number 8 for his second try of the game. Crowley's contact skills are technically good and therefore Munster can use him in a similar role to Leinster using Ciarán Frawley in the inside-centre position.
If this is a tactic for Munster going forward, there needs to be a small bit more cohesion and you could see it was a new enough combination for them. When the rain came down and Crowley went for the harder carries, a few balls hit the deck.
He is more inclined to try to run at space and avoid contact whereas the ball was passed for him to make ground in the contact area and the ball was spilled. It's something that they will need to work out going forward.
Is Crowley the right person to run in to traffic? Or do you adapt some of your starter plays to allow Antoine Frisch to crossover with Crowley and make better inroads in the congested channels? You could also rely more on shorter lineouts and use the likes of Coombes and Hodnett as the wrecking balls that they are, which would free Crowley up for some playmaking in the second phase.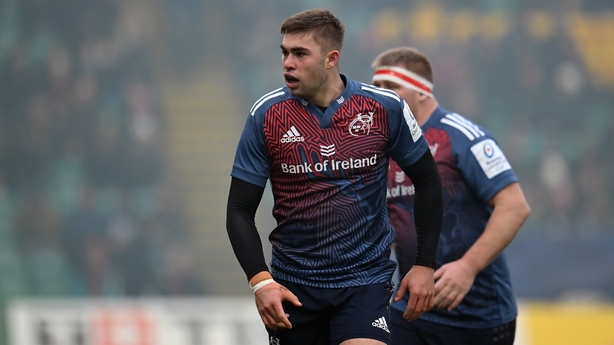 Playing with a second receiver or second playmaker isn't a novel tactic used by Munster. Other provinces have used it to good effect. Arguably, Frawley has played his best rugby there when allowed the freedom to read the game without having to dictate the direction of play.
David Hawkshaw is another out-half turned first-centre that has had great success in the number 12 jersey, distributing well but also using his pace to vary the attack for Connacht.
There can be limitations when using a playmaker at first-centre. If Munster were playing La Rochelle or one of the more physically dominant teams next week, I don't think it's the approach they would go for. Maybe they would opt for Rory Scannell who is more accustomed to the number 12 role now but has played a lot of rugby at out-half and still provides a run/pass and kick threat. When the Northampton game became more physical, that's what Munster opted to do.
'Whichever way you look at it, Irish rugby will benefit from having the likes of Crowley and Frawley in the number 12 role'
However, we also see Irish rugby shying away from that second receiver style when it matters most. Robbie Henshaw has played at inside centre a lot, his physical presence along with his playmaking allow him to play a hybrid role but with more physicality at the tackle line when needed.
Bundee Aki and Stuart McCloskey have both featured heavily at inside centre as well and although they have both worked tirelessly on their distribution, they don't play the same game as the likes of Hawkshaw, Crowley and Frawley.
McCloskey may argue that point with his silky pull-back passes and his kick assist for an Ulster try at the weekend but his physical presence will always make him a more dominant gain line figure through traffic than the others who naturally look for the space before the contact.
Whichever way you look at it, Irish rugby will benefit from having the likes of Crowley and Frawley in the number 12 role as it gives them a different style of play heading into the World Cup. There always needs to be a plan B, where Ireland have fallen down in the past.
You have two choices if you know you can't physically dominate a team. You can try harder and spark a reaction out of your players, or you can do what Ireland have been doing more recently which is to move the point of attack so quickly and frequently that you are running into more space and putting the dominant defences on the back foot. Having a playmaker in the 12 jersey can add to that. Farrell will be happy with these developments at club level.
At the weekend, Munster's intent was to develop their own game and it's great to see the coaches doubling down with their fast attacking tactics and adding more strings to their attacking bow.