Former Ireland international Michelle Claffey says the IRFU must protect the club game as they move towards more professional structures in the future.
With the IRFU introducing professional contracts for women's XV players in recent months, and plans in the works for a Celtic Cup with Welsh and Scottish teams in the coming years, it leaves uncertainty around how the women's domestic game will look like in the long-term.
The new WXV competition in 2023 will also see an increase in international games, with Irish Rugby's performance director David Nucifora recently suggesting that the Energia All Ireland League could become a vehicle for developing players, rather than being the elite domestic league it currently is.
"I think the club belongs at the heart of the rugby journey of anyone who puts on an Irish jersey," said Blackrock captain Claffey, ahead of their meeting with Railway Union in this Friday's final at Energia Park in Donnybrook (7.45pm).
"The club is there, and clubs have been there historically for years. I think it's very important that there remains a link.
"Rugby is about community, it's about community spirit and people being able to come down to the club on a Friday or Saturday or Sunday and participate. To sever a link with the club, it would be terrible for rugby as a whole. I don't want to separate into men and women because that's not fair."
The Offaly native, who retired from Test rugby this summer, says the AIL can be a gateway to inspiring young players to the game.
"Where will a nine-year-old girl go, who's living in Dublin, to play rugby? They see it at the professional stance and wonder, 'how do I get there?'
"We had an underage section in Blackrock and there are minis coming through and they were ball-girls for a couple of our games, and it was absolute chaos, but these girls loved it. They were doing high-fives, cartwheels, and if you take away that club element, they see girls playing on TV and wonder, 'how do I do that?', and there's a bit of uncertainty."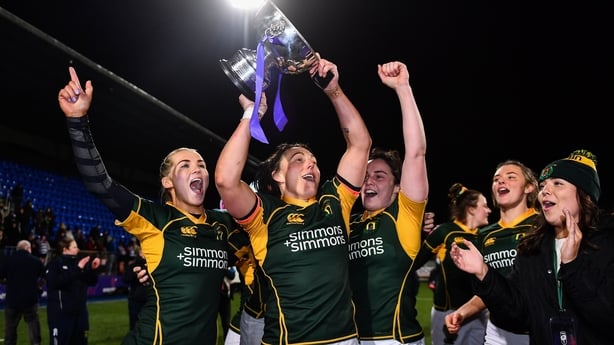 International commitments have affected both Blackrock and Railway this season, the World Rugby Sevens Series in Dubai last week and Cape Town this weekend depriving them or many Ireland stars.
There's also been the knock-on effect of the professional contracts to the training schedules of players on both sides, with Claffey explaining how the likes of Dorothy Wall and Méabh Deely
"They're training every day and that's fantastic to see," said Claffey. "But it's annoying that on a Tuesday they can't participate because their load is being managed. Other girls are training Tuesday and Thursday but might not be selected.
"That's from a selfish club point of view. But then come the games, the girls' fitness is amazing, their skills are incredible, they can see things. That's why they're in the Irish set-up, because they're incredible rugby players."
The 2022 AIL has been more of a sprint than a marathon, with just eight rounds of games in the regular season before last weekend's semi-finals which saw Railway come from behind to beat Old Belvedere, and Blackrock edge past UL Bohemians.
And while Railway came out on top when the sides met in last season's final, Blackrock were two-point winners when the sides met last month.
Railway captain Niamh Byrne just happened to be Claffey's centre partner for Leinster in the Interprovincial championship, and she says that level of familiarity will only fuel their rivalry.
"Ignoring the fact it's the final, it's what will make it a very competitive game on Friday," Byrne said.
"Looking at the two games, I think with each year this year gets more competitive. The skill level is higher across the board, those top four games, the margins are closer. They've obviously been working on their game plan, and we're looking to always develop.
"We're excited, but nervous, but more excited than nervous."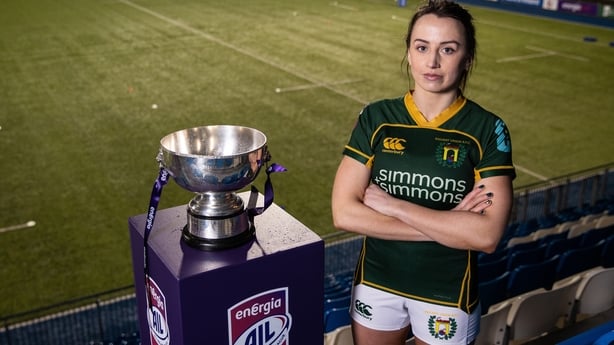 The Railway captain (above) says she believes they've ironed out the creases in their game since their 19-17 defeat at Park Avenue.
"We played them a bit earlier than we normally do, it's a shorter season, it's more condensed. we're not overly concerned, but I think it'll be a close game.
"It's been wild, I feel like every weekend is a big rugby weekend, and it's been crazy, but at this point we have all eyes on Friday night and we're just going to get on with is and hopefully put in a good performance.
"We've had a few girls go to Premiership teams, a few girls lost to injuries, so it's probably a younger side, but the younger girls have stepped up big time, and we've found our groove," the Ireland international added.
Railway are going for a third title in a row, having beaten Blackrock 24-18 in last season's decider in February.
And Rock captain Claffey says they won't allow the thoughts of revenge dominate their preparation for this year's final.
"I don't think I've ever got over it, and I don't think I will ever get over it, but it's parked for this season.
"It's not going to change, what happened last year was tough, but I'm not using it as motivation this year, because we're a very different group of players. We just go out there, perform, and hopefully get a better result than last year.
"The hurt is still there, but we just have to push it aside for a couple of more days," said Claffey.