Breaking down the games within the game in Ireland's meeting with South Africa, there are few individual battles more significant than Andrew Porter versus Frans Malherbe.
It's just over a year since Porter made the decision to switch back from tighthead prop to loosehead, having moved the other way at the start of his professional career.
To the uninitiated he simply moved from the right side of the scrum to the left, but with the front-row being the most technically challenging area of the pitch, it's not as simple as that.
The decision was made to ensure both Leinster and Ireland can have he and Tadhg Furlong on the pitch at the same time, and while both teams have benefitted enormously in general play from the move, the scrum remains a work-in-progress.
Against both France and England in the Six Nations Ireland's scrum was targeted, while Leinster found themselves under similar pressure in the latter stages of the Champions Cup against Leicester Tigers and La Rochelle.
As a test of scrummaging, it doesn't get any bigger than South Africa. Parity with the Springboks would answer a lot of questions about the Irish set-piece.
"It's a huge test. It's a huge test for any team coming up against the Springboks," Porter says of their scrum.
"We know what they are capable of, we knew their strengths, we know they are obviously a hugely talented pack and obviously a physical pack as well.
"That's the thing when you come against world champions, we've nothing to lose. We have everything to gain from this game.
"I think there's a lot of confidence lads are taking from that. Lads are chomping at the bit to get out there on the weekend because we haven't played together since the summer time against the All Blacks."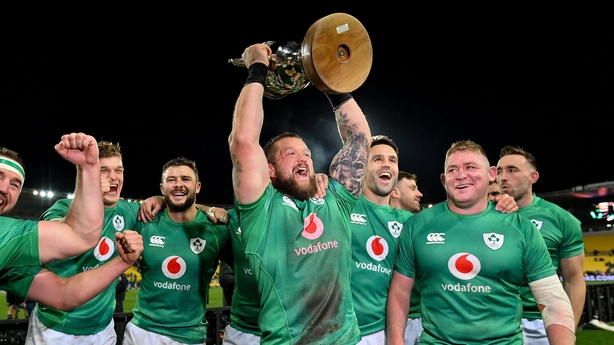 He admits it was a big decision to move across to loosehead in the summer of 2021. Despite being back-up to Furlong, he was playing well enough to be picked for the British and Irish Lions tour of South Africa as a tighthead (only to miss out due to injury), proof enough that he had as much to lose as he did to gain from the switch.
"I felt things were going so well at the time and I did have reservations about moving back when the coaches were giving me the idea. Then I broke my foot before the Lions tour, went back and was able to think things over. I was able to think about where I am in my career.
"Given how relatively young I am for a prop, I had time to make the decision because I had that foot injury at the time. I wasn't pushed to make the decision fairly quick."
And he says the main driver was being able to play with, rather than behind, Furlong.
"He [Furlong] is the best prop in the world, the best tighthead, and what the coaches kept on telling me was that 'we want you on the pitch at the same time, we don't want you competing for a spot'. But then in my head, I have to compete with Cian Healy and a load of quality looseheads.
"So that was my reservation at the time. But then I saw it as a challenge and another thing to overcome.
"It's a constant learning, I think having that experience on the tighthead side has given me more of an understanding of what the tighthead doesn't want from a loosehead. So, sometimes it doesn't go your way some days and some days it does. That's all I'm hoping for this weekend. That's what I have been visualising in my head.
"We have been incredibly well as a team in the last two weeks, so we are incredibly excited to be able to put what we have against the world champions."
He's not the only one to benefit from the move, with the extra space at tighthead opening the door for Finlay Bealham to step in as back-up to Furlong.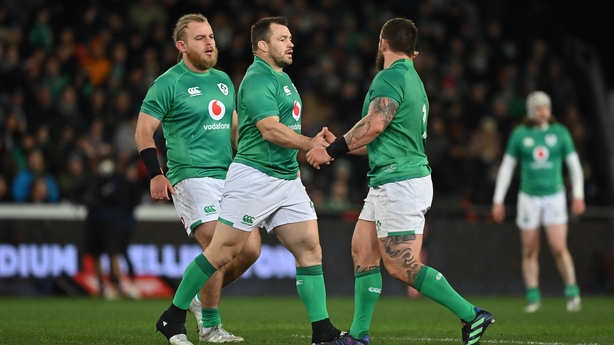 And Porter rejects the idea that there is a drop-off in quality between Ireland's first and second choice front rows.
"I wouldn't believe that for a second now. We have got an incredibly talented squad from 1-23. It's incredible to see lads take bounds in their careers, especially with new lads coming through now in our squad.
"Lads are fighting for positions, no one's position is set in stone because you are constantly fighting for your spot on the team. That's one of the benefits of Irish teams in the provinces as well, there's lot of competition in Irish rugby and in particular in this Irish squad
"I wouldn't believe that perception but people are entitled to it. I am incredibly honoured to be part of this team. You're playing for those lads who unfortunately didn't make the squad or the team but that's the way rugby is."
Porter is one of eight players in the Ireland line-up who have never faced the Boks before, with the Leinster man missing out to John Ryan for a place on the bench when the sides last met in 2017.
And he says the message is simple when it comes to tomorrow evening: "Back yourself".
"This is where you want to test yourself as an individual and as a team. That's what we're excited about, being able to test yourself against the best in the world. They are world champions for a reason and it's just about putting yourself out there, relishing the challenge.
"You try to take it as any other game. I know it's not just any other game because you are facing the world champions, but you have to simplify things a small bit and not over-think things.
"Just back yourself really. Back everything you have done in training and come back to the messages the coaches have given us during the week. It just comes down to grit and determination at the end of it. That's what it will come down to at the weekend."
Listen to the RTÉ Rugby podcast on Apple Podcasts, Soundcloud, Spotify or wherever you get your podcasts.
Follow a live blog on Ireland v South Africa on RTÉ.ie/sport and RTÉ News app this Saturday from 5pm with live radio commentary on Saturday Sport on RTÉ Radio 1.