Andrew Conway is targeting a return to action in October as he continues his recovery from knee surgery.
The Ireland wing was dogged by persistent knee trouble during the second half of last season, which saw him restricted to five Munster appearances since January.
Conway returned for the final weeks of the United Rugby Championship, only for his knee to again flare up during their quarter-final defeat away to Ulster.
"It was at the start of the Six Nations," Conway told RTÉ Sport about the when the problem first arose.
"I got a scan on it, that's why I didn't play the Italy match. I got it just about right for England and then it was just we were pushing it too much into a hole, which I didn't agree with at the time but was 100% the right call from Faz [Andy Farrell] and the medics.
"I rehabbed it but we were basing our rehab on the picture from the scan. When it didn't react as we'd have liked when I got back playing, we had to go in and have a look. That's how it all played out.
"It was a longish process. I went in for surgery, I kind of didn't know exactly what we were doing. It ended up being a decent enough job, a bit of cartilage taken out, etc.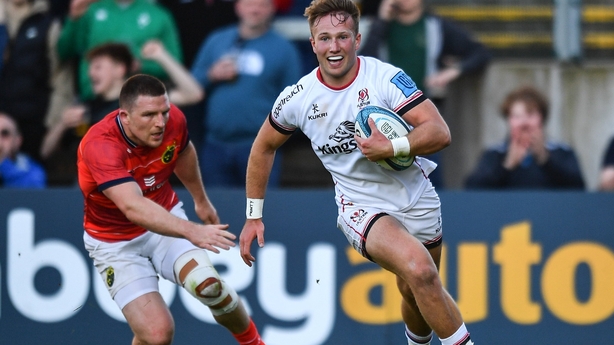 "The first couple of weeks are slow, you're waiting for the movement for come back, getting the swelling down. The last few weeks have been really good though. We've started to turn the corner.
"I'm doing a bit of running, exercises that I need to tick off to take the next step. I can see the finish line without putting an exact date on it.
"Could I be back for the Connacht game on 7 October? That's too early. October is the aim but it'd be more the back end if possible."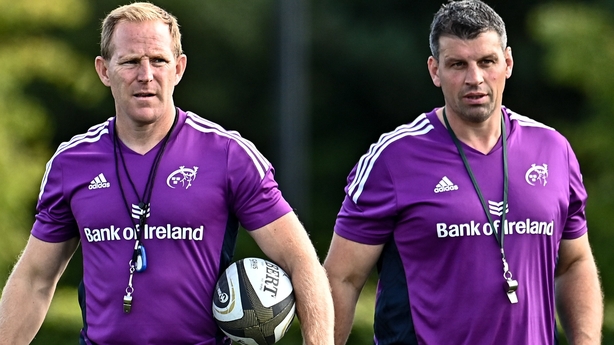 Conway has yet to return to full training with Munster but said the players are loving life under the new coaching set-up and has noticed similarities between Graham Rowntree and Farrell.
"They are similar, that northern English hardness but also an ability to run an environment," he said. "There's a special balance that these guys have.
"I actually haven't been out on the training pitch too much, the way my schedule goes it has been clashing a bit. But I was out there last week and the lads are working hard.
"A lot harder than we would do when Champions Cup or URC games come along, so you're not getting an exact picture of what it look like once we're into the real business, but the lads are loving the environment.
"Leams [Denis Leamy] has brought a unique freshness, he says it how it is which is refreshing and enjoyable. Prendy [Mike Prendergast] is amazing to work with, brilliant detail but he is also going around the gym picking lads up. He's tapping into the small details.
"A lot of the stuff we'd be exposed to within the international team is now being driven into the boys who haven't been exposed to that. We're getting those young Munster lads to understand what it takes, the details around attack and defence, what makes a good team go around. It's very exciting."